Coeliac-Friendly Balsamic Beetroot Fritters
---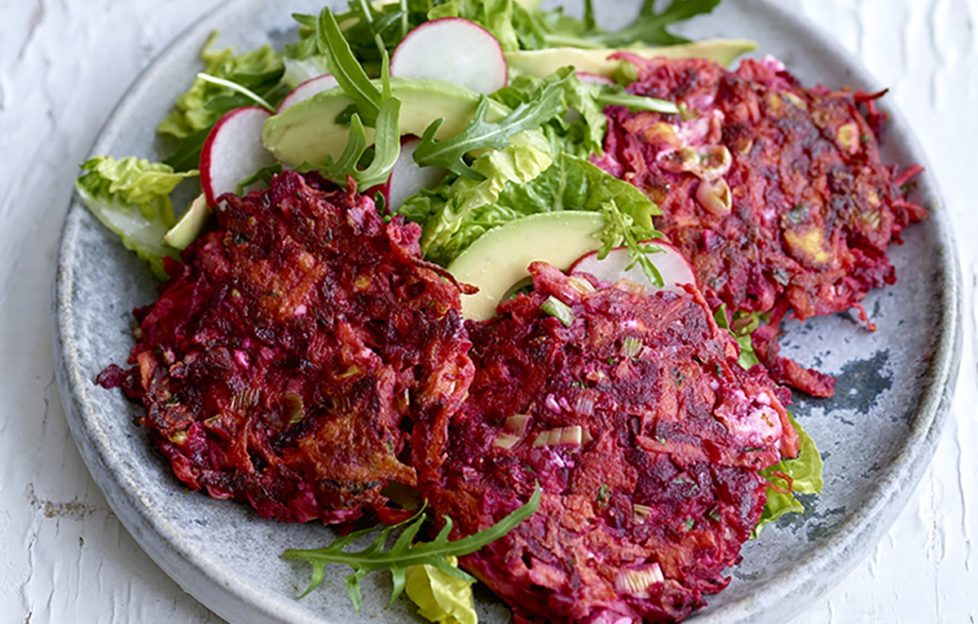 Image courtesy of Love Beetroot
Ingredients
250 g (9 oz) balsamic infused cooked beetroot, grated
2 large carrots, grated
2 eggs
4 spring onions, sliced thinly
100 g (3½ oz) feta cheese
4 tbs flour (buckwheat is good, but you can use any)
Small handful mint, chopped
Salt and freshly ground black pepper
1 tbs coconut oil
For the Garlic and Mint Yoghurt:
150 g (5½ oz) natural yoghurt
4 sprigs of fresh mint, chopped finely
1 lemon, juice and zest
1 clove garlic, grated
Recipe courtesy of Love Beetroot.
In the UK, Coeliac Awareness Week runs from 11-17 May, 2020.
Promoted by Coeliac UK, the week aims to raise awareness of Coeliac Disease, and to bring the gluten-free community together.
We thought we'd play our part this week by sharing some great gluten-free recipes. Today, we're going with these Balsamic Beetroot And Carrot Fritters with Garlic and Mint Yoghurt.
Method:
Place the grated beetroot and carrots in a sieve over a bowl or your sink and squeeze as much liquid out as possible.

In a large bowl, mix together the beetroot, carrot, eggs, spring onions, feta, flour, mint, salt and pepper. Mould into fritters.

Heat the coconut oil in a large non-stick frying-pan and fry the fritters on a medium heat for 2 to 3 minutes on each side, until golden and crispy.

To make the garlic and mint yoghurt, simply mix all the ingredients together, season to taste, and serve.
For more delicious recipes from "The People's Friend", click here. Did you know it's also National Vegetarian Week? There are plenty of vegetarian dishes here on our website for you to enjoy!
You can read more about Gluten Free Community Week on the event's website, here.
If you can't get to the shops just now for your "Friend", subscribe now by clicking here. This will mean your "Friend" will come straight to your doorstep! 
You can also take out a digital subscription, meaning your issue will come straight to your computer, tablet or phone! And it's great value for money. Click here for more details.