Asparagus, Tarragon And Almond Pizza Bianco
---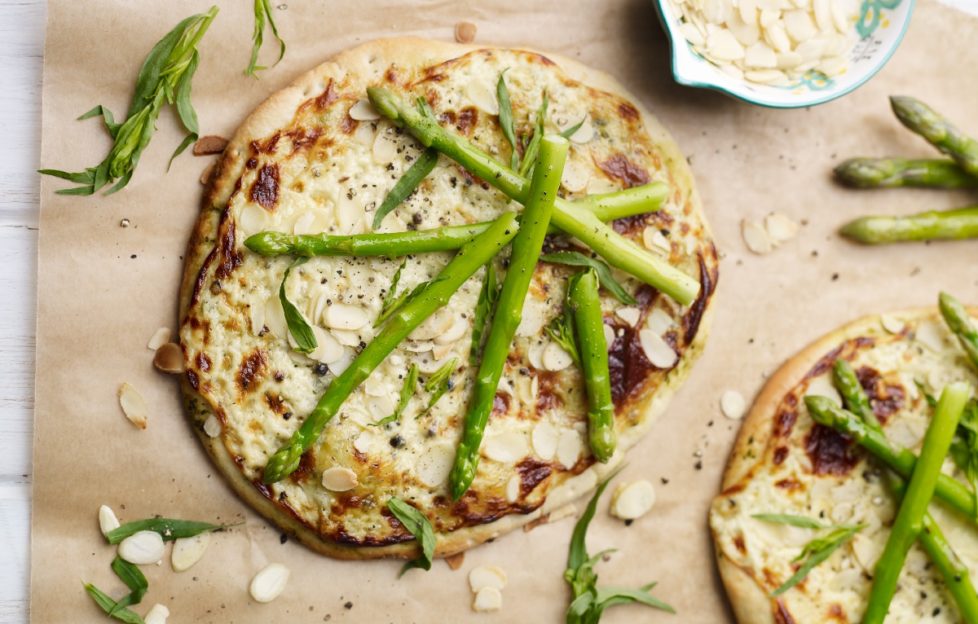 Image courtesy of British Asparagus.
Ingredients
100 ml (3½ fl oz) crème fraîche
20 g (¾ oz) Parmesan, grated
2 flatbreads
2 tbs flaked almonds
1 bunch asparagus spears, trimmed
Tarragon or basil leaves
To Decorate: a few Parmesan shavings.
Recipe courtesy of British Asparagus.
It's asparagus season here in the UK, so we thought we'd celebrate with a new, delicious way to eat this nutritious (and under-appreciated!) vegetable.
Try this Asparagus, Tarragon And Almond Pizza Bianco today. It won't take long, but you'll remember it for a while!
Method:
Pre-heat the oven to 180 deg. C., 350 deg. F., Gas Mark 4.

In a bowl, combine the crème fraîche and Parmesan and a good grind of black pepper. Lay the flatbreads on baking sheets and spread with the crème fraîche, leaving a 1 cm (½ in) gap around the edge. Sprinkle with the almonds.

Bake in the pre-heated oven for 10 minutes until the crème fraîche starts to turn golden.

Meanwhile, steam the asparagus for 5 to 6 minutes until just soft. Top the flatbreads with asparagus, add torn herbs and a few Parmesan shavings.
For more delicious recipes from "The People's Friend", click here. Did you know it's also National Vegetarian Week? There are plenty of vegetarian dishes here on our website for you to enjoy!
If you can't get to the shops just now for your "Friend", subscribe now by clicking here. This will mean your "Friend" will come straight to your doorstep! 
You can also take out a digital subscription, meaning your issue will come straight to your computer, tablet or phone! And it's great value for money. Click here for more details.