English Tourism Week: Marvellous Marlow
---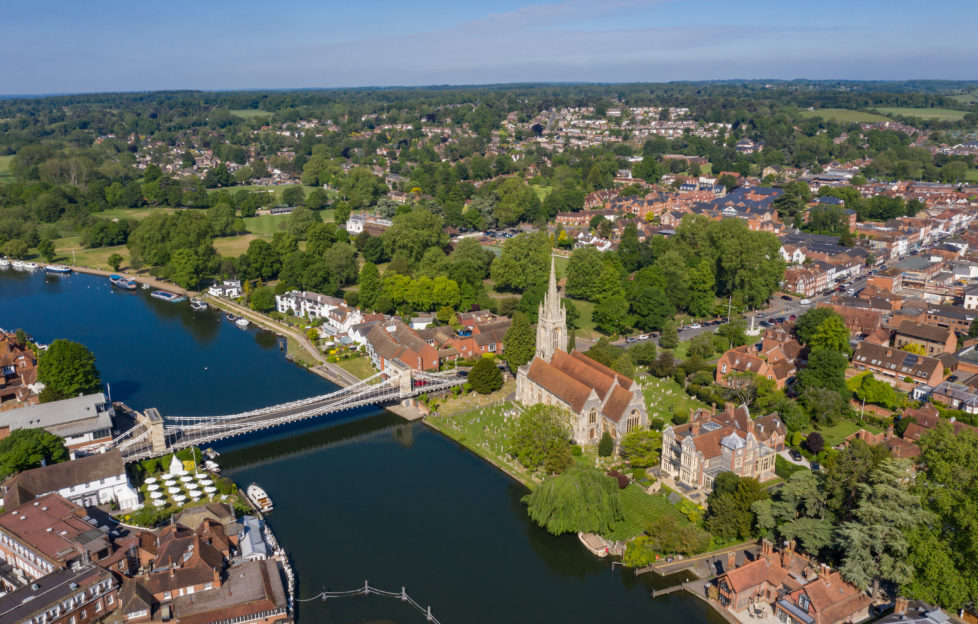 Shutterstock.
English Tourism Week runs from May 25-31.
We have to mark the occasion a little differently right now, so we won't be recommending you travel anywhere.
That doesn't mean we can't enjoy reading about our favourite destinations!
Today, we hear from Pat Coulter, who visited the town of Marlow for us in May 2018.
---
"Row, row, row your boat gently down the stream, merrily, merrily, merrily, merrily, life is but a dream."
This catchy ditty remembered from my childhood ripples through my mind, inspired by my idyllic waterside setting at dreamy Marlow on the River Thames.
Marlow has maintained its popularity as a mecca for river lovers since the days when long-time Marlow resident Jerome K. Jerome penned "Three Men In A Boat".
A story of a jolly jape with his two chums (to say nothing of the dog) in a rowing skiff from Kingston-upon-Thames to Oxford, this whimsical book full of amusing anecdotes was originally intended as an informative travel guide.
To the astonishment of "J", as he was simply known, his book became one of the most popular books of the late Victorian era, selling a million copies. It was also a huge success across the pond in America.
It was written at the time when the coming of the railways enabled carriageloads of city dwellers to escape the smog and congestion of London for a day in the country, larking around on the river surrounded by beautiful countryside.
Poppy dog and I have enjoyed many a Thames-side walk, but Marlow is a first for us. Unlike the doggie hero Montmorency in "Three Men In A Boat", Poppy won't be climbing aboard any vessel.
Picturesque landmarks
Poppy's sailed to Spain and punted on the River Cam in Cambridge, but she's still a confirmed land-lubber!
No matter. A walk along what promises to be one of the most scenic stretches of the 184-mile Thames Path National Trail will ensure we can admire the river and landmarks en route without madam getting her dainty paws wet.
You'll find Marlow set amongst the wildlife-rich, verdant water meadows of the wooded Chilterns. The historic, charming Georgian market town has a pleasing concoction of cosy pubs and familiar high-street eateries.
There's even a dash or two of Michelin-star restaurants for those with a discerning palate.
Instead, we're heading riverside to catch an early morning bite at the "Compleat Angler".
Named after Izaak Walton's famous fishing tome. It boasts a riverside terrace – just the spot to sit and admire two of Marlow's most picturesque landmarks.
Poppy's not too keen to walk over the first – a suspension bridge which straddles the Thames between Bisham on the Berkshire side and Marlow in Buckinghamshire.
The bridge feels a bit wobbly and Poppy doesn't fancy the look of the flowing water below.
A soaring spire
"It's all right, Poppy, I won't throw you in," I reassure her with a grin. She doesn't seem convinced.
Her reluctance to cross gives me time to read the plaque on the bridge revealing it has a larger "twin" in Budapest, spanning another famous river, the Danube.
Both were designed by the same British-born engineer, William Tierney Clark, although Marlow Bridge was built a few years before its Hungarian counterpart in 1832.
Further down the river, Clark also designed the very first suspension bridge to span the River Thames. The original Hammersmith Bridge is in a different guise today.
All Saints Church is the other prominent landmark, with its soaring spire. It lies directly opposite the hotel where I'm enjoying coffee and biscuits, drinking in the view.
My smartphone search reveals there was a church in Marlow on the same site as early as 1070. However, the present Victorian church was built after the spire of the original church collapsed in 1831.
Built from handsome Bath stone, the church is topped with an elegant spire.
The hotel terrace is the perfect spot to watch athletic rowers scull by with effortless ease. The sound of the foaming torrent of water pouring over the nearby weir drowns out the traffic noise rumbling over the bridge.
Fortunately, its size means heavy vehicles can't squeeze across.
I'm mesmerised by the hypnotic white water. And I'm amazed to see a flash of azure blue as a kingfisher skims the river, heading downstream towards Marlow Lock.
Literary connections
Marlow isn't just famous for its "Three Men In A Boat" literary connection, though. I've made a monstrous discovery.
Author Mary Shelley and her husband, poet Percy Bysshe Shelley, lived for a short time in Marlow.
She completed her classic gothic horror tale, "Frankenstein", here. She had started writing the book the summer before they moved to Marlow whilst visiting Lord Byron near Lake Geneva.
Albion House, which the creative couple moved into in 1817, can still be found. You can't miss it – there's a commemorative blue plaque on the building.
The property lies just off the high street, not far from the Thames. The setting beguiled Shelley.
"I am now on the point of taking a lease on a house among these woody hills," he happily wrote.
The original Albion House dates from the mid-1700s. Its owners split it into four separate houses a century ago.
Each has its own name in honour of its most famous residents. There's Shelley Lodge, Shelley House and Shelley Cottage, with the remaining house keeping its original name.
The walk on which Poppy and I are heading, upstream towards Henley, was one of which Percy was extremely fond.
In chilly months, villagers would see the Romantic poet walking round Marlow in a long brown coat with lambs'-wool collar and cuffs. In the summer he would casually wear an open-necked shirt, shunning the customary cravat fashionable at that time.
It's time for us to strike out in his footsteps along the Thames Path.
Gongoozling?
The summer sunshine provides a welcome warmth which entices young mums out with their pushchairs. Poppy chases around with new-found canine pals in riverside Higginson Park. I admire a grand statue of Marlow-born Sir Steve Redgrave adorned in his five Olympic medals.
Soon Marlow gives way to bucolic water meadows. 
On the opposite bank we pass by ancient Bisham Abbey, a spectacular Grade I listed manor house named after the monastery which previously stood alongside it.
Today it is familiar to many of our sporting greats as home to one of the National Sports Centres, managed on behalf of Sport England. They welcome all comers to stay there, but it doesn't mean you have to train like an Olympic athlete!
Picturesque Hurley Lock is a welcoming watering hole for weary walkers, with its enticing riverside tearoom and a chance to do a spot of "gongoozling", which is us land-lubbers idly watching the rivercraft go by.
At the time when "Three Men In A Boat" was written, hundreds of rowing skiffs and steam launches negotiated the lock in a single weekend.
We amble past a riverside campsite, a reminder that Jerome and his pals fashionably adapted their rowing skiff for camping afloat by stretching a tarpaulin canopy over the boat. Pretty unsuitable for sleepwalkers, I'd say!
Hambleden
Glimpses of Medmenham Abbey come into view on the opposite bank. The gothic-style former abbey was the haunt of the infamous Hell-Fire Club, a bunch of aristocrats hell-bent on a self-proclaimed "do-as-you-please" lifestyle.
Jerome commented sadly, "A grim fraternity, passing grim lives in that sweet spot that God had made so bright!"
Just like Jerome, his two chums and Montmorency the dog, Poppy and I are happy to arrive at our hostelry for the night. Our day ends in Hambleden, one of the most unspoiled villages in England, at the Stag and Huntsman, a traditional pub with individually styled, characterful rooms.
Our adventurous day ends strolling around the village, discovering the traditional village shop, cosy flint cottages and handsome church and pocket-handkerchief-sized green complete with water pump.
It's a scene so unchanged, it's made Hambleden a favourite with film crews from "Chitty Chitty Bang Bang" to "Sleepy Hollow" and "Inspector Morse".
But that's another chapter on this fascinating literary trail.
---
We are currently required to avoid all unnecessary travel. Keep this destination in mind for when restrictions are lifted.
For more travel features from "The People's Friend", click here.
For more on English Tourism Week, click here.