Sweet Potato Pollock Burgers
---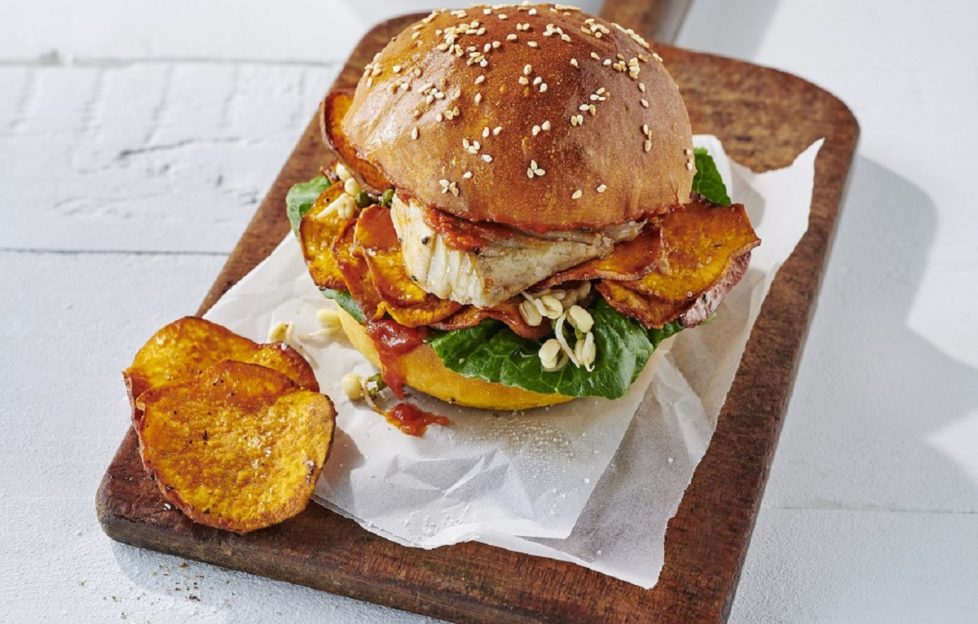 Image courtesy of American Sweet Potato
Ingredients
For the Buns:
150 g (5½ oz) US sweet potatoes
3 tbs milk
20 g (¾ oz) yeast
300 g (10½ oz) spelt flour
½ tsp salt
1 tsp sugar
1 egg, separated
50 g (1¾ oz) butter
For the BBQ Maple Syrup Sauce:
1 tsp vegetable oil
1 onion, diced
1 clove garlic, diced
100 g (3½ oz) cherry tomatoes
1 tbs tomato paste
1 tbs Canadian maple syrup
2 tbs ketchup
½ tsp instant vegetable broth
Salt and freshly ground black pepper to taste
Smoked paprika powder
For the filling:
Vegetable oil for frying
300 g (10½ oz) US sweet potatoes, peeled and sliced very thinly
1 small lemon, juice only
500 g (1 lb 2 oz) Alaska pollock fillets
To Serve: salad leaves; fresh spouts e.g. beansprouts.
Recipe courtesy of American Sweet Potato.
Social distancing measures might make barbecues a little harder right now, but that doesn't mean we can't enjoy some good burgers!
Alaskan Pollock is a great, tasty alternative to the usual beef, too.
Method:
To make the buns:
Peel the sweet potatoes, wash, dice and cook in lightly salted boiling water for about 10 minutes. Drain and purée them.

Heat the milk in a saucepan. Crumble the yeast and dissolve it in the milk. Knead with the flour, salt, sugar, puréed sweet potatoes, egg yolk and the butter to a smooth dough. Cover the dough and leave to rise in a warm place for about 1 hour. Divide into 4 portions, form into buns and leave to rise for another 30 minutes.
To make the BBQ maple syrup sauce:
Heat the oil in a frying-pan and add the onion, garlic and tomatoes. Sauté in hot oil until the tomatoes burst slightly. Add the tomato paste and maple syrup and let sauté briefly. Add 100 ml (3½ fl oz) water, the ketchup and the broth, bring to the boil and simmer without lid for about 10 minutes. Purée the sauce and season to taste with salt, pepper and smoked paprika.
To make the burgers:
Pre-heat oven to 200 deg. C., 400 deg. F., Gas Mark 6 and line a baking tray with baking paper.

Place buns on the prepared baking tray, glaze with egg white and bake in the pre-heated oven for about 20 to 25 minutes until golden brown. Leave to cool on a cake rack.

To make the filling, heat 1 tablespoon of oil in a frying-pan then fry the sweet potato slices in for 1 to 2 minutes each side. You will need to do this in batches, adding a little more oil as needed. Season with salt and pepper and keep warm.

Divide the fish into 4 portions, sprinkle with lemon juice and season with salt and pepper. Fry on each side for about 4 to 5 minutes, until the fish is cooked through, using the remaining oil from the sweet potatoes.

Cut the buns open and coat both halves with BBQ sauce. Cover the lower halves as follows: salad, sweet potatoes, fish and sprouts. Place the upper halves on top and serve your burgers.
For more delicious recipes from "The People's Friend", click here.
If you can't get to the shops just now for your "Friend", subscribe now by clicking here. This will mean your "Friend" will come straight to your doorstep! 
You can also take out a digital subscription, meaning your issue will come straight to your computer, tablet or phone! And it's great value for money. Click here for more details.