Tomato, Mozzarella and Basil Puff Pastry Tart
---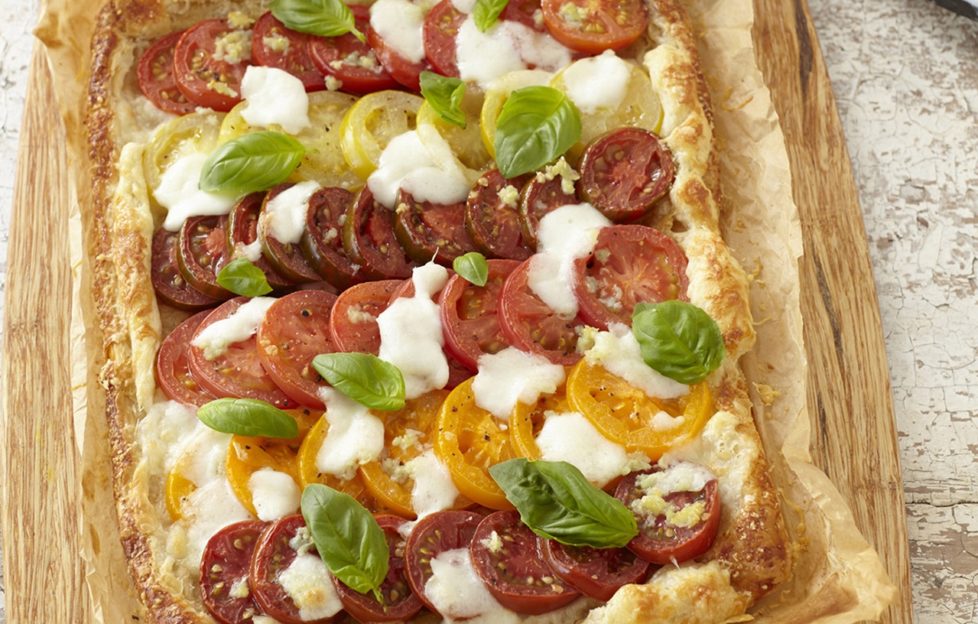 Image courtesy of The Tomato Stall.
Ingredients
500 g (1 lb 2 oz) mixed Speciality Isle of Wight Tomatoes
Sea salt flakes and freshly ground black pepper, to taste
1 x 320-350 g sheet ready-rolled all-butter puff pastry
1 medium egg, beaten
25 g (1 oz) finely grated vegetarian Parmesan-style cheese
1 vegetarian mozzarella cheese, drained then torn into small pieces
2 tbs olive oil
1 garlic clove, crushed
Small handful small, fresh basil leaves
Recipe courtesy of The Tomato Stall.
British Tomato Fortnight ends on June 7.
Celebrate these delicious vegetables (and support local growers having a tough time at the moment) with this Tomato Mozzarella And Basil Puff Pastry Tart.
You won't regret it!
Method:
Pre-heat oven to 220 deg. C., 425 deg. F., Gas Mark 7. Line a large baking sheet with non-stick baking paper.

Slice the tomatoes thinly. Lay them flat on kitchen paper or a clean tea towel, sprinkle with salt and pepper and leave to drain.

Unroll the pastry on to the baking paper and brush all over with the beaten egg. Fold over 1 cm (½ in) of each edge to form a rim and pinch at the corners to seal. Prick the base here and there with a fork then sprinkle with the Parmesan-style cheese.

Bake in the oven for 12 to 15 minutes until puffed up and golden brown.

Remove the tart base from the oven and sprinkle the base with half of the mozzarella cheese. Overlap the tomato slices on top. Mix the olive oil with the garlic, drizzle it over the tomatoes and then scatter over the remaining mozzarella cheese.

Return the tart to the oven and bake for 5 to 7 minutes until the mozzarella has just melted and the tomatoes have heated through. Remove from the oven, scatter over the basil leaves and serve immediately.
For more on British Tomato Fortnight, click here.
For more delicious recipes from "The People's Friend", click here.
If you can't get to the shops just now for your "Friend", subscribe now by clicking here. This will mean your "Friend" will come straight to your doorstep! 
You can also take out a digital subscription, meaning your issue will come straight to your computer, tablet or phone! And it's great value for money. Click here for more details.