Refugee Week 2020: Discovering The Dales
---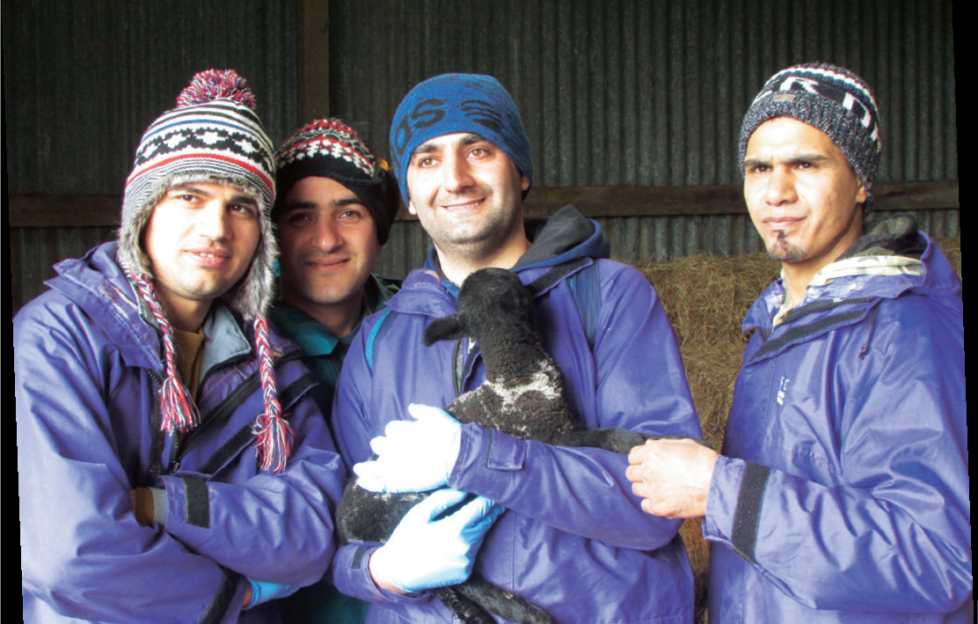 Photograph courtesy of Yorkshire Dales Millennium Trust.
Refugee Week runs from 15-21 June 2020.
To mark the occasion, we're revisiting this uplifting story from the Yorkshire Dales . . .
---
For refugees and asylum seekers, the first experience of life in the UK may be both frightening and unnerving.
Living on a basic allowance, often in a city environment, whilst waiting for a Home Office decision, can leave them feeling isolated and afraid.
However, a project run by the Yorkshire Dales Millennium Trust is helping to change this experience by offering refugees and asylum seekers the chance to spend a day in the Yorkshire Dales, working within the farming community.
Farmer Rodney Beresford is a key part of the project. Over the last decade he has welcomed over 700 asylum seekers to his farm during lambing season each May.
The volunteers — many of whom are from farming communities — learn about farming in the UK. They help with jobs such as herding, tagging and marking the newborn lambs.
"The project welcomes people from disadvantaged backgrounds, including adults with special needs and children from pupil referral units," Sarah Pettifer of Yorkshire Dales Millennium Trust explains.
The project then linked up with local organisation DARE (Darwen Asylum Seekers and Refugee Enterprise) to offer the opportunity to asylum seekers housed within the Yorkshire area.
Help them to connect with their new country
The hope was that offering them a day in the Dales would help them to connect with their new country and feel more at home.
"Many of the asylum seekers come from a farming background in their home country; they've arrived in the UK and have been spending time in urban locations.
"This experience is one of the first opportunities to come to the countryside and reconnect with nature. It helps them to realise that there are green spaces they can access."
The experience has had various sponsors over the years, and is currently run under a scheme called Ingleborough For All.
This is part of Stories in Stone, a four-year programme of community, conservation and heritage projects developed by the Ingleborough Dales Landscape Partnership.
Led by Yorkshire Dales Millennium Trust, it is backed by the Heritage Lottery Fund. As well as discovering the beautiful countryside of the Dales, many of the refugees and asylum seekers find having the opportunity to assist farmers extremely rewarding.
John East from Darwen Asylum Seekers and Refugee Enterprise (DARE) explains further:
"The asylum seekers can't work whilst the Home Office processes their applications."
"Having some voluntary work to do can be a really positive experience."
On the farms, refugees get first-hand experience of sheep-farming. They learn how to carry out basic jobs and assisting with caring for the animals. But as well as learning, some of the volunteers have been able to pass on their knowledge or use existing skills to provide invaluable support.
It was really eye-opening
"Recently, one of the refugees had been a gynaecologist in Senegal," John says.
"When one of the sheep was experiencing a difficult birth, he was able to provide expert assistance. He probably saved the lamb's life.
"Rodney, the farmer he was working with, was amazed and said that he'd never have been able to save the animal himself!"
Another memorable experience for John was when two young Iraqi boys arrived on a farm.
"They just started to run off across the fields. We shouted after them, to ask them where they were going
"They explained that it was the first time they'd been able to run and be free without being shot at, or being in danger.
"It was really eye-opening. To imagine what their lives had been like before they arrived in the UK."
Over the years the scheme has supported people from over 20 different locations, including Iraq, Syria, Afghanistan, Iran and Lebanon. It provides a chink of light in an often stressful wait for a Home Office decision, which can take over six months.
Amazingly, in the ten years the project has worked with DARE, over 700 people have visited the Dales.
"Of those seven hundred, many have gone on to become British citizens, supporting the UK economy and rebuilding their lives. We've had doctors, accountants, architects and civil engineers, who have all come through the asylum system."
Opening up his farm to refugees and others from disadvantaged backgrounds has also been an eye-opening experience for Rodney Beresford.
"Some of the refugees tell me how they farm back in their home countries," he says. "You learn something from each group you get. Everyone does things in a different way – it's surprising how many of them come from farming areas. It's really opened my eyes."
It's a fantastic, simple idea
While the groups only have the opportunity to spend a day on the farm, even that small amount of time has made a great difference.
"Being in the outdoors, seeing new birth, it's all there in the Yorkshire Dales!" John agrees. "It's amazing to see the transformation of people's lives just from having a day out in the Dales.
"It's also lovely to see that the UK has not lost its humanity. A doctor I work with reckons that a day in the Yorkshire Dales is equal to a month of anti-depressants!
"When they first come they often seem frightened or unsure of what they've let themselves in for. But they soon get used to it and start to enjoy it.
"It's lovely to see folk enjoying themselves; it makes me enjoy my work more as well!" Rodney adds.
"It's a fantastic, simple idea," John concludes.
"Following a shepherd. Helping him to care for his sheep. It's a simple human experience that helps everyone concerned to realise that, wherever we come from, we all share a common bond."
---
For more information on Refugee Week 2020, click here. To read another great refugee story, click here for more on Glasgow's Reguweegies.
For fantastic features from the "Friend" team, click here.