Strawberries With Shortbread Rounds And Mascarpone
---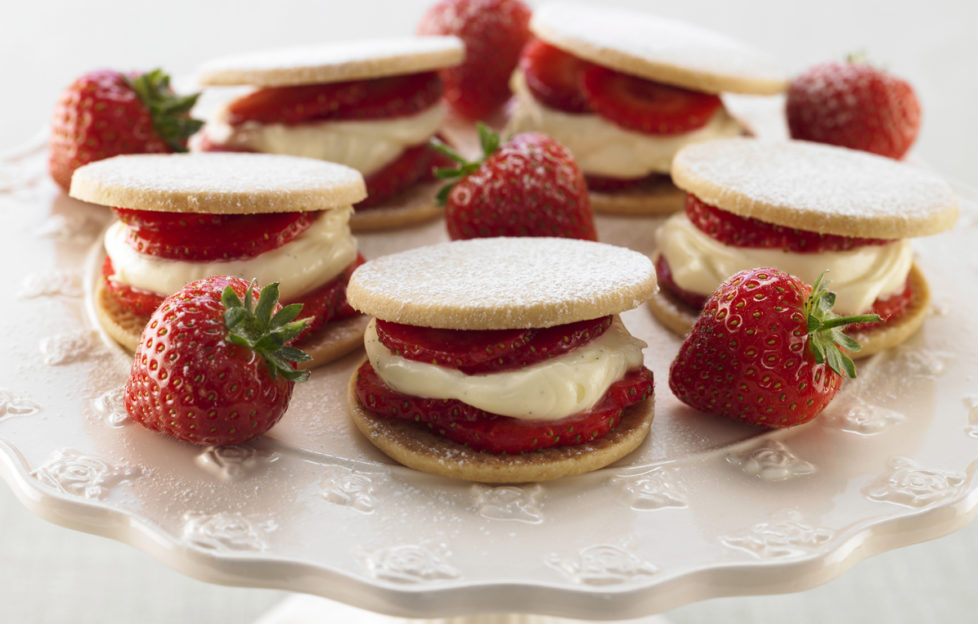 Image courtesy of Jubilee Strawberries.
Ingredients
75 g (2¾ oz) unrefined light muscovado sugar
175 g (6 oz) plain flour, plus extra for dusting
75 g (2 ¾ oz) fine semolina, rice flour or cornflour
175 g (6 oz) unsalted butter, cold and cut into squares
1 tsp vanilla bean paste or seeds from 1 vanilla pod
A pinch of salt
1 tbs unrefined demerara sugar, for sprinkling
For the Filling:
Zest of ½ a small lemon or orange
200-250 g (7-9 oz) fresh Jubilee strawberries, hulled and sliced horizontally
200 g (7 oz) mascarpone
1 tbs double cream
½ vanilla pod, seeds only
1 tbs icing sugar, plus extra for dusting
Recipe courtesy of Jubilee Strawberries.
The eagle-eyed among you will have noticed that the cover for our latest issue featured a strawberry shortcake recipe which . . . didn't appear in the magazine!
Quite late on in the process of sending to press, we made the decision to replace the recipe with an alternative. And unfortunately we missed that darn cover photo.
To help make up for this, we're bringing you this option instead! We hope you enjoy.
Method:
To make the shortbread, add the muscovado sugar, flours, butter, vanilla and salt into a large food processor and whizz until a soft ball of dough forms.

Transfer the dough to a prepared work surface and roll out until approximately 5 mm (¼ in) thick.

Use a circular cutter to cut out 12 circle biscuits.

Place circles on to a non-stick baking tray and chill the shortbread in the fridge for about 30 minutes.

Pre-heat oven to 150 deg. C., 300 deg. F., Gas Mark 2. Using a fork, prick the shortbread all over the surface and sprinkle evenly with demerara sugar.

Bake for about 1 hour, or until lightly golden. Remove from the oven and leave to cool.

To make the filling, add the lemon or orange zest to the Jubilee strawberries and carefully stir this through. In a bowl, mix together the mascarpone, cream, vanilla seeds and icing sugar.

Place 6 shortbread rounds on a board and arrange a layer of sliced Jubilee Strawberries on top. Then using a teaspoon divide the mascarpone cream between each one, followed by another layer of Jubilee Strawberries.

Finish with another shortbread round and a dusting of icing sugar.
For more delicious recipes from "The People's Friend", click here.
If you can't get to the shops just now for your "Friend", subscribe now by clicking here. This will mean your "Friend" will come straight to your doorstep! 
You can also take out a digital subscription, meaning your issue will come straight to your computer, tablet or phone! And it's great value for money. Click here for more details.