Sweet Potato, Blue Cheese And Rocket Pizza
---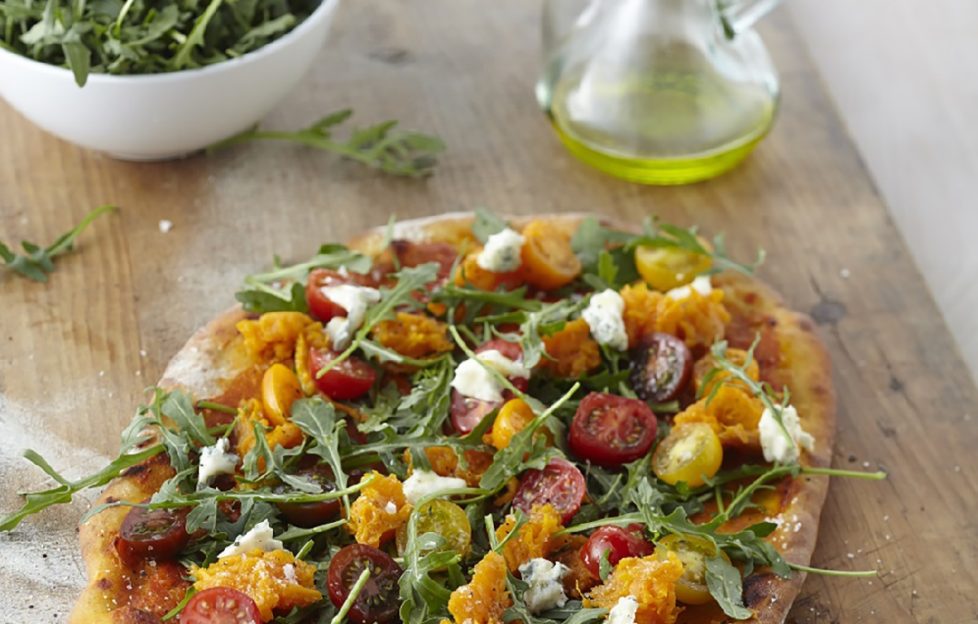 Image courtesy of American Sweet Potatoes
Ingredients
2 American sweet potatoes
For the Base:
1 x 7 g packet instant yeast
1 tsp sugar
40 g American sweet potato purée
300 g (10½) flour plus extra for dusting
1 tsp salt
1 tbs olive oil
For the Sauce:
1 tbs olive oil
1 onion, diced
1 clove garlic, chopped
300 g (10½ oz) passata
Remainder of the American sweet potato purée
Salt and freshly ground black pepper, to taste
For the Topping:
1 punnet of ripe cherry tomatoes, halved
100 g (3½ oz) vegetarian blue cheese, crumbled
50 g (1¾ oz) fine rocket
1 tbs olive oil
Recipe courtesy of American Sweet Potatoes.
Cookery Ed Marion loves rocket, that's why she's keen to share this tasty Sweet Potato, Blue Cheese and Rocket Pizza recipe with you all.
It might not be to everyone's taste, but we're confident our readers will like it!
Method:
Pre-heat oven to 200 deg. C., 400 deg. F., Gas Mark 6.

Prick holes in the two sweet potatoes with a fork, then wrap in foil and bake for 50 minutes. Once baked, peel and purée the sweet potatoes, and set aside 40 g (1½ oz) of purée for the base.

To make the pizza base, place the yeast and sugar into a bowl and dissolve in 100 ml (3½ fl oz) of warm water. Add the 40 g (1½ oz) of sweet potato purée. Stir until smooth.

In a large bowl, mix the flour and the salt together, then make a well in the middle and pour in the yeast mixture. Add the oil and 100 ml (3½ fl oz) of warm water. Mix by hand until it forms a dough which does not stick to the sides of the bowl.

Remove the dough and knead on a floured work surface until supple (for around 10 minutes). Roll the dough into a ball, place into a large bowl and cover. Leave to prove in a warm spot for around 1 hour.

Divide the dough in two and roll each into a ball. On a floured surface, roll the pizza dough out into two circles with a diameter of around 20 cm (8 in) each. Make the edges slightly thicker so that the sauce doesn't run off. Place the pizza dough on a baking tray and set aside.

To make the sauce, pour the oil into a thick-bottomed saucepan and place the pan over a high heat. Sauté the onion and garlic for 2 minutes then add the passata. Bring to the boil, then lower the heat and leave the sauce to simmer for about

10 minutes, then add the remaining sweet potato purée, which will thicken the sauce. Season to taste. Leave to cool then divide between the two bases.

Pre-heat the oven to its highest setting.

Bake the pizzas in the pre-heated oven for 15 to 20 minutes with just the sauce until they are nice and crispy, and lightly browned around the edges. Once baked, remove from the oven, add the rocket, cheese and any other toppings you wish, and serve.
Click here for more great recipes from "The People's Friend".
If you can't get to the shops just now for your "Friend", subscribe now by clicking here. 
You can also take out a digital subscription, meaning your issue will come straight to your computer, tablet or phone! And it's great value for money. Click here for more details.