Amazing Avocado And Lime Loaf
---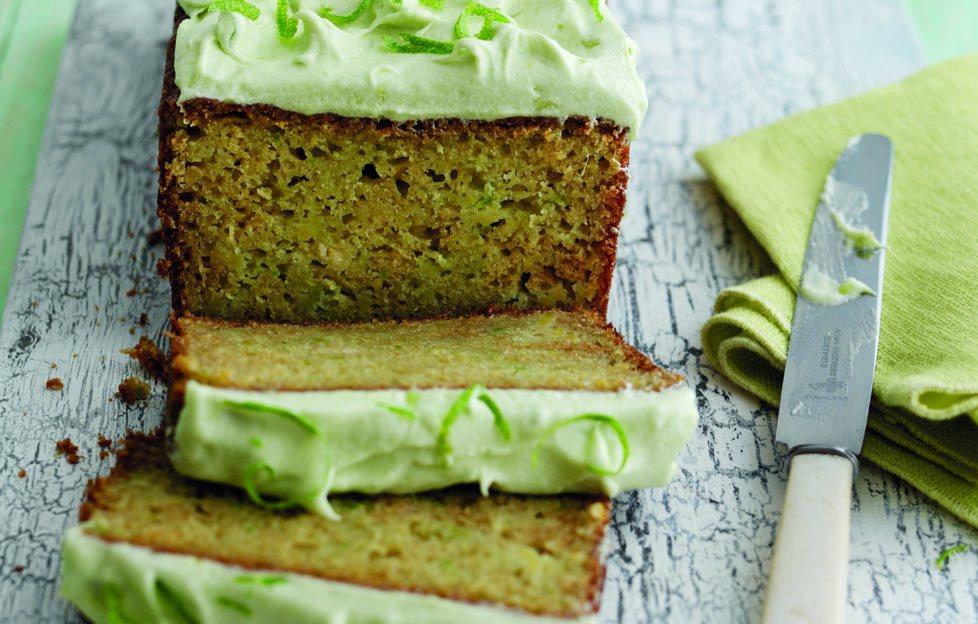 Image courtesy of DeliciousAvocados.co.uk
Ingredients
85 g (3 oz) unsalted butter, at room temperature
200 g (7 oz) caster sugar
1 lime, juice and finely grated zest
1 very ripe Hass avocado, halved, pitted, peeled and mashed
2 large eggs, at room temperature
1 tsp vanilla extract
200 g (7 oz) plain flour
Pinch salt
1 tsp baking powder
1 tsp baking soda
100 ml (3½ fl oz) buttermilk
For the Icing:
½ very ripe Hass avocado, pitted, peeled and mashed
Zest of 1 lime
Juice of ½ lime
35 g (1¼ oz) unsalted butter
100 g (3½ oz) icing sugar, sifted
Recipe courtesy of DeliciousAvocados.co.uk
Today is National Avocado Day here in the UK, where avo-ficionados everywhere celebrate this odd-looking yet tasty berry*.
Not only is it very versatile, it is also thought to have a number of health benefits, including helping prevent high cholesterol and protecting against heart disease.
Method:
Preheat the oven to 180 deg. C., 350 deg. F., Gas Mark 4. Grease a 900 g (2 lb) loaf tin and line the base with greaseproof paper.

Using an electric whisk, beat together the butter and sugar until light and creamy.

Add the lime zest and juice to the mashed avocado, then beat this into the butter mixture. Add the eggs one at a time, beating well between each addition. Stir in the vanilla extract.

In a separate bowl, sift together the flour, salt, baking powder and baking soda. Use a large metal spoon to fold half into the avocado mixture. Stir in the buttermilk, then fold in the remaining flour mixture.

Transfer the cake mixture to the prepared tin and smooth over the top. Bake for 55 minutes to 1 hour, until a skewer inserted in the middle comes out clean. If the loaf is browning too quickly, cover lightly with a piece of foil.

Remove from the oven then leave to cool for 15 minutes. Remove from the tin, peel away the paper and leave on a wire rack to cool completely before icing.

To make the icing, mix the avocado with half the lime zest and the juice. Cream the butter using an electric whisk, then beat in the avocado mixture. Slowly add the icing sugar, whisking well to combine. Spread thickly over the top of the cooled cake and sprinkle with the remaining lime zest.
*Yes, believe it or not, the avocado is technically a berry!
Click here for more great recipes from "The People's Friend".
If you can't get to the shops just now for your "Friend", subscribe now by clicking here. It means your magazine will come straight to your door every week — all you have to do is put the kettle on!
You can also take out a digital subscription, meaning your issue will come straight to your computer, tablet or phone! And it's great value for money. Click here for more details.