The Diary Of A Battle Of Britain Pilot Pt III
---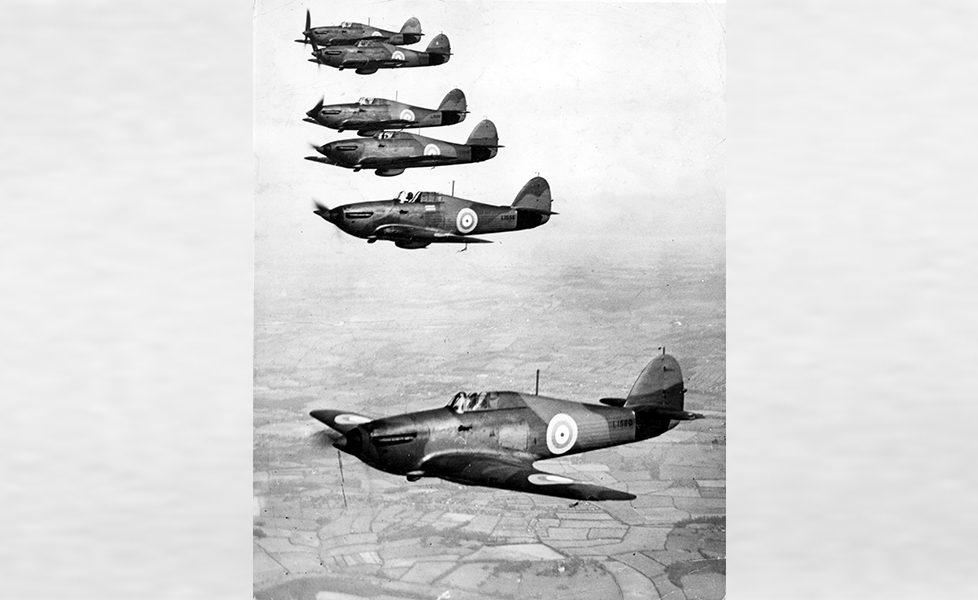 Photograph courtesy of Findmypast.
Our friends at Findmypast have unearthed a real gem for the 80th anniversary of the Battle of Britain.
Extracts from the diaries of Pilot Officer James Reginald Bryan Meaker, who was known as Bryan, were first published in several national newspapers in 1940.
We are lucky to have some of those entries, which we have been publishing here on the "Friend" website over the last few weeks.
This is part three of our extract. For parts one and two, click the tag below.
---
September 11th
First sortie in the morning brought us head-on into a bunch of HE.111s. I do such a violent breakaway that I do an inverted spin. I lose 5000 to 6000 feet before I can get out of it. Can't find the fight at all after that so I go home fed up. All set to get my own back at the second "do", but all we see are one or two 109s miles away. No fun.
September 12th
Another cloudy day, and scrambling in ones and twos to try almost impossible cloud interceptions. I get madder than hell because wireless is no use every time and I get home three times purely by good look.
September 13th (Friday)
More pointless cloud flying exhibitions. Wireless awful and everybody very testy about it. Bombing and AA fire all the time as it was a beautiful night.
September 14th
Trip down into Sussex with another squadron, and saw more of our fighters than I've ever seen before. I got attacked twice and everybody split up and came home singly or in pairs. Those attacking me must have been 113, but every time I went to attack these guys, they were spitfires! Most foxing!
September 15th, the day on which the record number of 185 enemy aircraft fell to our fighters.
The best day we've had. We go off at lunch-time with another squadron and meet 16 Do's and lots of 109 s. We go into the bombers, but Butch breaks early as he gets hit. I break with him, lose him. Then for the bombers again. Meet them coming home and no ME.s in sight.
So I attack one on the edge of the formation. Get him straight away and he leaves the rest of his boys. Follow him, plugging all the time. A quarter attack comes off beautifully, see bullets going in, in a line from the nose back to the tail, at intervals of a foot all the way down. See that rear-gunner is lying back in his seat, probably dead. Do is smoking like a chimney, can smell it from behind him, oil comes back on to my aircraft and pieces fly past me.
Then three blasted Spitfires horn in and drive me away from my own private and personal Dornier. One guy bales out from the Jerry, so I put eternal fear into him by diving straight at him and missing by inches. He has his arms folded and seems quite resigned. His ship crashes in flames and Spitfires shoot a line all around it, probably dropping visiting cards: – "I did this myself, see you in the Universal Brasserie, 8.30, Saturday". They're getting quite a reputation for pinching a bomber when a Hurricane has got it on the run. So I go home first and claim it before he can!
Afternoon
Afternoon brings even better pickings. Again we attack the Dornier formation, and break it wide open. They scatter all over the sky and go for the clouds. I get one straight away with a long burst. He catches fire and goes straight in. Chase another one in and out of the clouds, port engine catches fire and goes out and Butch and I claim him as a probable: dammed sure he was finished.
Then I see two ME 109s behind me and whip around in a left-hand climbing turn. Horrid moment as I see his cannon winking at me but he misses. Turn and start circling with the two of them. Gradually tighten the turn till I get a deflection shot at No. 2 from above.
See my bullets hit his left wing and he is so shaken he dives into a cloud. Chase these two again and lose them. Then the two fighters coming straight for me. I think they're Spitfires, so I don't fire. Dodge under them and find they are the same two yellow-nosed MEs! Annoying because they make off and I can't catch them again. Most successful day for the squadron, a bag of ten destroyed, thirteen probable and others damaged.
Our losses-nill. My bag-two destroyed, one probable, one damaged. Beginning to shoot a bit of a line. Celebration in the evening at Epping!
September 16th
Scrambled out of bed in absolute confusion. Cloud up to 20,000 and mighty clod. We see dozens of vortices but no enemy.
---
Sadly, on September 27, 1940, Bryan Meaker lost his life in combat.
Below is a copy of the original report detailing that fateful engagement.
Pilots serving in the Battle Of Britain had an astonishingly brief life expectancy of four weeks.
During the battle, 544 pilots fighting for Britain (including those from other countries including Canada, Poland and South Africa) were killed.
As many as 2,600 German pilots lost their lives.
For more great Archive content from "The People's Friend", click here.
For more on the Battle of Britain, click here.