Jerk Pork Medallions With Pineapple Salsa
---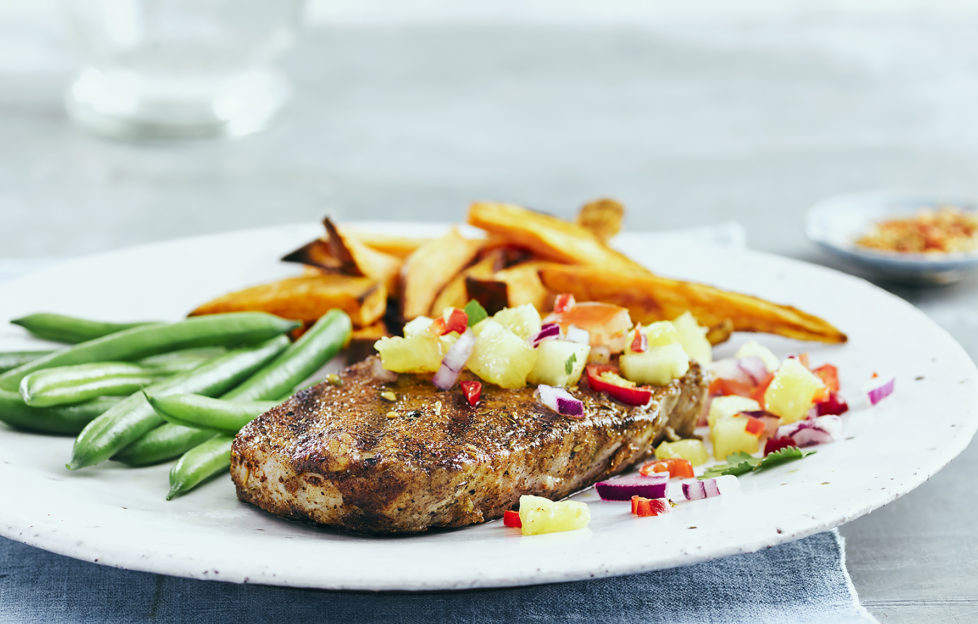 Image courtesy of Love Pork.
Ingredients
4 x pork loin medallions (or loin steaks)
For the Marinade:
3 tbs Jamaican Jerk spice mix
2 tbs vegetable oil
For the Salsa:
2 tbs olive oil
120 g (4½ oz) fresh pineapple slices, cut into 1 cm (½ in) cubes
12 whole cherry tomatoes, quartered
1 lime, juice only
1 x small bunch coriander, chopped
1 x small red chilli, chopped
½ red onion, chopped finely
Salt and freshly ground black pepper, to taste
To Serve: sweet potato wedges; steamed green beans.
Recipe courtesy of Love Pork.
The history of jerk seasoning are a little lost to time (it originated in Jamaica, but no one can agree quite when!)
But there's one thing everyone can agree on: it's delicious! And if you like your food with a little kick to it, you'll love this recipe for Jerk Pork Medallions With Pineapple Salsa. 
Method:
Pre-heat the oven to 180 deg. C., 350 deg. F., Gas Mark 4.

In a bowl, mix the Jerk spices with the oil, coat the pork and set aside for 10 minutes.

To make the salsa, add all the ingredients to a bowl, mix well and season to taste.

Heat an ovenproof griddle pan till hot, brush the pork with oil and season with salt and pepper. Add the pork medallions to the pan and cook for 3 minutes on one side. Then turn the medallions over and place the pan in the oven to cook for a further 6 to 8 minutes.

Remove from the pan and place on a plate to rest for 2 minutes. Top with the pineapple and chilli salsa, and serve with sweet potato wedges and steamed green beans.
Click here for more great recipes from "The People's Friend".
If you can't get to the shops just now for your "Friend", subscribe now by clicking here. It means your magazine will come straight to your door every week — all you have to do is put the kettle on!
You can also take out a digital subscription, meaning your issue will come straight to your computer, tablet or phone! And it's great value for money. Click here for more details.