Book Review: "Homegoing" by Yaa Gyasi
---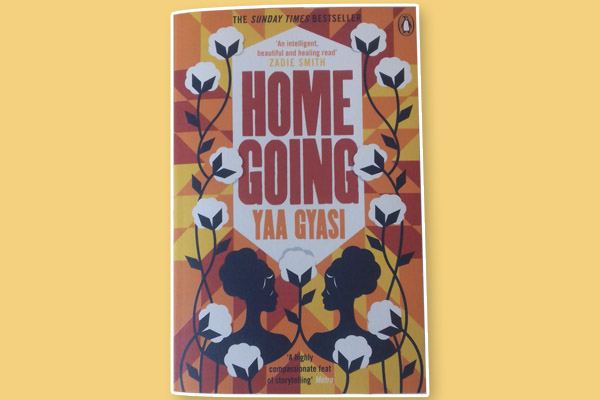 Photograph by Lucy Crichton.
Like "Three Things About Elsie", "Homegoing" is one of the books on my to-be-read list that I've caught up with during lockdown.
Published in 2016, it's the debut novel of Yaa Gyasi, who was born in Ghana and raised in Alabama.
The idea of being divided in two, being separated, reverberates throughout both the families and the countries Gyasi features in the novel.
Its title comes from an old African-American belief that death allowed an enslaved person's spirit to travel back to Africa.
And it's in Africa that the story begins, in the late 18th century, in what is now Ghana.
We meet Maame and her two daughters, Effia and Esi. The girls are born in very different circumstances.
The girls lead very different lives. Each is unknown to the other.
This book tells the girls' stories, and the stories of seven generations of their descendants.
A novel told in short stories
Beautiful Effia agrees to marry a British man, James Collins, Governor of Cape Coast Castle.
British colonial forces, on the other hand, capture and enslave her half-sister, Esi. And they hold her in the dungeon of the same castle.
One sister above, one below; one free, one a slave; one happily married, the other enduring misery in the dungeons.
And, along with fellow captives, awaiting a voyage to the Americas via the Caribbean and the Middle Passage.
Critics have described "Homegoing" as a novel told in short stories.
A descendent of either Effia or Esi narrates each chapter — one from each generation of each side of the family.
Gyasi weaves their alternating stories together like a quilt, allowing two hundred and fifty years of American and African history to unfold through inescapably personal stories.
And just as in every family, no two characters are the same. Each has their own story, and their own perspective on what's happening in their own life, as well as in the life of the wider world around them.
"Homegoing" is absolutely superb, necessarily sad in places, but with hope, too, for the future.
It received the PEN/Hemingway Award, awarded to first-time American authors of novels or short stories.
I'd definitely recommend!
Catch "Friend" Editor Angela as she runs us through the books she's been reading through lockdown here.
For more book reviews from the "Friend" team, click here.