"A Friend For Brenda"
---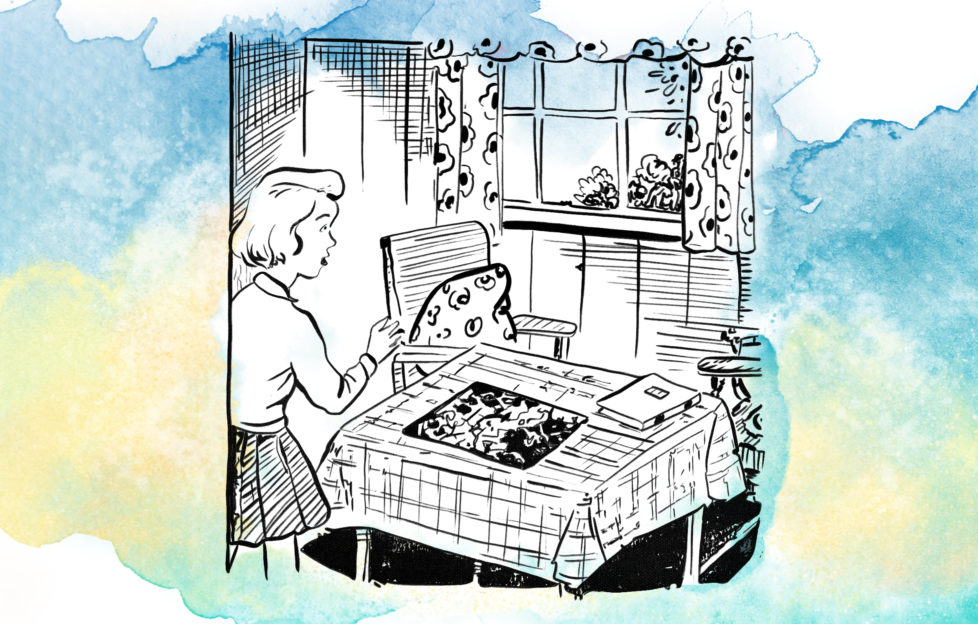 Illustration by Manon Gandiolle.
We're doing things a little differently this week — we've decided to shine the spotlight on one of our children's stories from years gone by!
Our kids pages (dubbed "The Children's Friend") proved to be very popular over the years, and we still receive comments from readers today telling us they loved reading it growing up.
With that in mind, we're bringing you "A Friend For Brenda", which was first published in "The People's Friend" back in the 1950s.
We hope you enjoy!
---
When Brenda's mummy told her that she and daddy were going abroad for a while, and that she was to go and stay with her Aunt Joan, she was very excited.
Of course, she would miss her parents, but they would soon be back.
At first there were many things to do. Coming from a big town as Brenda did, it was grand to be out among the fields and hedges, far away from the smoke and noisy traffic. But, after a time, she began to wish she had someone to play with, for there were no other boys or girls living near.
Next door was a big, grey house. In it lived a nice old lady and she had said Brenda might play in her garden.
One day when she was playing there, Brenda discovered a little summerhouse hidden away among the trees and bushes. It was made of wood, and was painted green.
There were two small windows, but they were all grimy. Brenda stood on tiptoe, wiped a small space clean and peered into the house. Inside, she could see a table, two chairs and a stool.
She decided to go in.
Inside everything was very dusty and dirty. As Brenda looked around she thought how nice the summerhouse would look if it was all clean and shiny.
She made up her mind to spring clean it.
***
The next day, Brenda was busy dusting, sweeping, scrubbing and polishing.
At last she was finished, and how fine the little house looked!
Brenda had hung curtains at the tiny windows. Aunt Joan had given her cushions for the two chairs, and a rug for the newly scrubbed floor.
The table was covered with a gay, check clot, and in the centre was a bowl of wild flowers.
From then on, Brenda and Betsy, her doll, were always in their tiny house, which they called Hideaway Cottage. Soon, nearly all Brenda's toys and books found their way there.
One afternoon she was busy doing a jigsaw when she heard her aunt calling for her to go our for a walk to the village. She ran out, leaving her jigsaw on the table.
When Aunt Joan and she arrived at the village, Aunt Joan remembered she had one or two messages to get.
First they went to the baker's, then to the tiny post office.
Mrs Thomson who owned the shop was a jolly, friendly woman.
As she stood waiting while her aunt was being served, Brenda couldn't help overhearing some of their conversation. It seemed that he old lady who lived next door to them had got her grandchild to stay with her for a while.
"If only her grandchild were someone about my own age," Brenda thought to herself.
But it seemed most unlikely, and when Aunt Joan said it was time to go she forgot all about it.
---
---
Take a look at the original page featuring "A Friend For Brenda" below: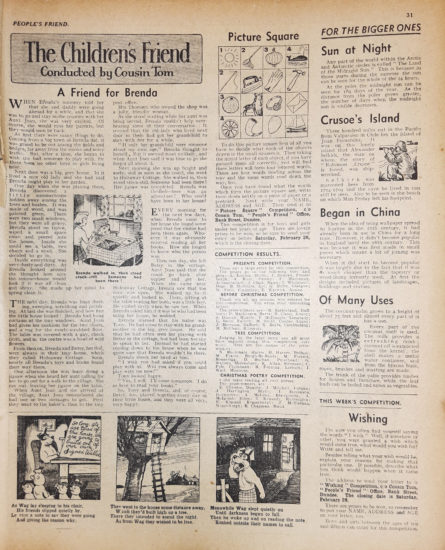 ---
---
Next morning she was up bright and early, and as soon as she could, she went to Hideaway Cottage. She walked in, then stood stock-still.
Someone had been there! Her jigsaw was completed.
Brenda was thrilled — here was an adventure! Who could have been in her house?
***
Every morning for the next few days, when Brenda came to her house she found some proof that her visitor had been there again.
Whoever it was obviously enjoyed reading all her books. How she longed to know who the person was.
Then one day she left Betsy in the cottage. Aunt Joan said that she could go back after supper and get her.
When she came near Hideaway Cottage, Brenda saw that the door was open.
She walked up to it quietly and looked in.
There, sitting at the table reading her book, was a little boy.
He smiled shyly when he saw her. When Brenda asked him if it was he who had been using her house, he nodded.
Brenda learned that his name was Tony. He had come to stay with his grandmother in the big, grey house.
He said that he had often seen her playing with Betsy in the cottage, but had been too shy to speak to her.
Instead he had started coming down to the house when he was quite sure that Brenda wouldn't be there.
Brenda shook her head at him.
"I wish you had asked if you could play with us. Will you always come and play with me now?"
Tony looked happy.
"Yes, I will. I'll come tomorrow. I do so love to read your books."
So, Tony and Brenda, and, of course, Betsy, too, played together every day in their little house, and they were all very, very happy.
---
Click here to read more of our fantastic Fiction content.
Click here to delve into our dramatic Daily Serial.