Editor's Diary: Meeting Cloudy
---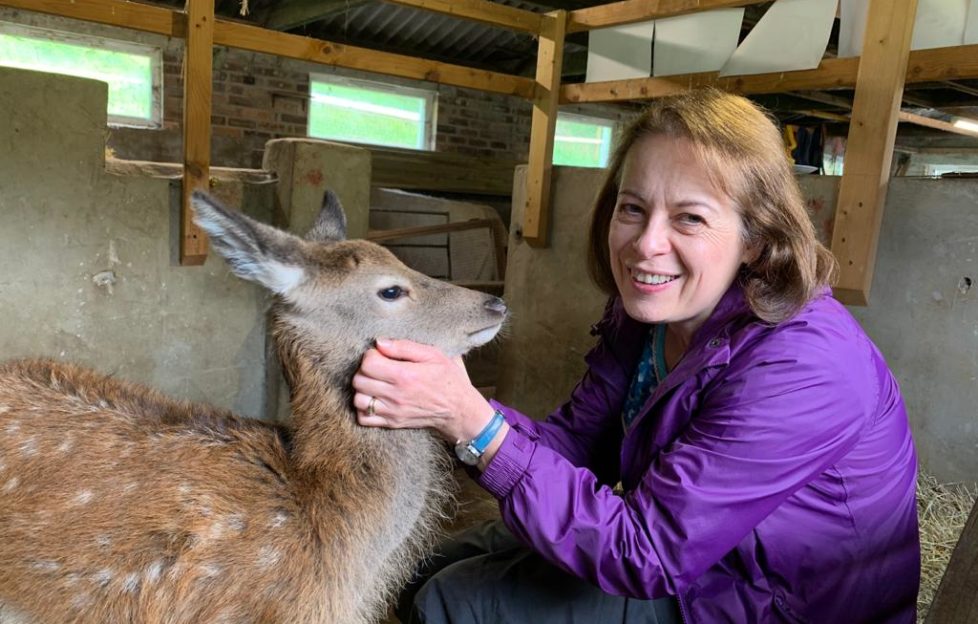 Photograph by Polly Pullar.
In last week's Editor's Diary, I wrote about my visit to Polly Pullar's home in Aberfeldy.
I mentioned a new deer arrival — and promised to tell the story this week.
Her name is Cloudy, and she is an utterly adorable red deer calf. Think Bambi, but even cuter!
As you can see, Cloudy and I hit it off straight away.
Polly suggested we have our tea break in Cloudy's "bedroom" in the shed, so we did just that.
We tucked into tea and cake, and Cloudy had her favourite rich tea biscuits!
She is an incredibly affectionate little creature and absolutely adores Polly.
The story of Cloudy's rescue is fascinating.
Polly found her abandoned as a five-day-old calf on the hill behind her home. With all her experience of rearing Ruby, her other red deer, Polly knew exactly what to do.
Cloudy couldn't have ended up in better hands.
Now she has an idyllic home in the hills of rural Perthshire, and a host of other animals for company. Including the very cheeky sheep!
I'm delighted that Polly has written all about finding Cloudy for our fabulous new Feel-good Special 2020, which goes on sale on September 16.
The pictures that accompany her article are stunning.
The Feel-good Special will be available in selected stores, but to make sure of your copy, you should order direct from us by clicking here.
For more from Angela's Editor's Diary, click the tag below.
To learn more about Polly and her work, visit her website here.