Life's Better When You're On A Bike
---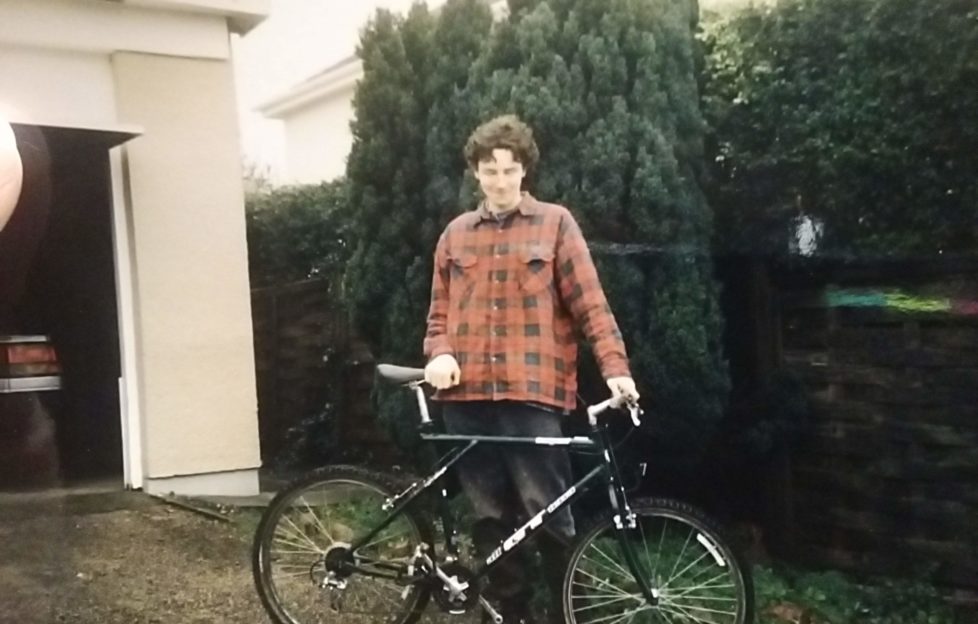 Photography courtesy of Alex Corlett.
They say this has been a good year for cycling — more people than ever have been getting on their bike.
I'm delighted to hear it, as I've always been a big fan of taking to two wheels, and I'm pleased that more people are getting to experience the many, many benefits they bring.
I've been cycling since I was very small. I still remember the first ride without training wheels, and I've only grown to love it more since then.
The picture above is of me with my second "proper" mountain bike — I must've been about 14 or 15 — and I used to go out in my black jeans and chunky boots, miles into the hilly Devonshire countryside.
All cycling is fabulous, but I prefer my riding off-road. It brings added skill and challenge to the sport, plus it takes you away from the traffic and people into some of the most beautiful parts of the country.
Especially up here in Scotland.
Seeing the country
Bikes can take you places cars can't, and can cover distances in one day that would take your feet a week to do.
It's been a great way to get to know the beauty of this country, since I moved up north over ten years ago now.
Cycling can take you into the back of beyond, if you like, or can just be a good excuse to meet up with friends and go for a wee daunder and a slice of cake.
It can be whatever you're in the mood for: to find isolation or companionship . . . to travel in an environmentally-friendly way, or to get thrills charging down a mountain.
I've had some proper adventures, both alone and with friends. I lost one bike to a river in flood in Devon (it got wheeked away while I was swimming across, as the stepping stones were well under water).
I've drastically underestimated the length of a ride several times before. Once, two friends and I were in the high mountains on the west coast, 10 miles from our base when the sun set.
We were a bit worried, but the most amazingly bright moon came out and gave us enough light to pedal home!
After each "accidental adventure", you learn a new lesson and rarely make the same mistake twice!
And the views you earn for your efforts are just something else.
Nature's tonic
I once went for an interview to be a fireman.
I remember one of the questions they were keenest on me answering was about how I handle stress.
"What do you do to cope with stressful times in your life?" was the question. "Cycle", was the answer.
We all know nature has benefits for our mental health. And we all know physical activity does. Bikes are my favourite way of getting both in one ridiculously fun package!
Not always a healthy sport
But there is an occasional downside. I've made a fair few friends through mountain-biking, and we've all had our fair share of injuries.
In common with sports like horse-riding and rugby, the nature of the sport puts your head at the forefront of any impacts, and there's usually a bit of speed involved.
I've broken my neck twice, and had innumerable bruises. I've still got three gorse needles in one knuckle that have been there for half a decade, like a wee tattoo of Orion's belt.
My friends have broken everything from little fingers to backs, collar bones to shoulders, but we still get up and get back on.
I like to think it's one of the things that cycling can teach you: resilience. Plus, when you find something you love doing, it provides you with the motivation to get better. To get fitter, to get stronger and to get back out there.
I also think one of the simplest lessons of life can be found in cycling, too.
You don't get the fun of a downhill without the work of an uphill first! You really do get out what you put in.
Oh, and one other important lesson: it's amazing what you can put up with as long as you have enough chocolate . . .
---
---
Click here to read more from Alex.
Read more from the rest of the "Friend" team by clicking here.