From Car Hire To Absurdity
---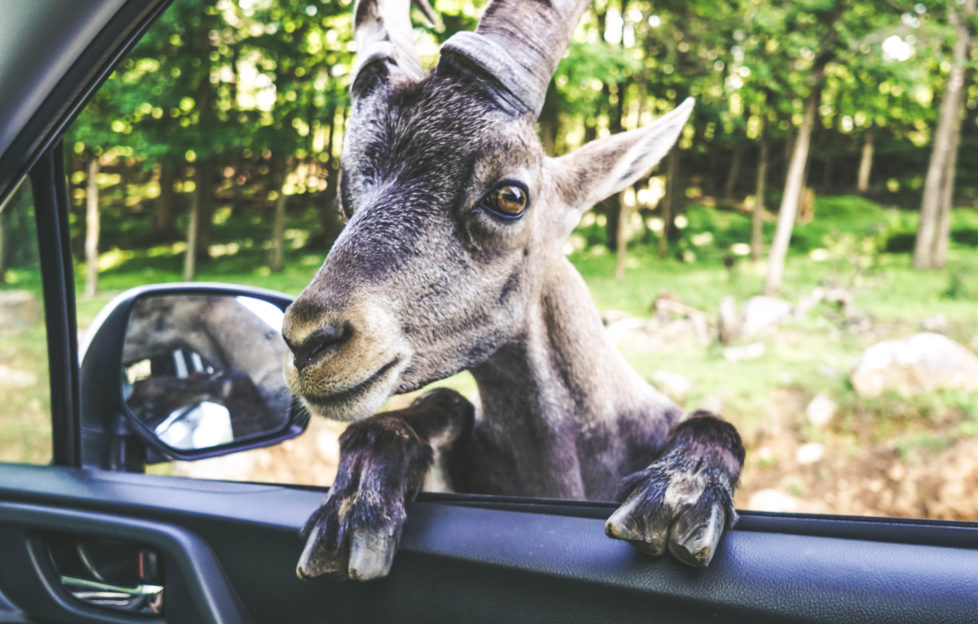 Shutterstock.
If you've ever used a car hire service, you'll recall that slight trepidation once all the forms are signed and it's in your charge.
If this vehicle returns home with the slightest mark, you know it's going to cost money. Even if it wasn't your fault!
Car hire excess insurance firm iCarhireinsurance.com is familiar with all the mishaps that can befall hapless hire-car travellers.
Their list of the top ten causes of damage makes interesting — and salutary — reading . . .
The claims, from summer 2019, include damage caused by goats climbing on a car, numerous supermarket car park bumps and scratches, and one driver being chased up the road by a large Portuguese Mountain Dog.
One in five (20%) claimed the damage was "not my fault", and over a quarter (27%) claimed for damage to the hire car when it was parked or being parked.
Top 10 causes of customer claims
High dudgeon
"I thought we would fit!"
It doesn't matter how good a driver you are, mistakes happen. And they can be costly.
One customer misjudged the height of a roof of the car park causing nearly £3,000 damage.
Goat attack
"Get off my car!"
Over £1,000 worth of damage was caused by two goats climbing onto the roof of a car while it was parked outside a villa.
Doggone
Damage caused by animals is quite common. One customer claimed for over £300 when their car was attacked by a large Portuguese Mountain Dog.
Apparently it chased the car and jumped up against the driver's door whilst the car was moving . . .
Supermarket sweep
"I only wanted some bread and milk!"
Supermarket car parks are one of the most common places for damage to happen, with one customer returning to their car to find it has been hit on not one, but both sides – causing £1,168 worth of damage.
Stormy weather
"I've never seen hailstones so big!"
Bad weather is a cause for many claims, with the damage to one hire car's roof and windshield, due to a heavy hailstorm, causing nearly £1,000 of damage.
The Mr Magoo defence
"I just didn't see it!"
It is surprising how much damage is caused by objects that don't move.
One customer claimed for more than £900 of damage caused by "colliding with a rectangular plant".
Vehicle reversing
"They reversed into me!"
Many claims are due to other drivers. One customer claimed another driver reversed into his hire car, causing £1,180 worth of damage to the front door, rear wing, left side door handle and rear bumper.
Think bike!
"They came out of nowhere!"
It isn't just other drivers; cyclists and scooter users can cause damage, too.
One customer claimed over £1,000 of damage when a scooter collided with their vehicle. The encounter caused damage to the lights, bumper and front wing.
Sneaky sat nav
"The sat nav told me to go down there!"
Scrapes and bumps caused by sat navs directing drivers down dead ends, into narrow roads and on country lanes are all too common.
One driver claimed for £276 of damage when their sat nav took them down an alley where the walls were so close it was almost impossible to manoeuvre the car through.
Mean malefactors
"It was vandalised while I was at the beach!"
Parked hire cars are not entirely safe, either, even when they're parked in official spaces in car parks.
Like the claim from one driver, who complained his hire car was keyed by a vandal along both its sides and its back – causing £901 worth of damage.
What damage?
"I didn't even know the car was damaged!"
It can come as a surprise when the rental company finds damage on a returned car that the customer knew nothing about.
For one claimant, the rental company inspection found the hire car had three points of attempted forced entry where a thief had tried to steal the car, causing £914 of damage.
The hirer was completely oblivious!
Accidents will happen
Ernesto Suarez, founder and CEO of iCarhireinsurance.com said:
"Whether it's a perilous supermarket car park, hailstones the size of golf balls, or goats 'kidding around' on your roof, it would have been hard to predict some of the ways rental vehicles were damaged last year.
"However, it wouldn't have been hard to predict that without car hire excess insurance, the hirer would have been considerably out of pocket when they returned the vehicle. It goes to show that it doesn't matter how good a driver you are, accidents happen."
---
For more financial advice from "The People's Friend", click here.