Celery Sausage Rolls With A Beer Dip
---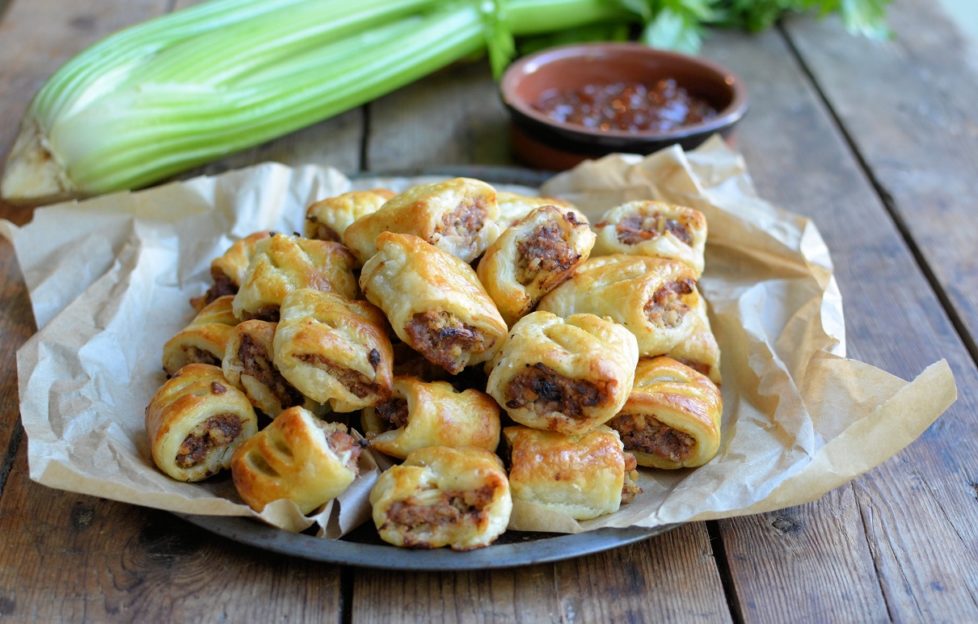 Image courtesy of Fenland Celery.
Ingredients
450 g (1 lb) high meat content sausage meat
1 small onion, peeled and diced finely
4 sticks celery, trimmed and diced finely
1 tbs chopped fresh sage
A little flour, for dusting
350 g (12 oz) ready-made puff pastry
1 free-range egg, beaten with 1 tbs milk (to seal)
1 free-range egg, beaten (to glaze)
Salt and freshly ground black pepper, to taste
For the Beer Dip:
4 tbs tomato ketchup
2 tbs tomato chutney
1 tbs Worcester sauce
1 tsp English mustard
150 ml (¼ pt) dark beer
Recipe courtesy of Fenland Celery.
According to recent statistics, bakery chain Greggs sells more than 140 million sausage rolls per year.
So it's clear that we love this tasty snack food here in the UK.
But have you ever tried making your own? This recipe can help!
Have a go at it today.
Method:
Pre-heat oven to 220 deg. C., 450 deg. F., Gas Mark 7. Grease and line two large baking sheets with greaseproof paper.

Mix the sausage meat, onion, celery and sage together and season with a little salt and pepper.

Roll the pastry out on a well-floured board into a large rectangle. Cut into three strips, lengthways.

With floured hands, take a third of the sausage meat mixture and make a long sausage shape, then lay it on one half of one of the strips of pastry. Moisten the edges with a little egg and milk mixture then fold the other half of the length of pastry over and seal along the edges. Using a sharp knife, cut about 8 sausage rolls out of one strip, then snip the tops to allow the steam to escape. Repeat with the remaining two pastry strips.

Place all the sausage rolls on the baking sheets, brush with beaten egg and bake on two shelves, swapping them over halfway through for 15 to 20 minutes until the pastry is puffed up and golden brown. Remove the sausage rolls from the oven and allow to cool slightly before serving warm or cold.

Meanwhile, make the dip by adding all the ingredients to a saucepan and heating gently until warm. Pour the dip into a bowl and serve with the warm sausage rolls.
---
Click here for more great recipes from "The People's Friend".
If you can't get to the shops just now for your "Friend", subscribe now by clicking here. It means your magazine will come straight to your door every week — all you have to do is put the kettle on!
You can also take out a digital subscription, meaning your issue will come straight to your computer, tablet or phone! And it's great value for money. Click here for more details.