Twice-baked Sour Cream And Chive Potatoes
---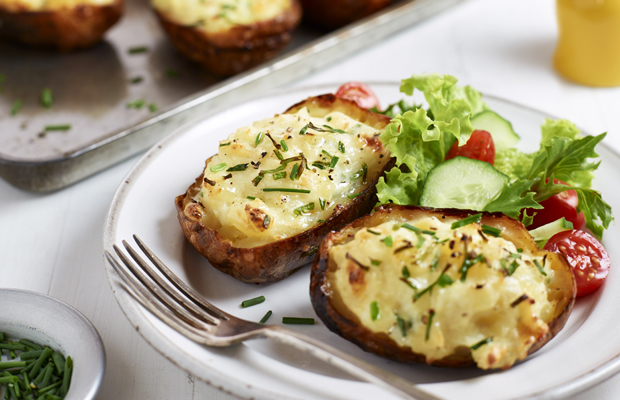 Image courtesy of the Potato Council.
Ingredients
4 medium fluffy potatoes, such as Maris Piper or King Edward
1 tsp olive oil
Salt and freshly ground black pepper, to taste
100 ml (3½ fl oz) sour cream
2 tbs semi-skimmed milk
3 tbs chives, chopped finely
To Serve, Green salad
Recipe courtesy of the Potato Council.
Potatoes are one of the most versatile vegetables you can plonk on your plate.
Whether it's as a side dish, a topping or a tasty main course, you can get so much from the humble spud.
This week, we're trying out these Twice-baked Sour Cream And Chive Potatoes.
Why not give them a go!
Method:
Heat oven to 220 deg. C., 425 deg. F., Gas Mark 7.

Prick the potatoes with a fork, place on a plate and microwave on high (900W) for 5 minutes. Turn the potatoes over and microwave for a further 4 minutes.

Transfer the potatoes to a baking sheet and brush with the oil.

Season and place on the top shelf of the oven for 20 to 25 minutes until the skin is crisp and the flesh is soft. Reduce the temperature to 200 deg. C., 400 deg. F., Gas Mark 6 if the potato browns too quickly.

Remove the potatoes from the oven. Halve and scoop out most of the flesh. Roughly mash the flesh in a bowl with the sour cream, milk and 2 tablespoons of the chives. Season and spoon back into the potato skins.

Return to the oven and bake for a further 15 minutes until golden. Scatter with the remaining chives to serve.
---
Click here for more great recipes from "The People's Friend".
If you can't get to the shops just now for your "Friend", subscribe now by clicking here. It means your magazine will come straight to your door every week — all you have to do is put the kettle on!
You can also take out a digital subscription, meaning your issue will come straight to your computer, tablet or phone! And it's great value for money. Click here for more details.