Roast Turkey With Fenland Celery, Walnut & Sausage Stuffing
---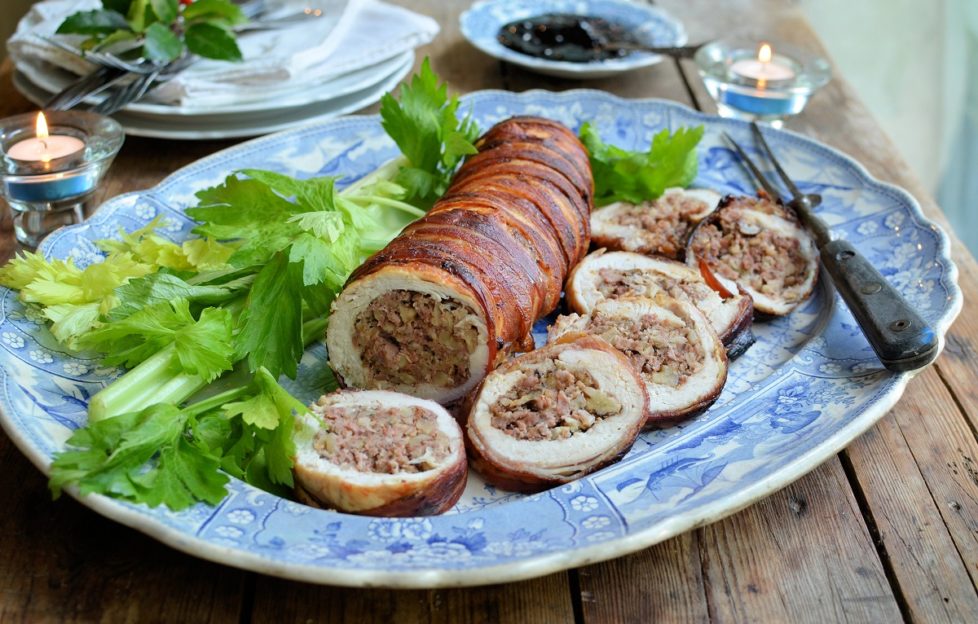 Image courtesy of Fenland Celery.
Ingredients
Butter, melted, plus extra for greasing
1 kg (2 lb 4 oz) British turkey fillet
Salt and freshly ground black pepper, to taste
12 to 16 rashers dry-cure smoked streaky bacon
For the Stuffing:
450 g (1 lb) sausage meat
6 shallots, peeled and diced finely
4 sticks Fenland celery, diced
75 g (2¾ oz) walnuts, chopped
100 g (3½ oz) fresh breadcrumbs
1 tbs chopped fresh sage leaves
1 free range egg, beaten
To Serve: seasonal vegetables and trimmings of choice.
Recipe courtesy of Fenland Celery.
Christmas is the time of the year when we traditionally trot out our best turkey recipes.
Your family will love this one, even if you decide not to try it on the big day!
Method:
Pre-heat oven to 180 deg. C., 350 deg. F., Gas Mark 5. Butter a large roasting tin.

Cut open the fillet and beat it with a wooden mallet until it is has increased in size by a third – be careful not to make any holes in the meat. Brush some of the melted butter over the turkey and season with salt and pepper.

Mix all the stuffing ingredients together and season with salt and pepper.

Make a long sausage shape with the stuffing mixture and place it in the middle of the turkey fillet. Roll the turkey meat around to cover all the stuffing.

Carefully wrap the streaky bacon around the rolled turkey fillet, tucking the ends underneath. Weigh the stuffed rolled fillet to calculate the cooking time.

Using a spatula, lift the stuffed turkey fillet into the buttered roasting tin. Tuck any stray pieces of bacon underneath if necessary.

Add 6 tablespoons of water and cover with tinfoil before roasting in the pre-heated oven for 40 minutes per kilo plus 20 minutes (so a kilo will take one hour to cook). Remove the foil for the last 15 to 20 minutes of cooking to allow the bacon to crisp up.

Allow to stand, loosely covered in tinfoil, for 10 to 15 minutes before cutting into slices and serving with seasonal vegetables and potatoes. (The juices from the roasting tin can be made into gravy.)
We can practically smell it already.
Enjoy!
---
Click here for more great recipes from "The People's Friend".
If you can't get to the shops just now for your "Friend", subscribe now by clicking here. It means your magazine will come straight to your door every week — all you have to do is put the kettle on!
You can also take out a digital subscription, meaning your issue will come straight to your computer, tablet or phone! And it's great value for money. Click here for more details.