Mushroom, Lentil and Spinach Wellington
---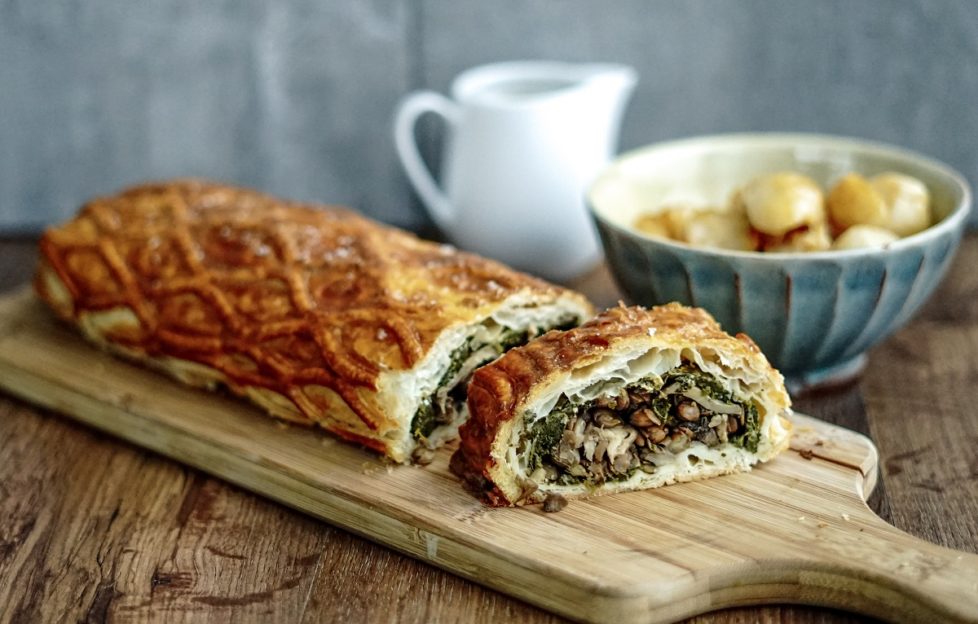 Image courtesy of Canned Food UK.
Ingredients
2 x 390 g can fried onions
2 vegetable stock cubes
2 heaped tsp flour
2 x 400 g cans whole button mushrooms
1 x 400 g can green lentils
1 lemon, zest only
Handful fresh parsley, chopped finely
1 x 400 g can leaf spinach
Salt and freshly ground black pepper, to taste
1 x 320 g vegan-friendly ready roll puff pastry sheet e.g. Jus-Rol
2 heaped tsp vegan mustard
2 heaped tsp garlic paste (or 2 grated cloves)
Rapeseed oil
For the Roast Potatoes:
2 x 560 g cans peeled new potatoes
Rapeseed oil
Recipe created by Masterchef finalists Billy Wright and Jack Layer. Recipe and image courtesy of Canned Food UK.
This Mushroom, Lentil and Spinach Wellington recipe isn't only tasty, it'll also help use up some of those leftovers in the store cupboard!
Method:
Pre-heat oven to 200 deg. C., 400 deg. F., Gas Mark 6.
Add both cans of onions to a roasting tin and roast in the oven for 45 minutes until browning and sticking to the edges. Remove two-thirds and set aside to cool.
To make the onion gravy, with the remaining onions still in the roasting tin, crumble over one of the stock cubes. Sprinkle over the flour and cook on the hob, stirring for 1 minute. Add 1 litre (1¾ pints) of boiling water and stir, to bring everything together. Cook over a low heat for 5 minutes, scraping the bottom and sides of the tin. Keep warm.
Drain mushrooms and add to a saucepan, followed by the lentils. Lower the heat and simmer for 3 minutes or until the mixture has thickened and liquid evaporated. Take off the heat and add lemon zest and parsley. Combine and set aside to cool.
In a saucepan, sauté the spinach in a little oil, crumble in the other stock cube and cook for 2 minutes. Season and set aside to cool.
To assemble, roll out the pastry sheet, leaving it on its paper. Brush the mustard across the pastry, leaving an inch to the edge of the pastry.
Spread the reserved onions, then the spinach, and finally the mushroom and lentil mixture on to the pastry. Roll the pastry by lifting the paper, seal the edges, then fold the ends underneath, brush with oil and return to the fridge for at least 30 minutes.
To make the roast potatoes, drain the can and carefully press each potato so that it is slightly squashed. Heat a roasting tray in the oven with a little oil and roast the potatoes until crispy, around 50 minutes.
Remove paper and place the roll on a baking tray. Brush again with oil and roast in the oven for 45 minutes or until golden brown.
---
Click here for more great recipes from "The People's Friend".
If you can't get to the shops just now for your "Friend", subscribe now by clicking here. It means your magazine will come straight to your door every week — all you have to do is put the kettle on!
You can also take out a digital subscription, meaning your issue will come straight to your computer, tablet or phone! And it's great value for money. Click here for more details.