A New Penny Publication . . . 152 Years Later
---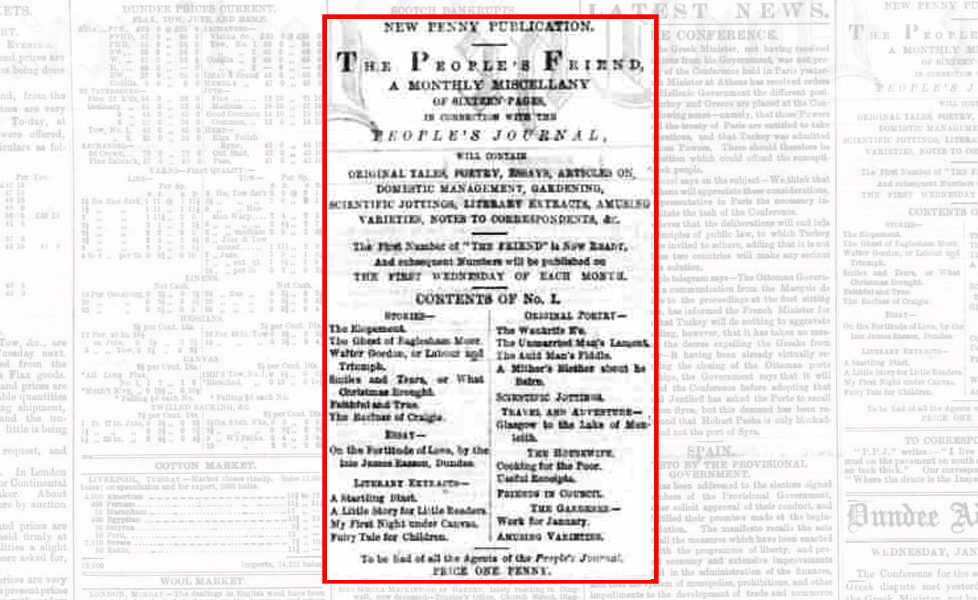 Image courtesy of Findmypast.
This is the advert for the very first issue of "The People's Friend", carried in what was then the local paper, the Dundee Advertiser, in 1869.
Our friends at Findmypast dug this out for us, via the British Newspaper Archive.
It's a little hard to read, so here's what it says:
---
NEW PENNY PUBLICATION
The People's Friend
A MONTHLY MISCELLANY
OF SIXTEEN PAGES
IN CONNECTION WITH THE
PEOPLE'S JOURNAL
WILL CONTAIN
ORIGINAL TALES, POETRY, ESSAYS, ARTICLES ON DOMESTIC MANAGEMENT, GARDENING, SCIENTIFIC JOTTINGS, LITERARY EXTRACTS, AMUSING VARIETIES, NOTES TO CORRESPONDENTS &C
***
The First Number of "THE FRIEND" is Now Ready.
And subsequent Numbers will be published on
THE FIRST WEDNESDAY OF EACH MONTH
---
And still — 152 years on from the "first number" of our penny publication — we bring out a new issue of "The People's Friend" every Wednesday.
There are perhaps fewer "scientific jottings" these days . . . but our readers can expect a lot more than sixteen pages, at least!
We're very happy to still be doing so, especially in the current circumstances. Here's to another 152 years!
---
"The People's Friend" currently has thousands of subscribers living all over the world. Join the family today — click here to subscribe, and your copy will come straight to your doorstep every week! 
You can also subscribe to our Specials, or enjoy our digital option, which lets you read the latest issue on your computer, tablet or phone before the printed magazine makes it to the shops! And it's great value for money. Click here for more details.