Celebrating Chandeleur With Crêpes!
---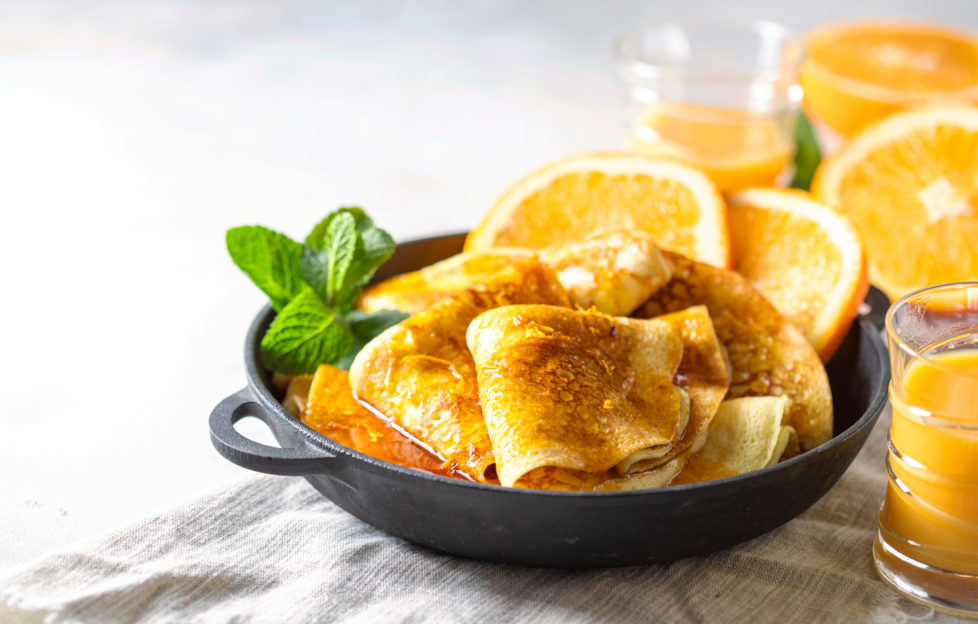 Shutterstock.
On the 2nd of February every year, the "Chandeleur" is celebrated in France. It is one of my favourite celebrations, as it mostly involves cooking crêpes and eating them!
Historically, the tradition began with the Romans, who celebrated the god Pan on that day.
The Christians later adopted it, in celebration of Jesus first being presented to the temple, 40 days after Christmas.
In France, it was also tradition to use the previous year's wheat and bake crêpes, as it was supposed to bring good luck to your harvest (and stop the new wheat from being spoiled). Nowadays, it's just a perfect excuse for our sweet tooth!
Ingredients:
250g of all-purpose flour
3 eggs
1/2 Litre of Milk
2 Tablespoon of oil
1 pinch of Salt
Method:
In a large bowl pour flour and salt and mix.
Add the eggs to the mix beating them one by one. Add the milk little by a little while mixing until the dough is smooth and liquid, then add the oil. If you want to go faster, and you have a large blender, this recipe works well in the blender too!
Most important: let the mix rest for at least 60min in the fridge. It will improve the texture and taste of the crêpes.
To cook them, butter a skillet or use a non-stick frying pan. Heat it up and then pour a little bit of the crepe mix and swirl it on the pan to create an even coat at the bottom. You can either use a spatula to flip them or gently use the spatula to loosen it up at the bottom, and try to flip it!
Now for the best part . . . add your filling! You can, of course, go with the traditional jam, or sugar and lemon. Chocolate spread is delicious on them. Or you could try a crêpe Suzette!
For 8 crêpes Suzette:
On a stainless steel plate, mix the zest and juice of one orange, 25 g of butter, 2 tbsp of sugar, 10cl of Cognac and 10cl of Grand Marnier.
Place the plate in the oven on low temperature (120°C) or on the stove on a very low setting. The alcohol should slowly evaporate, and the final taste of the sauce should be subtle.
Fold each crêpes twice and add them to the plate one by one. Make sure to cover them with sauce. Place the plate back in the oven for a further 5 min, the crêpes are better served very warm.
For the final touch, once the crêpes are plated, heat 10cl of Grand Marnier and set it on fire before pouring it over the crêpes!
---
For more recipes from "The People's Friend", visit our Cookery pages here.