Caramelised Pear And Salted Pecan-filled Pancakes With Hot Chocolate Sauce
---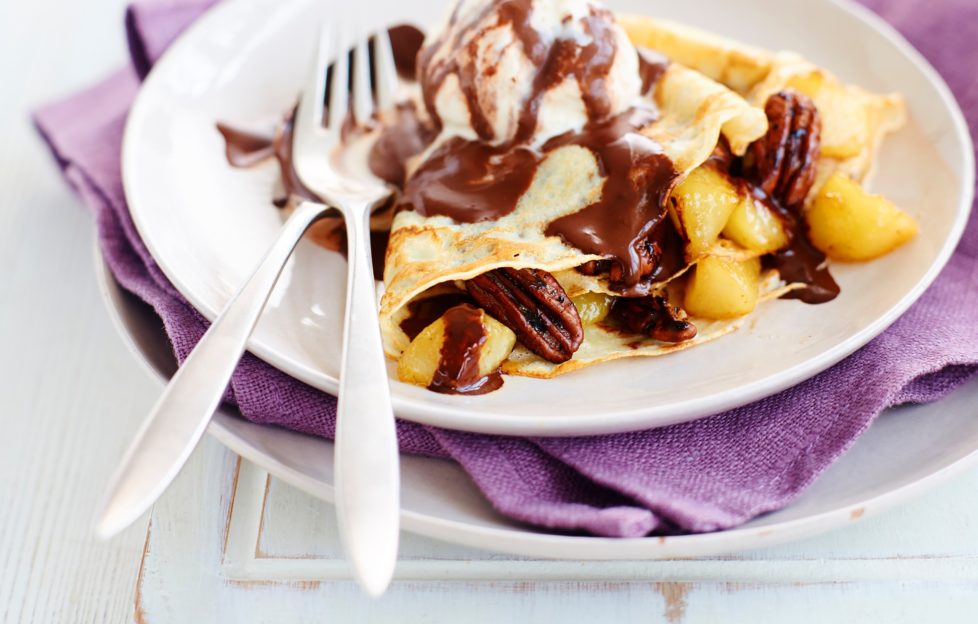 Image courtesy of British Lion Eggs.
Ingredients
125 g (4½ oz) plain flour
2 tbs icing sugar
2 medium British Lion eggs
375 ml (14 fl oz) milk
1 tbs sunflower oil
Oil for frying
For the Filling:
25 g (1 oz) butter
50 g (1¾ oz) pecans
3 tbs caster sugar
Pinch of sea salt
3 large pears, peeled, cored and chopped
100 g (3½ oz) 70% cocoa solids dark chocolate, chopped
6 tbs milk
Few drops vanilla extract
To Serve: ice-cream.
Recipe courtesy of British Lion Eggs.
It's Shrove Tuesday today — one of those rare times of the year when we know everyone around the country is in the kitchen cooking up the same delicious treat. Pancakes!
If you're looking to do yours a little differently this year, try out this delicious recipe.
We guarantee you'll be coming back for more!
Method:
Sift the flour and sugar into a large mixing bowl. Make a well in the middle of the flour and add the eggs with half the milk. Whisk until the mixture is lump free. Add the remaining milk and oil and whisk again until smooth. Pour the batter into a jug. Leave to stand for 10 minutes.
Heat a medium frying-pan over a medium heat and brush with oil. Pour in about 5 tablespoons of pancake batter and swirl to coat the base. Cook for about a minute until deep golden, flip or turn and cook for a further 30 seconds. Repeat with the remaining mixture to make 8 pancakes in total. Set aside to keep warm while you make the filling.
To make the filling, melt about a third of the butter in a large non-stick frying-pan, add the pecans and cook over a medium-high heat for 2 minutes. Add 1 tablespoon of the sugar and the salt and toss to coat. Cook for a further minute before transferring to a plate.
Wipe the frying-pan clean and return to the heat. Add the remaining butter and the pears and fry for 4 to 5 minutes until deep golden. Add the remaining sugar, toss and cook for a further minute.
Meanwhile, in a heatproof bowl set over a pan of barely simmering water, melt the chocolate, milk and vanilla together until smooth.
Spoon the pears and pecans into the pancakes, drizzle with the hot chocolate sauce and serve with ice-cream.
Enjoy!
---
Click here for more great recipes from "The People's Friend". We have plenty of other ways to do your pancakes right here on our website, too. Click here to take a look.
If you can't get to the shops just now for your "Friend", subscribe now by clicking here. It means your magazine will come straight to your door every week — all you have to do is put the kettle on!
You can also take out a digital subscription, meaning your issue will come straight to your computer, tablet or phone! And it's great value for money. Click here for more details.