Breakfast California Raisin Crunch
---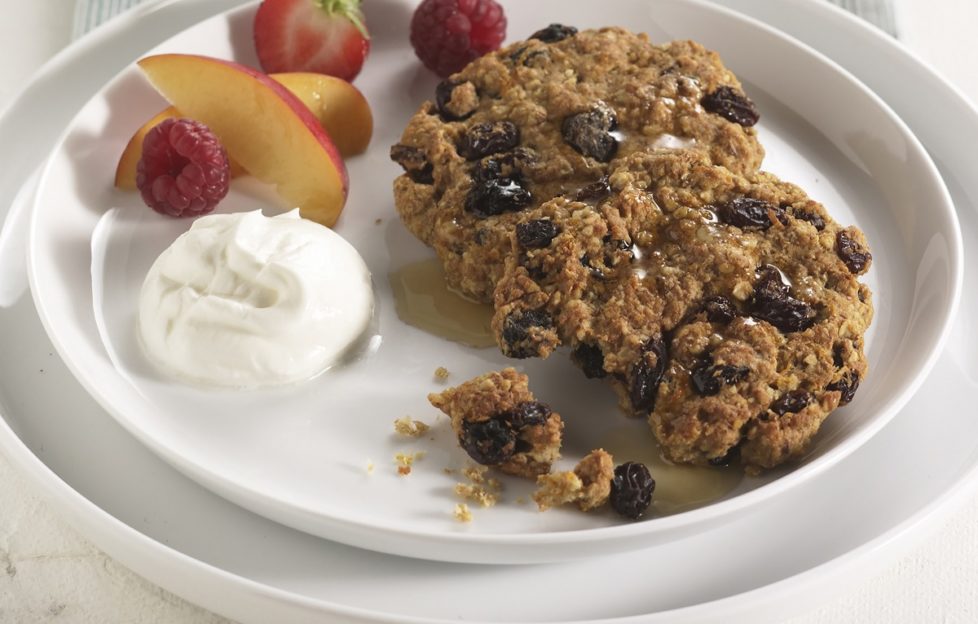 Photograph courtesy of California Raisins.
Ingredients
120 g (4½ oz) plain wholemeal flour
80 g (3 oz) porridge oats
½ tsp baking powder
½ tsp bicarbonate of soda
1 tsp mixed spice
75 g (2¾ oz) dried prunes, chopped
100 g (3½ oz) Californian Raisins
1 carrot, peeled and grated
1 large egg
2 tsp orange juice
1 tbs clear honey
100 g (3½ oz) butter, melted
½ vanilla pod, seeds only
To Serve: natural yoghurt; fresh fruit; honey.
Recipe and image courtesy of California Raisins.
Breakfast is the most important meal of the day, so why not make sure you enjoy it?
This recipe for Breakfast California Raisin Crunch should help with that . . .
Starting your day the right way has never been easier. Or tastier!
Give it a try today.
Method:
Pre-heat oven to 190 deg. C., 375 deg. F., Gas Mark 7. Lightly flour a baking sheet.
Place flour, porridge oats, baking powder, bicarbonate of soda, mixed spice, prunes, raisins and carrot in a bowl and mix evenly.
In a separate bowl, whisk egg, orange juice, honey, melted butter and vanilla seeds. Blend in with the dry ingredients. Divide the mixture into 10 portions.
Using floured hands, form each portion into a ball and flatten each into a 8 cm (3¼ in) round. Place apart on baking tray. Bake in the oven for 10 to 15 minutes until golden brown.
Serve warm with natural yoghurt, fresh fruit and drizzled with honey.
---
Click here for more great recipes from "The People's Friend".
If you can't get to the shops just now for your "Friend", subscribe now by clicking here. It means your magazine will come straight to your door every week — all you have to do is put the kettle on!
You can also take out a digital subscription, meaning your issue will come straight to your computer, tablet or phone! And it's great value for money. Click here for more details.