On The Right Track With Our Story Podcast
---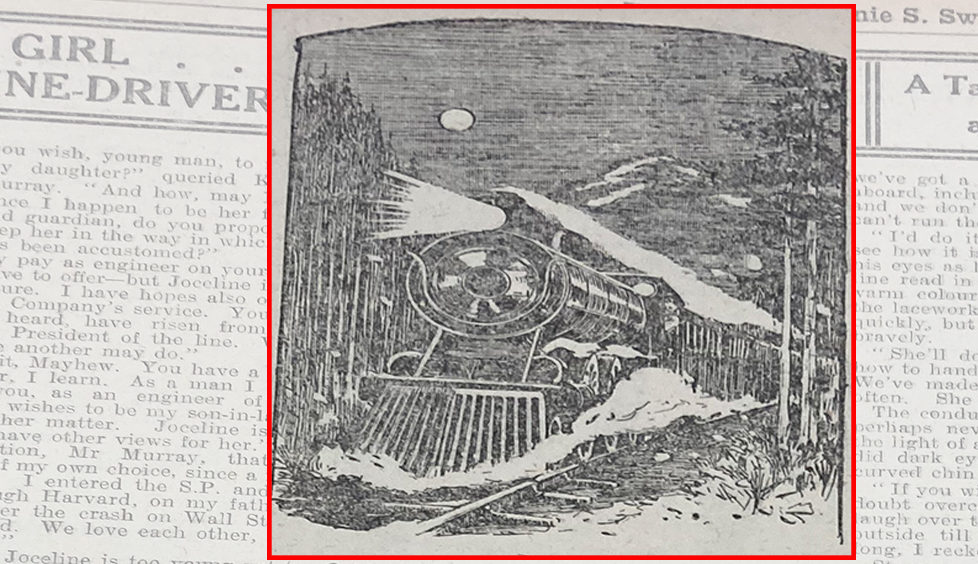 Image courtesy of DC Thomson Ltd.
It's fitting (although, we'll confess, accidental) that we published the latest episode of "Reading Between The Lines", our story podcast, so close to International Women's Day.
We talked about "The Girl Engine Driver: A Tale Of A Race With A Forest Fire", by WD Morris. It first appeared in the "Friend" all the way back in 1916. You can see the illustration that originally accompanied it above.
The story sees a young woman named Joceline step up in a time of crisis, taking on a traditionally male role (at the time of printing, anyway), and succeeding under difficult circumstances.
It led our panel (Digital Ed Iain, Features team's Marion, Fiction team's Tracey and Barry from our Archives) to consider how important "The People's Friend" has been in sharing these sorts of stories throughout our history.
Strong women have long been a hallmark of the magazine. And not just fictional ones; our writers, too, have often been trailblazers. Take Annie S Swan, for example, who we now know was one of the most prolific authors of her time.
And thanks to our Classics Collection and our story podcast, a modern audience can now rediscover these women, and appreciate the quality of their work.
Listen to the latest episode here
We know that some of our readers aren't too keen on the podcast format. So we're bringing you the latest episode of "Reading Between The Lines" right here!
Just click the play button below and enjoy!
Our sponsor
"Reading Between The Lines" is sponsored by friendship society, the Oddfellows.
If you're looking to make new friends or find new activities, visit oddfellows.co.uk, or call 0800 028 1810 today for a free information pack.
Terms and conditions apply to all member benefits and services.
---
For more on our story podcast, click here.