The Delights Of Dublin
---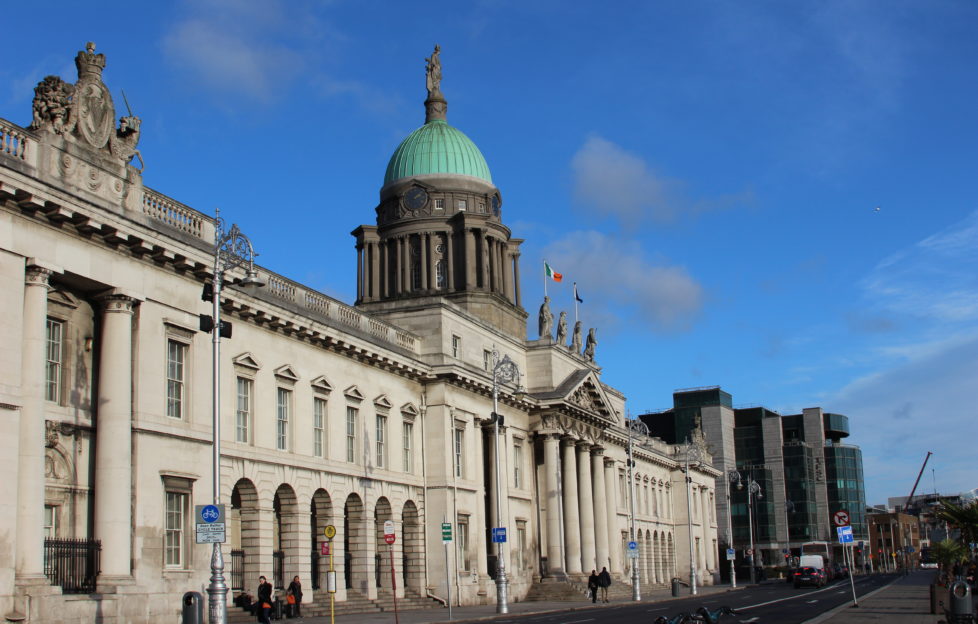 Today is St Patrick's Day. The celebrations are a little muted this year, because of the pandemic. Even so, a trip to Dublin is always a pleasure, and here's one we published earlier, from Gilly Pickup.
Gilly's feature first appeared in "The People's Friend" Special No. 160 and gives a wonderful flavour of the cultural highlights of that fair city.
_______________________________________________________________________________________
I'm standing in a room in Dublin crammed with old posters, faded photos, artefacts and exhibits. In one corner, a cabinet showcases 1940s food in its original packaging, in another is an old-fashioned record player. In the middle stands a lectern used by JFK on his visit to Ireland in 1963. A typewriter sits on a desk near the door. Maeve Binchy's, no less. Meanwhile, an entire room on the second floor is devoted to the history of local boys U2. This happy collection of knick-knacks, as eclectic as it gets, is in the Little Museum of Dublin.
All are donations, reflecting the political, social and cultural life of Dublin between 1900 and 2000. Hanging on a wall is a letter from John Hughes. As a boy, he lived in the former home of playwright Samuel Beckett.
"Dear Samuel Beckett," he wrote, "I live in your house. Can you tell me a little about yourself?"
In reply, Samuel provided information about schools he attended and which bedroom was his.
"I slept in the tiny room, originally my father's dressing-room, beside the big bedroom with the bay windows (where incidentally I was born). If you ever meet my ghost in house or grounds, give it my regards. Wishing you happy years in that old home. I am yours, antiquatedly, Sam Beckett."
Dublin's Statues
Later that day, while walking around Dublin, it was plain to see this is a city which embraces its statues. There was one of Molly Malone, she of cockles and mussels fame. "The Tart With The Cart" as nicknamed by the locals. In O'Connell Street, the 398-feet-high Spire of Dublin, or Monument of Light, was inspired by the ever-changing light and composition of the Irish skies. It's referred to as "The Stiletto In The Ghetto".
Novelist Oscar Wilde is commemorated by a statue opposite his former home in Merrion Square. The area was once home to fashionable aristocrats of the day.
A poignant sculpture, "Famine", stands outside Custom House Quay in the Docklands area. The collection of bronze figures pays homage to those forced to emigrate during the 19th-century Irish famine. One of the first voyages was on The Perseverance which sailed from here on St Patrick's Day in 1846.
This is also home to EPIC, an interactive museum telling the story of Irish emigration. Millions of Irish were driven out of their country by starvation and religious intolerance. If you're one of the world's 70 million people claiming Irish ancestry, the hands-on exhibits could connect you to your roots. I left EPIC and its thought-provoking stories to climb aboard a Routemaster bus for a different view of the city.
Food in Dublin
The old London double-decker took me on a one-and-a-half hour trip taking in many of Dublin's sights. We passed the Guinness Brewery, St Patrick's Cathedral, O'Connell Bridge and drove through Phoenix Park, one of Europe's largest green spaces, home to herds of fallow deer and the Irish President's official residence. The tour included afternoon tea. A top class selection of finger sandwiches, fruit scones with pots of jam and cream and more pastries and desserts than the average person can handle. They catered for various dietary requirements and even gave us a box to take home what we couldn't eat.
Talking of food, Fallon & Byrne, a food hall, first-floor restaurant and basement wine bar in the middle of town is a popular lunch venue. Menus here have delights such as Carlingford Lough oysters served on ice with shallot and sherry vinegar, toasted spelt and mushroom stroganoff, with charcuterie boards offering selections of cheeses, cured hams and salamis served with cornichons and caperberries.
One day I ventured outside town to nearby Howth village (pronounced "Hoath") on the Irish Sea. After a brief tour of its mediaeval castle, home to the Gaisford-St Lawrence family, I visited the cookery school in the restored Georgian kitchens. Courses here last from an afternoon to a one-week intensive course, and include everything from Chinese Feasts and Winter Puddings to a Chocolate Compulsion Workshop and Sushi and Sashimi. I took in a fun cookery demonstration by Sarah and John. The resultant pan-fried hake, braised leeks and shallot crisps, followed by passionfruit and lemon tart, were simply delicious.
Ghost Stories
After that it was a short drive along the coast to the seaside town of Malahide, home to another ancient castle, where I joined a group tour with an entertaining guide. She regaled us with stories of those who lived and died there, with a smattering of tales about the castle's five ghosts, assuring us that the phantoms appear occasionally and that she herself had encountered them. None appeared while we were there, but perhaps that was just as well.
All too soon it was time for me to leave for the airport to fly home. It had been a brief trip to this lovely part of the Emerald Isle, but I know that the warmest of welcomes will await me on my return.