Features Ed Blog: It's All Cake
---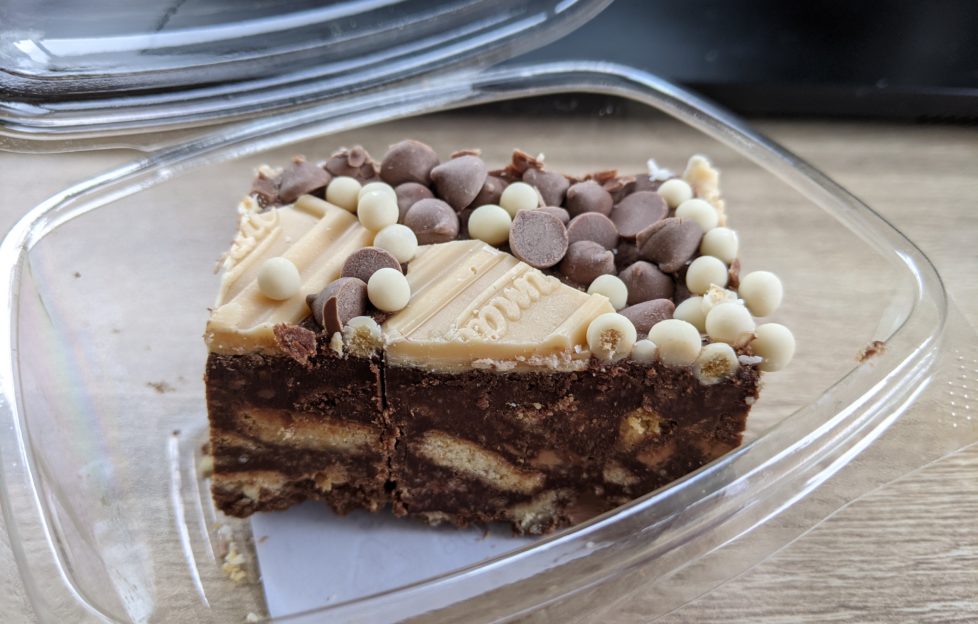 Photograph by Alex-Dempster Corlett.
As new parents to a 1 year old who hasn't been sleeping well recently, it's been all about propping ourselves up with cake over the last few weeks.
Fortunately our local shop sports a great selection from a local bakery. Every Tuesday and Friday they get a fresh delivery, I found out, when the selection is at its peak.
In all honestly, they're probably right on the edge of the definition of cake. More just a collection of other treats sandwiched together with more chocolate or sponge.
One of our favourites is the Tiffin, which is in the main pic. It's a no-bake cake, for those who don't know, just a free-for-all of everything you like smooshed together with broken biscuits and melted chocolate.
Strange word, though. Apparently the treat was invented in Troon, Scotland in the early 20th century. Though it's use might date back to the British Raj in India, when "tiffin" was a light meal between afternoon tea and dinner. Who knew there was room for another meal in there?
So I've been thinking about cake quite a lot recently, and spent more time than I should wondering why they're called what they're called.
The Great British Bakewell
We all know the Bakewell comes from the town of Bakewell, but the etymology of some of our favourite tasty treats is really quite interesting.
Tiffin isn't a million miles from Rocky Road. Both Americans and Australians lay claim to having invented this, but the Australians have a more convincing and complete explanation. Supposedly it was a way of using up goodies that might have past their best on the long voyage from Britain.
Mixed with local nuts and buried in melted cheap chocolate, they could be turned into something tasty.
The Magnificent Brownie
One thing the Americans can definitely lay claim to, though, is the brownie. Technically, not a cake, but created at the behest of a Chicago socialite called Bertha Palmer. Her husband owned a hotel, and she asked if the pastry chef would create a portable treat. There was a world's fair in town, and she need something to sustain her lady friends on the way round.
Even though the hotel is now owned by Hilton, they still make the treat to this day. And, rather charitably, they also let you download the recipe for free.
Millionaire's Shortbread
The recipe is Australian, but the name is said to be Scottish – describing the richness of the shortbread/caramel/chocolate combination. References only go as far back as the Seventies in Australian cookbooks, so it's a recent treat. Our local bakery takes the caramel and chocolate and puts it onto a thick slice of Blondie – a white chocolate brownie!
Shortbread itself is, of course, Scottish. It's said that Scottish cuisine developed very differently to English cuisine, as the Romans never successfully established a presence this far north. In fact, there's probably more of a French influence, thanks to the "auld alliance".
Shortbread was made from leftover bread dough dried out in a warm oven until it formed a type of biscuit. Biscuit, of course, meaning "twice cooked". Eventually, the yeast was replaced with butter, and early shortbread was born.
It's said that Mary Queen of Scots was particularly fond of the petticoat tails, which were originally flavoured with carraway seeds, but now just refer to a particular shape.
Who knew? Turns out our food history is as interesting as our history-history – and a lot more cheerful to read about sometimes than the feuds and battles!
---
If you're in the mood for cake, check out some of the fab recipes we've got here on the website.
Read more from Alex's Features Ed Blog here.