Picnic Week: Pea And Mint Scotch Eggs
---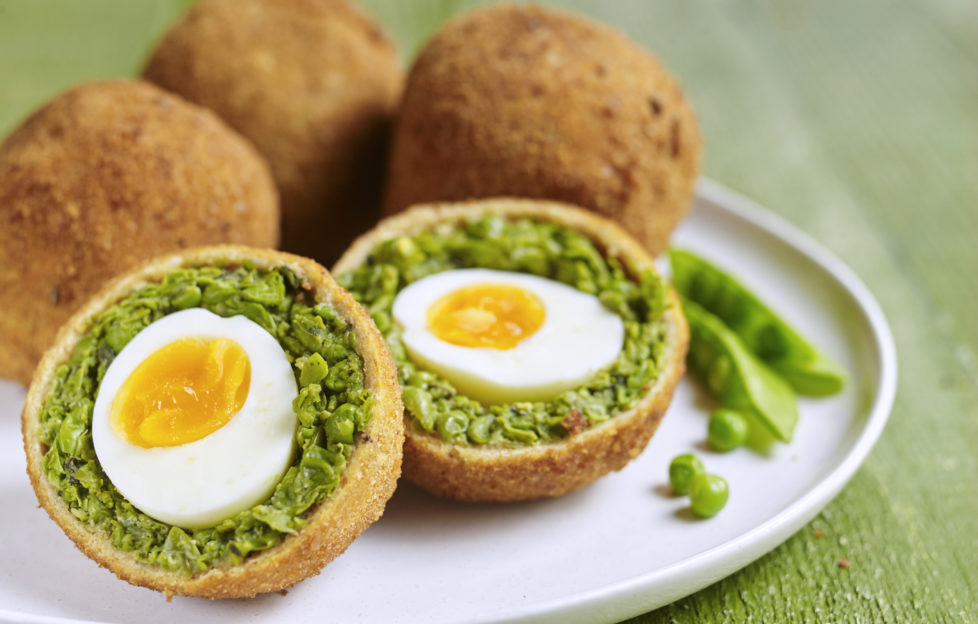 Ingredients
1 kg (1 lb 2 oz) garden peas
20 g (¾ oz) fresh mint, chopped finely
5 eggs, hard boiled and shelled
Salt and freshly ground black pepper to taste
To Coat:
1 egg, beaten
250 g (9 oz) breadcrumbs
Cooking oil for frying
Recipe and image courtesy of The National Trust.
Here's our third tasty National Trust recipe for Picnic Week, Pea and Mint Scotch Eggs. Not your usual Scotch Eggs – these ones are vegetarian and very good they look, too! Enjoy them for lunch, with a salad or as a handy snack on the go.
Place the peas in a saucepan, add 3 tablespoons of water and place over a low heat. Once the water is boiling, cover the pan and reduce the heat.
After a few minutes, stir the peas and use a potato masher to crush them slightly. Be careful not to crush the peas too much, or the mixture will become unworkable. Continue cooking until the peas are broken down and form chunks.
Remove the peas from the pan and place into a bowl. Add the mint and use the salt and pepper to season, stir well and leave to chill in the fridge.
When the pea mixture is thoroughly chilled, mould it around each of the hard-boiled eggs, pressing to ensure an even coverage. Place on a tray and chill in the fridge for 30 minutes.
To coat: Crack the egg into a bowl and beat until the white and yolk are combined. Roll the pea-coated eggs in the beaten egg mixture, before rolling them in the breadcrumbs. Try to ensure an even coating all over the eggs.
Pour the oil into a frying-pan to a depth of around 2.5cm (1 inch). Place over a high heat and once the oil is hot, add the breaded eggs being careful not to splash the hot oil. Use a spoon to gently move the eggs around the pan, ensuring they don't stick and that they're evenly cooked.
Place the cooked eggs on a tray lined with kitchen roll to drain any excess oil. 8. Serve hot or store in the fridge (once they've cooled).
Top tip
Make sure to dry the hard boiled eggs before adding the pea mixture to ensure that the mixture sticks to the egg.
Picnics past
There were no Picnic Week Pea and Mint Scotch Eggs in our "pic-nic" recipes from 1916, but there are some very nice-sounding sandwiches, and a scrumptious scone recipe! Ginger-beer optional.
---
For more tasty recipes from "The People's Friend", click here.