Picnic Week: Strawberry Squares
---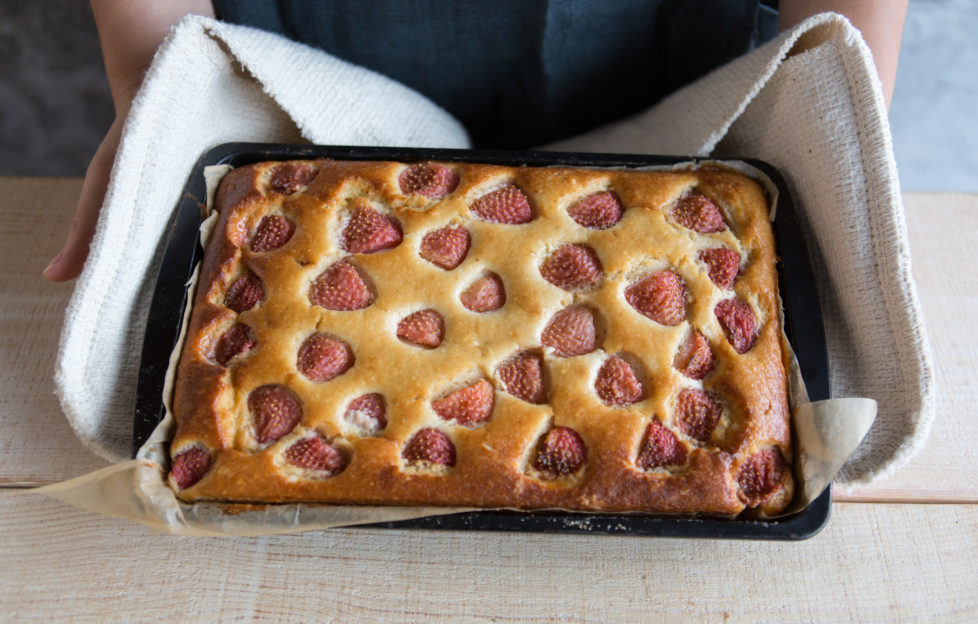 Photograph courtesy of the National Trust.
Ingredients
300 g (10½ oz) self-raising flour
300 g (10½ oz) light brown sugar
150 g (5¼ oz) butter
For the Topping
300 g (10½ oz) sour cream
2 eggs
150 g (5¼ oz) strawberries, chopped roughly 
Recipe courtesy of The National Trust.
These Picnic Week strawberry squares are fresh and sweet, making them a delicious snack that can be enjoyed at any time of day.
Cut them up and pop some in a lunchbox, serve at picnics or enjoy as a dessert — this fruity bake will make happy tums all round.
What's more, this is a perfect way to use up any freshly-picked strawberries.
Pre-heat the oven to 160 deg. C., 325 deg. F., Gas Mark 3, and line a 30 x 20 cm (12 x 8 in) deep-sided baking tray with parchment paper.
To make the base, mix the flour and sugar, and rub in the butter until you have a sandy texture.
Spread half of this mixture in your lined tray and press down gently with a spatula or back of a spoon until you have an even layer.
For the topping, add the sour cream and eggs to the remaining flour mix and stir until just combined and with only a few lumps remaining.
Pour this mixture over the base in your tin and spread evenly. Top with the chopped strawberries, arranging them evenly over the surface.
Place in the pre-heated oven and bake for 35 to 40 minutes or until golden and set.
Once cooked remove from the oven. Let your bake cool completely before cutting.
---
Click here for more tasty recipes from "The People's Friend".
This recipe comes to us from our friends at the National Trust. Enjoy a day out at one of their properties today.