Abbie Visits Kinclaven Bluebell Wood
---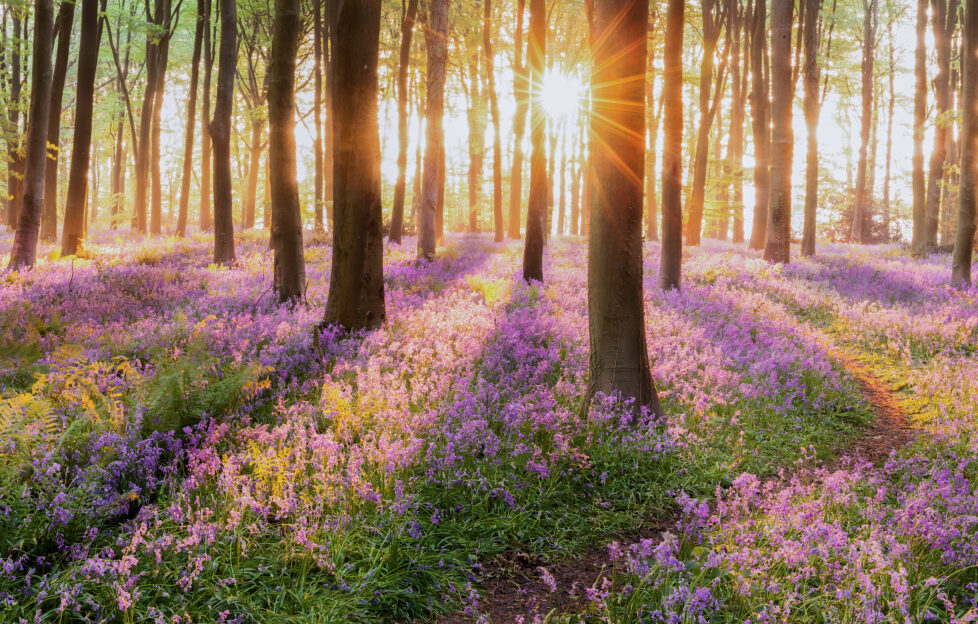 Shutterstock.
Kinclaven Wood in Perthshire is a haven all year round, but once a year it undergoes a magical transformation.
From May to June, a sea of bluebells bloom, covering the forest floor. Walking here feels like discovering a fairy grotto.
But there is something else that makes this place special. It's ancient woodland. Full of native trees and plants which in turn attracts native insects and animals.
A few steps into these woods and the rest of the world disappears. You can tell this is no ordinary wood. Everything feels interconnected, the way nature should be.
Bird chorus greeted us, and we hadn't ventured far when we heard a woodpecker at work and spotted a red squirrel winding its way up a tree.
Impressive native species
One of the most impressive species to find here are the magnificent common beeches.
Even from a distance away these old trees look gigantic, but looking closer reveals the enormous reach of their branches.
Some of these beech trees are coming to the ends of their lives. There are signs up to warn people to stand under the branches at our own risk – they may fall!
It makes you wonder what these trees and their ancestors witnessed over hundreds of years. It turns out they saw a few things in their time.
In 1297, William Wallace burned Kinclaven Castle to the ground. The remains of the castle can still be found in the undergrowth.
The Old Kirk Road that leads to Kinclaven Church has a dark history – it's said that criminals were marched through here to be hanged.
I wonder what the saplings will live through?
You may spot roe and fallow deer
Nowadays, the path from the woods to the church is more peaceful. We took the path leading from Kinclaven Wood and through a field. You may spot roe or fallow deer grazing there on your way.
We came up on some slowly and managed to stand and watch them for a while. But they soon caught wind of us and bounded away. Too quickly for a photo!
Across the road and down a path with overhanging trees is where you'll find the church, still used today.
A treat all year round
Visiting these woodlands is a treat all year round. The bluebells are not to be missed, but there is plenty to see at other times of the year, too.
There are all sorts of animals living here and it's a gift to spot one of them. Or hear them, in the case of the woodpeckers and other birds!
You can feel instantly that it's a special place and I would encourage everyone to go and visit.
Just remember to stick to the designated paths no matter the time of year – leaving the path can damage the bluebells and the delicate ecosystem.
---
Visit the Woodland Trust for more information about this magical place.