Angela Investigates: The Lost Poet Of Arisaig
---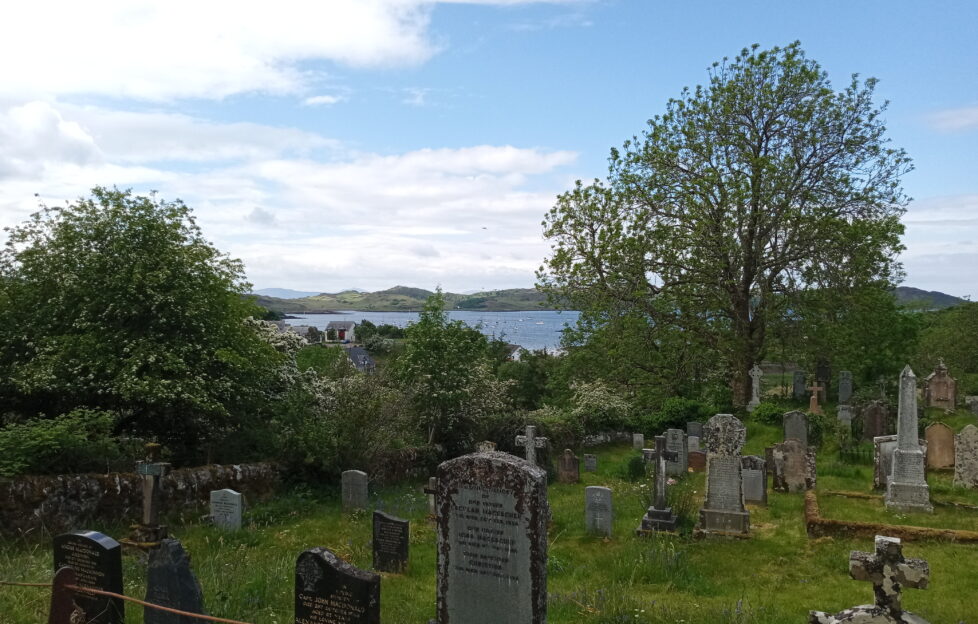 Photograph by Angela Gilchrist.
Who was the Lost Poet Of Arisaig?
Well, earlier this year, on my way to Mallaig to catch the ferry to South Uist, I stopped off in the picturesque little village.
It's one of the many gems of Scotland's West Highlands, and popular with tourists.
I wonder, though, how many people take the time to walk to St Mary's RC Church, which sits on the hillside looking out over the bay?
Built in the mid 19th century, it replaced a much earlier chapel. And the remains of St Maelrubha's old burial ground are still there.
It was a beautiful early summer's day as I wandered round the ancient stones, enjoying the peace and tranquillity.
And then, on the wall, I spotted a brass plaque.
In this graveyard in a now forgotten spot lies Alasdair mac Mhaighstir Alasdair, Alexander Macdonald, the Clanranald Bard, it read.
I was intrigued. To be remembered, and yet forgotten, struck me as poignant.
But who was Alexander Macdonald, the lost poet of Arisaig?
Luckily, an information board at the roadside supplied the answer. And, as in so many stories of the Highlands, the Jacobite Uprising of 1745 looms large in this tale.
A poet of his times
Macdonald was born around 1698 in Moidart and worked as a schoolmaster and catechist in Ardnamurchan while a young man. At the same time, he was composing Gaelic poetry that was original, witty and wonderfully descriptive.
Inspired by the possibility of a Jacobite Uprising, he took to writing rousing political verse. And, when the young Prince set foot on Scottish soil in 1745, Macdonald deserted his school to join him. He was appointed a captain and also became the Prince's Gaelic tutor.
After Culloden, he went into hiding on Canna, but remained passionate about the Jacobite cause and in 1751 published the first ever book of Gaelic poetry.
He eventually found refuge near Arisaig, where he wrote his greatest work, "The Galley Of Clan Ranald", and died peacefully in 1770.
His story lives on, even if the whereabouts of his last resting place have been lost in the mists of time.
Hopefully my efforts to learn Gaelic will some day let me read his work in its original form!
---
For more from the "Friend" team, click here to read our blog.
For more from one of our own "lost" poets, read "Don't Quit", by Edgar A. Guest.