Features Ed Blog: Feeling The Heat
---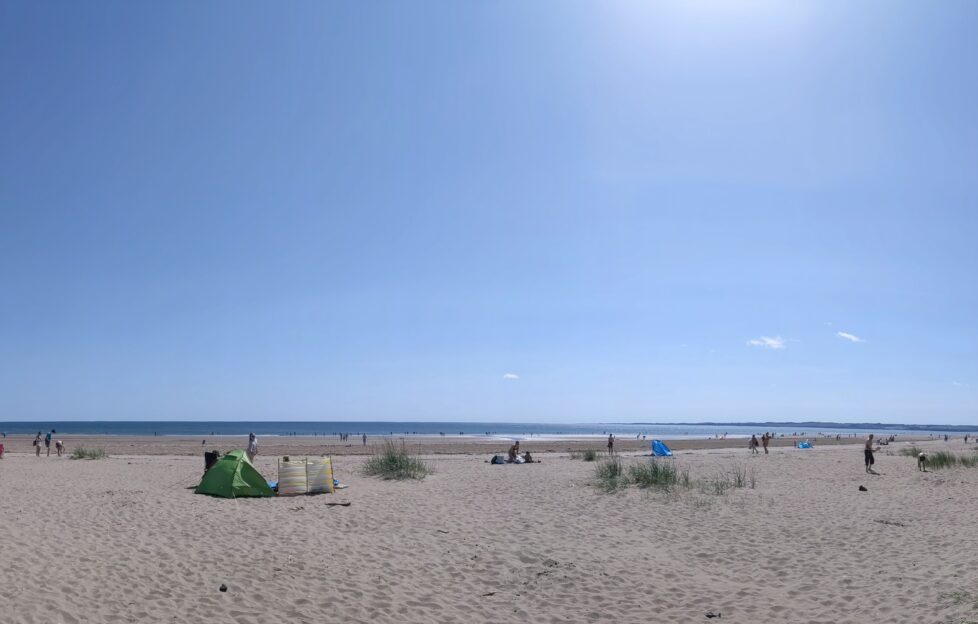 Photograph by Alex Dempster-Corlett.
We've all been feeling the heat a bit up here in "Friend" country.
This photo above was taken last week at our nearest beach, Tentsmuir. It's normally a dog-walking/ kit-surfing kind of beach. But last Saturday, for one fabulous day, it was all swimsuits and beach balls.
For some of us, it's a welcome blast of summer, while for others…it's hard work! I like it when there's not much to do, but I do find working in it tricky.
I used to prefer rainy days when I was a child. I was happiest indoors with a book or my toys, whereas good weather always came with the obligation to "go outside and enjoy it". Harumph.
The first year we moved into our new house was a hot one. Temperatures soared to 30 deg. C. and our poor black cat had to find shade anywhere he could. Even the tar in the road started to bubble up!
Periods of real heat are getting increasingly common, but not to the point where you can predict a British summer will be as baking as this one. This kind of heat reminds me of foreign holidays. Editor Angela recently mentioned those hols when you get off the plane and the warm air just hits you. I think most of us in the U.K. have had a little taste of that over recent weeks.
Stateside Summers
My father was quite a big fan of going to the U.S. for holidays, as he spent a lot of time working there. So we went there as a family quite a few times.
He always remarked upon the statistic of how few Americans have passports.
Though the numbers have gone up in recent years, still only a third of Americans have current passports. The reasons are probably varied. Certainly one of them is that the U.S. has everything you could want in a holiday, geographically.
From the Alaskan mountain wilderness, to the beachy islands of the Florida Keys, it's all there.
I remember the hire cars we used to get in the 1980s. They all had leather seats. After a day out in the sun, getting into them in shorts meant a scalding burn on the back of your legs. Ouch.
It was 44 deg. C. once when we were passing through Dallas, and I'd never felt anything like it. I start wilting at about half that temperature. Crazy to think that's still nearly ten degrees below the recent temperatures in Death Valley. And that the Pacific North West has been experiencing similar heat
In The Med
My wife and I went to Corsica back in 2016 and again found this kind of hairdryer heat. We once had the most explosive thunderstorm after a particularly muggy day. What a gorgeous island it was.
This last weekend, I honestly felt like we were back there again. Though we weren't brave enough to get in the water at Tentsmuir!
There were cows on the beach in northern half of the island, and the mountain roads were precipitous. I remember find out afterwards that Corsica had one of the worst road safety records in Europe! Sometimes it's best to be uninformed…
The Shape Of Things To Come
You can't help but worry a bit, though. It's lovely to have the weather here, but what of all the flooding in China and Europe, and the wildfires in the States? And those hailstones in Leicestershire?
The weather is changing, and let's hope we can still do something about it. I, for one, will be keeping a close eye on our "Think Green, Be Green" page and see what little changes I can make to help. We're also trialling an app in our company that assesses our environmental impact. Both as individuals and as a business.
Most of us do what we can when we can, but we're clearly at a point where we need to step it all up a notch.
As well as our "Think Green…" page, it's certainly something we're covering more in the mag. From Polly Pullar writing about the importance of looking after our wildlife to interviews with people seeing the change in the natural world first hand, it's something we're keen to keep a focus on in the magazine.
Make sure you don't miss out on our features by getting it delivered to your door with one of our subscriptions.
---