Writer Of The Week: Sharon Gosling
---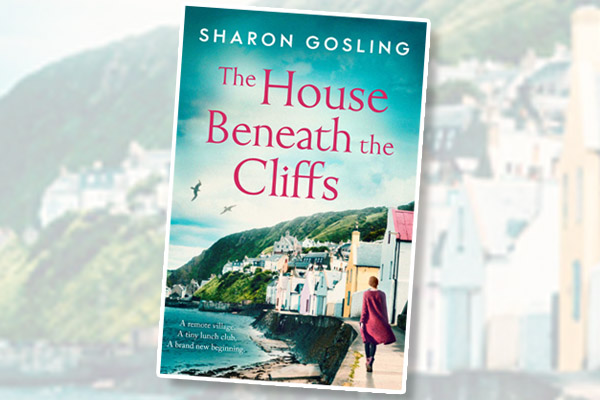 Photograph courtesy of Sharon Gosling.
Sharon Gosling loves to write. She is an experienced author of multiple genres – from science-fiction and fantasy, to multiple children's books. Sharon is also a published short story writer for "The People's Friend".
With the imminent arrival of her first adult novel, "The House Beneath The Cliffs", I asked Sharon about her writing journey, and her aspirations for the future.
"The House Beneath The Cliffs" is your debut adult novel. How do you feel now the book is finished and soon-to-be published?
I'm excited! I love the community and characters in my story, and I really hope that my readers will, too. A sense of place is always important to me, and I've had a lot of early readers say that reading about Crovie and Anna's move to the village made them want to explore the area and see it for themselves, which is very gratifying.
It's such a beautiful part of the country – one of my favourite places to visit in the world. I just loved spending time there both in reality and in my head as I wrote "The House Beneath The Cliffs", and it would be lovely to think that others have that same experience as they read. I'm a little nervous, too, of course, which is always part of having a new book finally making its way into the world.
You have a diverse writing career. How did you find writing the novel compared to your other published works?
Well, in the first place I had to be talked into writing it by my agent, Ella. I told her the idea, and after that she kept asking me to "Please, just write it!" But I wasn't sure I could write long-form adult fiction.
Still, the story stayed with me, and what finally got me to really concentrate on completing the first draft was that I had surgery a couple of years ago. I found recovery quite draining, and I was worried I wasn't going to be able to write again. I decided to concentrate on finishing "The House Beneath The Cliffs" and having that to focus on helped me get my practice back. (It was also just such a lovely place to escape to every day as I worked on it!)
Once it existed as a first draft, I realised that there was a community and characters there that I loved, and editing was a pleasure.
What inspired you to write the novel?
I first got the idea over ten years ago, when I was on holiday in that area of Scotland with my then-boyfriend (Now my husband, and actually publication coincides with our tenth wedding anniversary). I saw a tiny building right on the shore, assumed it was just storage for one of the larger houses, and then realised that there was smoke coming out of the chimney and flowers in the window, so someone must be living there.
It just caught my imagination. I've always been interested in the idea of living somewhere small and remote, and with the North Sea right on the doorstep it stayed in my mind. The story evolved from there – why would someone move there, what would they do once they go there and what would it be like to live with the sea so close? Location often has a lot to do with my stories.
What was your experience of writing for the "Friend"?
I loved it! It was a privilege to contribute to the pages of a magazine that has such a magnificent and long history. Some of the characters I created have stayed with me, too, and might pop up again at some point.
Do you think writing short stories can be beneficial to aspiring novelists?
Absolutely. The skill in a short story is that there's no room for "fat" – and so, especially when writing to strict word counts like the ones the "Friend" needs writers to stick to, it teaches you not to waste any words and be extremely economical in your description and storytelling. Less is definitely more.
I also often use short stories as a way to try out ideas for longer fiction and to experiment with different genres. Besides the stories I've written for the "Friend", I've also published horror stories in several anthologies, which is obviously a very different style of writing. If I went straight into writing a novel in that genre it would take me months and then may not work at all, but I can write a short story first draft in a week or so.
You have written books on "Battlestar Galactica" and "Stargate". Is sci-fi a passion of yours?
Funnily enough given my extremely geeky background, not particularly, at least not as far as literature goes. Having said that, I've just read the classic sci-fi novel "The Left Hand Of Darkness" by Ursula Le Guin, which is brilliant, and I'm currently racing through "The Ghost Brigades" by John Scalzi, which is far-future military sci-fi.
I think really, though, what draws me in is character, and the thing with science fiction television is that it's a way to put interesting characters in interesting (and often unusual) situations, and that's what I really enjoy with those shows.
I'd love to write for one, actually, but screenwriting is an entirely different skill and would take a long time for me to master. I think I'm better sticking with prose fiction for now.
What are your writing plans for the future?
I'm currently writing the first draft of my next children's book, which is due out next year, and then I'll be going on to second draft of the next adult book, which will also be out next year, again from Simon & Schuster. After that, I'm not sure what I'll work on next – I've got a list as long as my arm of projects I want to work on, so I'll have to give it some thought.
I'd also like to write more short stories, so perhaps I can find something else that would be good for the pages of "The People's Friend".
---
"The House Beneath The Cliffs", published by Simon & Schuster, will be released on August 19, 2021.
For more from our Writer Of The Week series click the tag below.