Features Ed Blog: One Woman Walks
---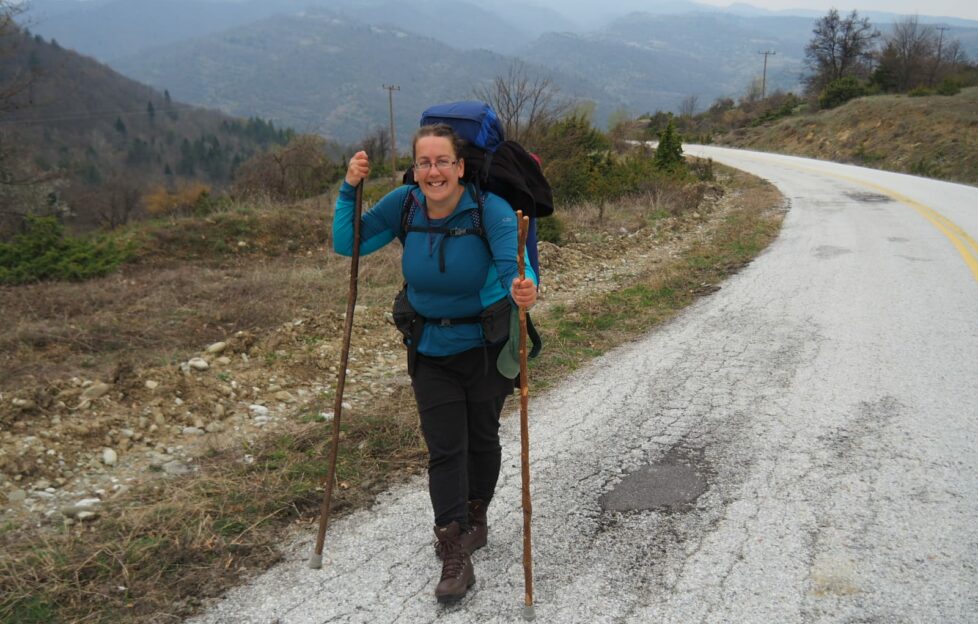 Photograph courtesy of Ursula Martin.
In this week's issue, we chat to Ursula Martin – known on social media as One Woman Walks.
Ursula was diagnosed with ovarian cancer in her late 20s. I won't spoil the feature for you, but needless to say she was able to carry on walking. And with some particularly grand plans to travel all the way across Europe!
A Walker With A Cause
Before she walked Europe, she walked Wales in between treatments for her cancer. As well as a sort of cathartic journey of self-discovery and adventure, Ursula was walking to raise funds for Target Ovarian Cancer. They're a charity dedicated to raising awareness and funding research into this particularly sneaky version of the disease. The symptoms are often so subtle – and awareness of them is minimal. So it can be really dangerous, because it's often only caught at a late stage.
Ursula was handing out cards that explain the symptoms of the disease. It had caught her unawares with a surprise diagnosis, but she was one of the lucky ones and is doing well.
Stopped By Covid
In 2018, this was the journey she began. Up hill and down dale, she walked – setting her own pace and being graced by the unquestioning hospitality of those she met along the way.
The Hardest Part
She obviously wore through lots of pairs of shoes, but she describes her body as adapting remarkably to the constant movement. It's something I've heard other long-distance walkers describe. Soon, the rhythm of it become second nature. It's what our bodies were meant for, after all!
Often the hardest part is stopping. When I talked to Ursula – if I remember rightly – she was stuck in lockdown in the Midlands, agonisingly close to home in Wales. She was describing the "decompression" she would have to do – the gradual winding down of body and mind after this.
She'll be writing a book, but it'll take her a while. She did the same for the Welsh walk, but she says it takes her a few weeks at least to start. There's so much to process – and a lot of diaries to work through!
Ursula was a fascinating interviewee, as I hope you'll agree. I can highly recommend her book about the Welsh walk. There's been a few really fab books about the outdoors and how transformative it can be over the last decade or two. It's a genre I really enjoy, like the uplifting "Salt Path" by Raynor Winn. Or the much sadder "Into The Wild" by renowned U.S. outdoor journalist Jon Krakauer. Sounds like a lot of people find a lot of peace through long-distance journeys, and I'd like to try it with my wife one day.
I hope you enjoy the article – do let us know what you think!
---
And don't forget you can save money on the "Friend" by subscribing, and have it delivered to your door.