Editor's Diary: Time For A Break
---
As readers of this Editor's Diary know, my job can be quite demanding. Which is why, recently, it was time for a break.
I love my job, but we all need a rest from time to time to recharge the batteries.
With the pandemic still making overseas travel difficult, I decided to stay close to home. That's no hardship for me as I love holidaying in Scotland!
Though I refuse to use the hideous word "staycation", which seems to suggest that a holiday in the UK instead of overseas is somehow inferior. Nothing could be further from the truth!
Over the years I have explored the length and breadth of Scotland, from Wigtown to Elgin, the Isle of Skye to Islay, Ullapool to Uist.
This time, I decided to take a short break in the lovely little Perthshire town of Dunkeld. It's less than an hour's drive from home and is a favourite of mine.
It enjoys a fabulous location beside the River Tay and has lots of historic buildings and interesting shops to explore. Plus some excellent cafes!
The downside to taking a break in Scotland can be the unpredictable weather. But I got incredibly lucky, with sunshine and blue skies.
I spent most of the time walking in the magnificent woodlands of the Dunkeld estate and along the banks of the Tay. Which is where I came across this eye-catching structure.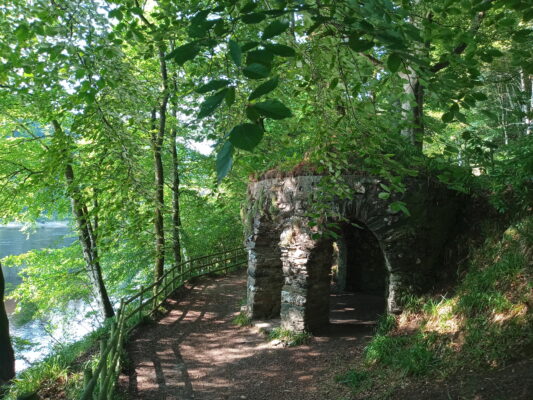 I have no idea what its purpose might have been, but it looked like something out of a book of fairytales.
It was, truly, a magical break away from the routine, and without any of the stresses and strains of travelling further afield.
If you'd like to find out more about Dunkeld and the surrounding area, watch out for our October 9 issue. It includes Willie Shand's account of his visit to nearby Loch Ordie and is well worth a read!