Blackberry Balsamic and Rosemary Lamb Stew
---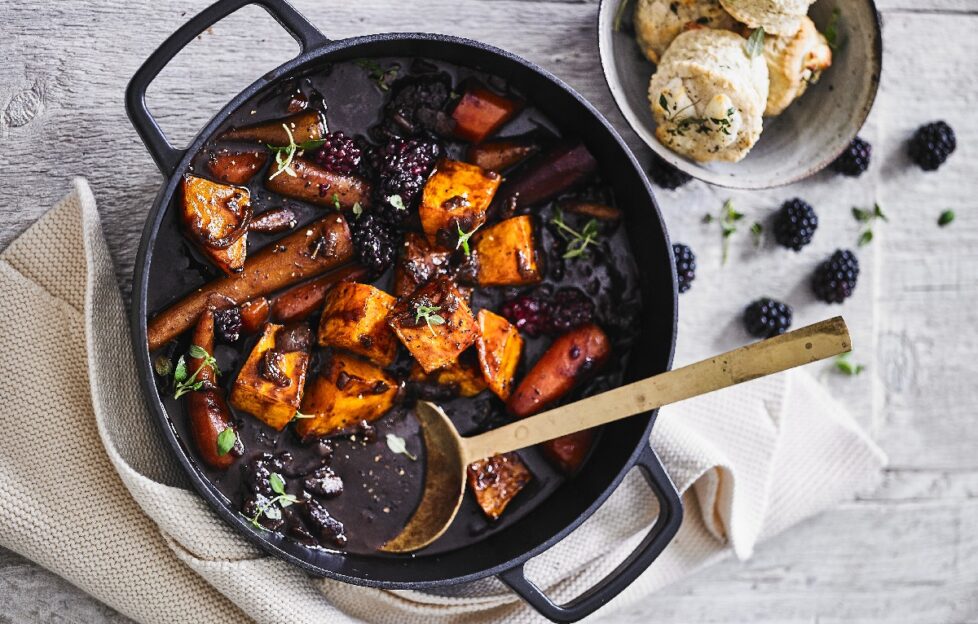 Image courtesy of Love Fresh Berries.
Ingredients
2 tbs olive oil
Salt and freshly ground black pepper, to taste
900 g (2 lb) lamb neck or leg cut into 5 cm (2 in) pieces
2 onions, sliced thinly into half moons
2 cloves garlic, chopped
1 tbs chopped thyme, plus extra for scones
1 tbs tomato purée
3 tbs plain flour
250 ml (9 fl oz) red wine
60 ml (2¼ oz) balsamic vinegar
250 ml (9 fl oz) beef stock
400 g (14 oz) baby carrots trimmed
150 g (5½ oz) blackberries
For the Scone Topping:
200 g (7 fl oz) self-raising flour, plus extra for dusting
1 tsp baking powder
Pinch salt
50 g (1¾ oz) salted butter, chilled and cubed
100 ml (3½ fl oz) milk
100 g (3½ oz) rinded goats' cheese, crumbled
Recipe courtesy of Love Fresh Berries.
As the weather starts to turn a little colder and the nights draw in, we hope you'll take time to tackle this Blackberry Balsamic And Rosemary Lamb Stew.
It's a hearty and tasty choice for dinner, and is sure to satisfy even the hungriest member of the family!
Method:
Pre-heat oven to 180 deg. C., 350 deg. F., Gas Mark 4.
In a large heavy, flameproof casserole with a fitted lid, heat one tablespoon of the olive oil. Season the meat and brown on all sides on a high heat. Remove from the pan and add the onions and garlic. Sauté with some seasoning on medium heat for 10 minutes until softened.
Stir in the thyme, tomato purée and flour and cook for 1 minute, stirring constantly.
Pour in the red wine, balsamic vinegar and stock. Bring to the boil and stir until thickened.
Add the carrots, blackberries, lamb and more seasoning. Place the lid on the casserole and place in the oven for 1 hour 10 minutes.
About 15 minutes before the end of cooking time, make the scones. Place the flour and baking powder in a bowl with some salt, a little thyme from the stew and the butter. Rub using your fingers to blend the butter into the flour. When you have a gravel consistency, add the milk and stir. When you have a thick dough, place on to a floured work surface and cut out 6 x 7 cm (2¾ in) scones and top with goats' cheese. Place on a baking tray. Turn the heat up to 220 deg. C., 425 deg. F., Gas Mark 7. Bake for 15 minutes and then remove.
Serve the lamb stew with the warm scones.
---
We have plenty of other recipes right here on "The People's Friend" website, from soups to salads to steak pies. Try one today!