Abbie Tries Our New Jigsaw Puzzle
---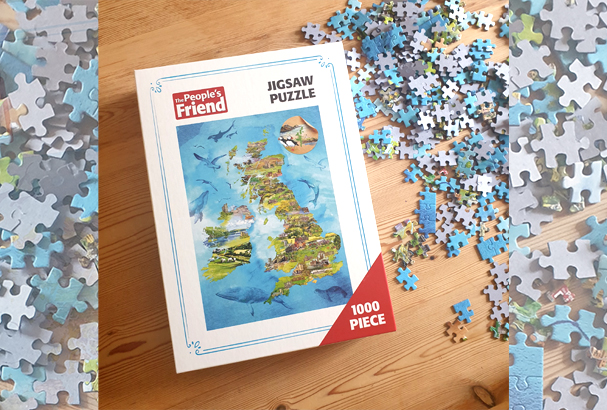 Photograph by Abbie Phillips.
It's been years since I last did a jigsaw puzzle, but when I saw the new "Friend" puzzle I couldn't resist giving it a go!
The design is a map of the UK and Ireland, made up of the wonderful landmarks we've featured on our magazine covers.
Working together
It was perfect timing to get it, because my family were coming up for a visit. So, we all chipped away at it together.
My mum and sister proved to be experts at the 'blue bits' as we came to call them.
I managed to piece together most of Ireland and some of the major landmarks of the UK, and my dad had an eye for connecting it all together.
We'd brought board games, too, but we didn't need them. The puzzle was enough!
The end of the visit became our deadline and we were determined to complete it.
Of course, when we came to the last few pieces we realised that one had gone missing. But after rearranging the furniture, we managed to find the escapee hiding under a rug!
It felt great to put that last puzzle piece into its spot. I think I may be converted!
There were definitely a lot less arguments than when playing a board game or deciding what to put on the TV . . .
A lockdown trend
People picked up a lot of new hobbies to combat lockdown boredom, and jigsaws were one of them.
According to The Guardian, "figures show UK sales of jigsaws reached £100m in 2020, up 38 per cent on the previous year."
I wonder if this particular activity has proven to be so popular because it provides a focus.
The worry and anxiety that the pandemic has caused can be overwhelming.
I found that working on this puzzle helped me to focus on something positive.
How it was made
I asked our Illustrations Ed Manon how she designed it.
She said, "I am very fond of maps, and since I started working on "The People's Friend", the covers of the magazine have fascinated me.
We work with very talented artists, and I caught myself dreaming about a way to see all of the "Friend" on a giant map.
Being limited by the size of the puzzle, I needed to be selective with the cover artwork.
I made a list of the most famous places in the UK and Ireland. Then I checked our cover archive to see if I could find those landmarks on one of our covers.
Then, placing images roughly on the map, I tried to make sure to cover as much land as possible.
It was a bit tricky, as we sometimes had too many castles in one area and I had to remove some of them so it wouldn't look too cluttered.
Cutting down the number of artwork was the hardest job, as I wanted them all to be featured.
I also had to think of a render for the sea that would help when building the puzzle — I couldn't leave it all blue!
I thought the watercolour effect and the animals would help while bringing a bit of life to the artwork.
It was an absolute pleasure to make and I hope to find more ways to give a second (and third — let's not forget our beautiful calendar, diaries and annual!) life to our cover artwork."
---
You can buy "The People's Friend" Map Jigsaw Puzzle at our online shop here.
It's available on its own, or as a bundle with our festive Christmas jigsaw.