Writer Of The Week: Susan Blackburn
---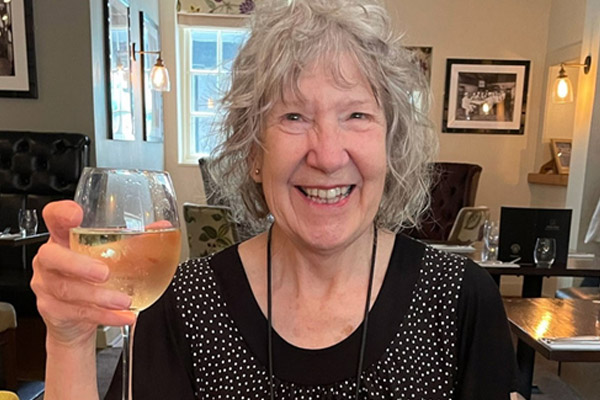 Photograph courtesy of Susan Blackburn.
Our Writer of the Week is talented short story writer and poet, Susan Blackburn.
Read her light-hearted story 'A Song In Her Heart' in our Autumn Special, on sale now.
Your latest story, 'A Song In Her Heart', is about Freda who, despite her love of singing, isn't quite up to the standard of the WI choir. Where did you get your inspiration to write it?
I'm lucky enough to live by the seaside and on one of my morning walks I came across a beach chalet named "Freda's Folly" and it really made me chuckle.
And that was the starting point for my Freda.
I spent the rest of my walk wondering what her folly could be and about her character traits. I had enormous fun writing her story.
What is your favourite part of writing a story? Is it characterisation, setting, plotting, dialogue . . . ?
I enjoy all of them, the whole process – characterisation and setting so the story grows and flows, working out plots and making sure there are no holes!
But my favourite part is dialogue.
The way you craft an exchange of dialogue enables you to move a story along, and can describe situations and characters' moods so beautifully.
What or who was it that encouraged you to start writing?
I did write some stories as a little girl. But it was when a friend of mine said to me in 2000 if I start a writing group would you come that I started writing seriously.
I didn't need a second invitation and it didn't disappoint.
It was so stimulating to be together with like minded people and reading your stories out loud to them to receive constructive criticism.
And after a while I even plucked up the courage to start submitting them.
Have the lockdowns had any effect on your writing, good or bad? How do you stay motivated?
I found that, just when I needed the outlet of writing to lose myself in worlds other than the frightening one we all found ourselves in, I couldn't settle to writing at all.
Many of my writer friends said the same. But gradually things settled down and I got back into my writing.
Gosh, how do I stay motivated?
Remembering that euphoric feeling I have when a story is accepted and subsequently seeing it in print.
And it's not going to happen if I don't write!
Last year you also began writing poetry for The People's Friend. What do you like about reading and writing poetry?
I'm not a highbrow reader of poetry I have to admit.
I love Pam Ayres' poems – she is a genius, so clever and absolutely hilarious.
I first got into writing poetry when I started doing verses for my family's birthdays and seeing the pleasure with which they were received. I have submitted poetry to The People's Friend and it's certainly an avenue I hope to explore further in my writing, especially humorous verse.
Notebook and pencil or laptop? Kitchen table or study? Blank wall or inspiring view.
I do have a notebook, and jotter pads about the place, to jot down ideas.
I am so fortunate to have my own writing room I call my "Snug" – my very own space in which I use my trusty PC. I've never really taken to laptops.
Facing my desk is some shelving holding box files that contain my published stories. I've marked them "Yay! My Successes :)".
If I'm struggling, which I guess we all do from time to time, I can tell myself: "you've done it before, you can do it again!" So in its own way a very inspiring view!
What's your one top tip for an aspiring Writer of the Week?
Gosh am I only allowed one? May I give you two please!
Never, ever, ever give up. It took me years and years (no exaggeration) of rejections before I had my first acceptance but I stuck at it – and thank goodness I did.
And – get a writing buddy. I have a cracker and I can tell you she's worth her weight in gold.
---
For more from our Writer Of The Week series, click the tag below.