8 Scottish Hampers To Tuck Into This Christmas
---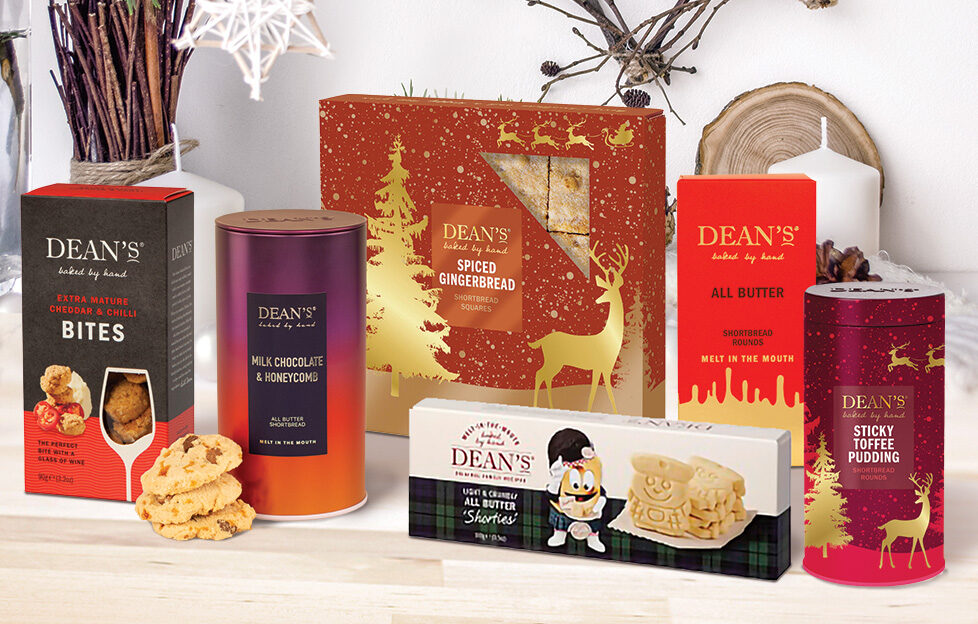 Excellent gifts for those tricky buy for, browse a selection of tasty Scottish hampers. Pictured: Dean's Couthie Christmas.
Why not treat yourself or someone special this Christmas, with one of these Scottish hampers available to order at our shop?
1. Dean's Merry Christmas, Deer!
A winning combination of beautiful artwork and memorable flavour, the Dean's Merry Christmas, Deer! hamper is first.
Artist Steven Brown's iconic Tam McDeer design takes pride of place on a keepsake tin.
This hamper is filled with
all butter shortbread rounds
milk choc and honeycomb
spiced clementine squares
sour cherry & dark chocolate shortbread rounds.
2. Dean's Couthie Christmas
Enjoy Dean's traditional melt in the mouth all-butter shortbread in a selection of festive flavours with the Couthie Christmas hamper.
Wonderfully presented in packaging using warming tones associated with the festive season, the hamper is finished off with moreish cheddar and chilli bites!
3. Maclean's Festive Hamper
Family-run Macleans have put together a lovely hamper full of festive treats to enjoy this Christmas.
Enjoy a carefully chosen selection of artisan products alongside their very own award-winning biscuits, oatcakes and shortbread, this is one to remember.
Featured fancies include:
all butter chocolate and ginger biscuits
gin stollen slices
all butter shortbread rounds!
4. Dean's Very Merry Christmas
A stunning foodie gift they will love, consider the Dean's Very Merry Christmas Hamper.
Thoughtful hamper treats featured include:
sticky toffee pudding shortbread rounds
a delicious Tomatin Single Malt whisky fruit cake
Wallace & Gromit strawberry and cream biscuits!
5. Walkers Aberlour Hamper
Serving up plenty of traditional flavour, the Walkers Aberlour Hamper is a wonderful treat for all the family.
Sure to catch the eye, sweet treats include:
petticoat tails
chocolate chip and ecclefechan tarts.
oatflake & honey biscuits (catering to readers who prefer something a little more savoury)
biscuits for cheese
6. Dean's Festive Flavours Collection
Offering something a little sweet and savoury, Dean's Festive Flavours Collection is a stylish gift packed with great flavours.
Flavour highlights include:
warming spiced clementine
delicious chocolate orange
yummy cheese bites.
7. Scottish Artisan Fayre
Dundee Cake, fudge, traditional shortbread and more all fit neatly in a lovely gift box with our next hamper.
The Scottish Artisan Fayre is filled to the brim with tasty treats sure to be talking point this festive season!
8. Wee Scottish Hamper
A wee treat for someone special, our final hamper idea is a perfect gift to yourself or a "Thank you" present for someone deserving.
Neatly tucked into an eco-friendly Jute Bag, Scottish treats featured include:
Nevis cherry cake
Mackays Scottish Three Berry Preserve
Paterson's Luxury Shortbread & Biscuit Assortment!
---
If you like these Scottish hampers, browse our full festive hamper range at the DC Thomson Shop.
Click here for more Christmas gift inspiration.