St Andrew's Day: The Pilgrim Way
---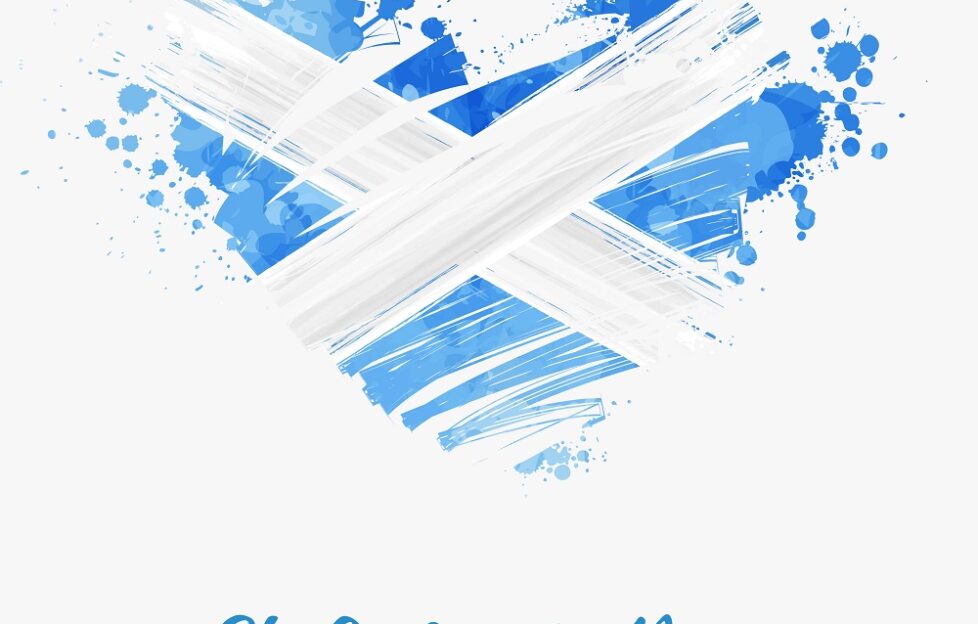 On St Andrew's Day, we're sharing this extract from Willie Shand's journey along the Pilgrim Way to St Andrews.
---
Today you find me in the Fife village of Culross on the north shore of the Forth Estuary. I'm about to follow the recently opened Fife Pilgrim Way – a 64-mile-long, way-marked walking route that weaves its way through the very heart of the ancient kingdom.
For followers of this route, the end of the journey is St Andrews Cathedral. Much has changed in the landscape since countless thousands of pilgrims made that journey between the 11th and 16th centuries. But what better way to connect with our past than to follow in their footsteps?
You'll find many pilgrim ways criss-crossing the UK and the Continent. The ultimate plan was undoubtedly to travel to the Holy Land.
However, as it was home to the relics of one of Jesus's disciples, St Andrews was of no less importance than Rome or Santiago de Compostela.
Where to start?
The Fife Pilgrim Way offers two possible starting points – one here at Culross, with its links to St Serf and the birthplace of St Mungo (Kentigern), and the other at North Queensferry, where a ferry was established over the Forth by Queen Margaret more than 800 years ago.
It was provided to give free and safe passage to those making their way to Dunfermline and St Andrews.
Culross is a little gem of a village and one of the country's best preserved 16th- and 17th-century Scottish burghs.
Setting off north brings us to Torry Bay, known locally as "Oor Muddy Beach". It may not be golden sands, but at low tide the mudflats have such international importance for wildlife as to gain them SSSI and Ramsar Convention on Wetlands distinction.
Protruding from the bay is the tidal Witches Rock. Poor souls accused of witchcraft were placed on this rock to establish their innocence or guilt.
If they drowned they were innocent. If they survived, then they were guilty as charged and their next stop was the stake.
Into Dunfermline
The threads of Dunfermline's past are well woven into the tapestry of Scotland's history.
Birthplace of Andrew Carnegie, once the richest man in the world, Dun-fiar-linne (the fortified mound by the crooked stream) is the burial place of King Robert the Bruce (heart excepted) and of St Margaret, Queen of King Malcolm.
St Margaret's shrine lies at the east end of the Abbey Church. The church Margaret founded lies beneath the abbey nave built by her son, David I. Malcolm and Margaret were buried together in the church.
All was well until the Pope decided to make Margaret a saint and give her a more fitting tomb. She had different ideas. When they tried to move her, she became so heavy she was impossible to lift. The problem was only resolved when it was realised she wasn't going anywhere unless Malcolm came, too.
And on into the countryside
Pushing on, I wend my way through the Fife countryside. On the outskirts of Glenrothes, Markinch is a right ancient wee place. Its hilltop church with Norman tower is built on the site of St Drostan's sixth-century preaching station. Drostan was a nephew of St Columba.
Beyond Windygates and Kennoway, it's on through Devon Wood and over 814-feet-high Clatto Hill with grand views to Largo Law, the Bass Rock and North Berwick Law.
Beneath Clatto Farm I'm greeted by a flock of inquisitive sheep. This rich farming country has long been known as the Granary of Scotland. From Clatto Reservoir, our track continues on to Ceres over the old mediaeval route known as the Waterless Road.
From this stretch we can look out over virtually the whole of the Howe of Fife and away to the East and West Lomonds. Above Struthers, the farmer is combining, taking advantage of the dry spell.
The main event!
St Andrews, named after Scotland's patron saint, was once home to the relics of the saint himself.
Legend has it his arm bone, a tooth, kneecap and three fingers – a strange collection of bits! – were brought here in the fourth century by St Rule.
Rule had been told to travel until he received a sign from above and that was where he should found his church. Two years later, Rule was shipwrecked in a storm and was forced to come ashore at what became St Andrews.
As he hauled himself on to land a white cross appeared against the blue sky – hence the origins of the Saltire.
Even in its ruined state, St Andrews Cathedral can't help but impress. How much more it must have impressed pilgrims in its glory days. At 355 feet long and with no fewer than 31 altars, it was the largest cathedral in Scotland and took almost 200 years to build.
With its university and world-famous golf course, St Andrews is a busy, bustling modern town.
As you explore its narrow lanes and wynds it is easy to escape the present, but not so easy to escape the past.
But, after all, the past has never tried to hide itself every step of the way from Culross.
---
Read more travel features from the "Friend".