12 Audiobooks To Give Loved Ones This Winter
---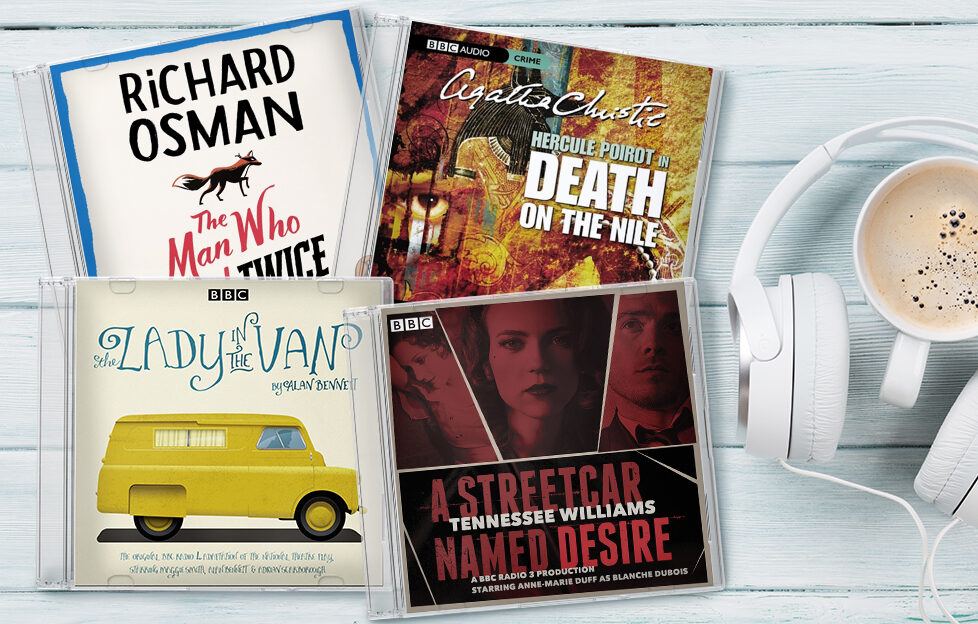 Browse a selection of popular audiobooks available to order this winter.
Offering a little something for everyone, these wonderful audiobooks make a great Christmas gift.
From iconic plays to puzzling murder mysteries, the below are all available to order at our shop today.
1. "The Nation's Favourite Poems"
Read by John Nettles, Emma Fielding, Siobhan Redmond and Greg Wise, enjoy a unique anthology of over forty poems!
This book was compiled from the results of a national poll to find Britain's favourite poem. Highlights include "If –" by Rudyard Kipling, John Keats' "Ode to a Nightingale", and "The Daffodils" by William Wordsworth.
2. "The Thursday Murder Club" – Richard Osman
The first in a heart-warming series about four OAPs-turned-detectives created by Richard Osman of "Pointless" fame.
The Thursday Murder Club is a riveting listen guaranteed to entertain this winter.
In a peaceful retirement village, four unlikely friends meet up once a week to investigate unsolved killings.
Suddenly, a local property developer shows up dead, thrusting the four friends into the middle of a live case!
3. "The Man Who Died Twice" – Richard Osman
The second novel in the record-breaking "Thursday Murder Club" series by Richard Osman.
Listeners will enjoy a thrilling story of diamonds, mobsters, and a very serious threat to life.
Also included is an exclusive interview with Richard, conducted by narrator Lesley Manville.
4. "A Streetcar Named Desire" – Tennessee Williams
Revisit or discover one of history's most iconic plays with this landmark BBC Radio 3 production.
Anne-Marie Duff stars as Blanche DuBois, with stellar support, including Matthew Needham as Stanley and Pippa Bennett-Warner as Stella.
Set in the late 1940s, Blanche's reintroduction into her sister's life causes havoc over the course of one hot New Orleans summer . . .
5. "Just A Minute – The Classic Collection"
Enjoy 22 original BBC Radio 4 episodes of the global hit "Just a Minute".
Each offers sharp wit, comedic timing, and skill.
Kenneth Williams, Clement Freud, Derek Nimmo, Peter Jones and Paul Merton are the "Famous Five" you'll love to hear from in this classic collection.
6. "Great Expectations" – Charles Dickens
Acclaimed actor Hugh Laurie narrates a classic often cited as one of the greatest literary works of all time.
Rediscover it today.
7. "The Pigeon Tunnel" – John le Carré
Stanley Kubrick, Alec Guinness, Yasser Arafat and more feature in an extraordinary memoir from one of Britain's greatest writers– John le Carré.
Join a thrill ride into the inspiration behind some of his most famous works.
8. "The Lady In The Van" – Alan Bennett
Dame Maggie Smith stars in this BBC Radio adaptation of Alan Bennett's acclaimed autobiographical stage play.
The story of Miss Shepherd, who found a place in Alan Bennett's life and writing, The Lady In the Van is a fascinating look at the author's life.
9. "Death On The Nile" – Agatha Christie
Poirot returns in the iconic "Death On The Nile" from Agatha Christie.
John Moffat voices the famous detective, tackling a case fraught with danger and death on the romantic River Nile.
10. "The Lost Plays" – Agatha Christie
Settle in for a triple bill of BBC Radio dramas lost for decades and only recently discovered.
Three full-cast radio dramas from the "Queen of Crime", Agatha Christie, take listeners on a mysterious journey of infidelities, deaths and a chilling phone call with serious repercussions.
11. "Murder Is Easy" – Agatha Christie
A thrilling BBC Radio 4 full-cast dramatization of Agatha Christie's murder mystery, "Murder is Easy".
"It's very easy to kill – so long as no one suspects you."
Luke doesn't take notice of Miss Pinkerton until her tales of a serial killer on the loose start to come true . . .
Dramatised by Joy Wilkinson, Lydia Leonard, Patrick Baladi, Michael Cochrane and Marcia Warren, this is one of Christie's most inventive mysteries.
12. "Life On Air: Memories of a Broadcaster" – David Attenborough
A national treasure, Sir David Attenborough is one of the TV's most influential figures.
This memoir charts an incredible career, with fascinating insights — and plenty of funny moments — throughout.
Browse all audiobooks available at our Shop
Click here to start browsing our full audiobooks range.
---
Find more Christmas gift ideas from "The People's Friend" here.