Elvis Presley And Friends
---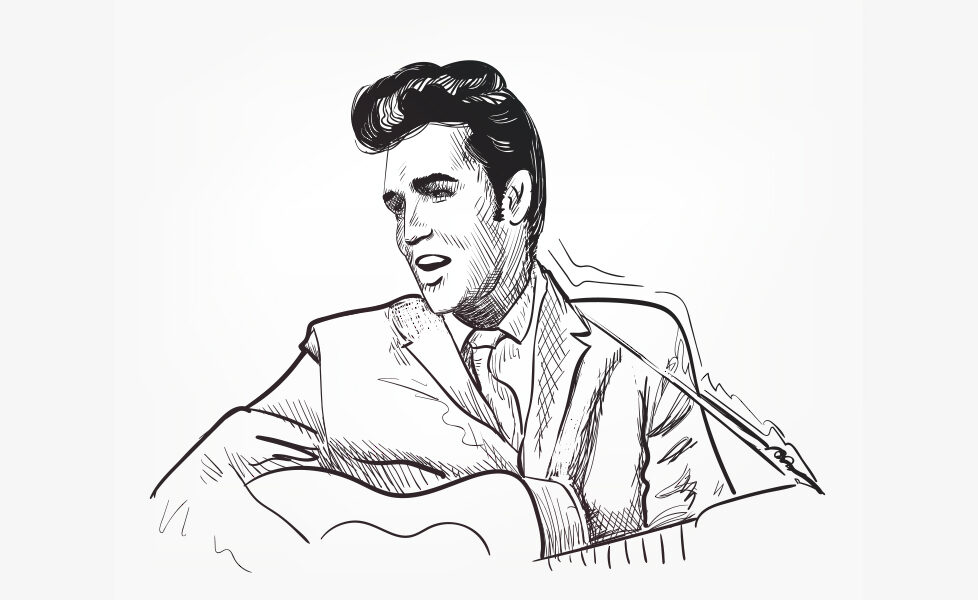 Shutterstock.
Today, King Of Rock 'n' Roll Elvis Presley would have turned 87.
To mark this iconic music star's birthday, we've reproduced the below article by Douglas McPherson. It was first published in "The People's Friend" in December last year.
In it, Douglas recalls a gathering of superstars in Memphis, 65 years ago.
---
"It was always excitement at Sun Records," singer Jerry Lee Lewis said. "You never knew who was going to drop by."
There was certainly an air of excitement at Sun on December 4, 1956, when Lewis was joined in the studio by Elvis Presley, Carl Perkins and Johnny Cash. The gathering became the most famous jam session in the history of rock 'n' roll.
Perkins was in the studio that day to record "Matchbox", the follow-up to his million-selling hit "Blue Suede Shoes".
Lewis had released his debut single, "Crazy Arms", a month before. He wouldn't find international success until he recorded "Whole Lotta Shakin' Goin' On" the following year.
In the meantime, he was happy to earn a small fee playing piano on Perkins's record.
The session was just winding down when Elvis arrived in a brown Lincoln convertible with his girlfriend Marilyn Evans.
Presley was the biggest star in the world at that moment, thanks to his hits that year with "Heartbreak Hotel", "Don't Be Cruel" and "Hound Dog", and the release of his first film, "Love Me Tender".
"I knew there was something special going on"
But although he currently recorded for RCA, Presley had never forgotten the little studio in a former car upholstery shop at 706 Union Avenue, Memphis. It was where he'd made his very first recording — as a present for his mother — three years before.
Elvis sat at the piano and quickly found common ground with Perkins and Lewis as they sang snippets of songs by their contemporaries Fats Domino, Little Richard and Chuck Berry, plus seasonal fare including "Jingle Bells" and "White Christmas".
"We got to laughing, joking, jamming," Lewis, who at eighty-six is the only living witness to that fateful day, recalled. "I knew there was something special going on here."
Sensing a once-in-a-lifetime opportunity, Sun Records owner Sam Phillips phoned another of his artists, country star Johnny Cash, who dropped in with his wife on their way to a Christmas shopping trip.
Phillips also called Bob Johnson, a columnist at the "Memphis Press-Scimitar". Johnson arrived with photographer George Pierce in time to take the iconic photo above.
"I have never had a better time than yesterday afternoon," Johnson wrote in the paper the next day. "It was what you might call a barrel-house of fun."
He concluded his write-up with, "That quartet would sell a million", while the picture caption for ever christened the singers the Million Dollar Quartet.
Although rock 'n' roll was scandalising the older generation at that time, its critics may have been surprised to find the foursome singing mainly gospel songs that afternoon.
"Million Dollar Quartet"
These included "Just A Little Talk With Jesus" and "When God Dips His Love In My Heart", plus cowboy songs by their big screen idol Gene Autry.
"All them songs we had sung as little boys," as Lewis put it.
"Looks to me like the wrong fella's been sitting at this piano," Elvis eventually said.
"Well, I've been wanting to tell you that. Scoot over!" Lewis replied, and he played the session out with his single, "Crazy Arms", and its B-side, "End Of The Road".
Phillips recorded the whole session. Because Elvis was on a different record label, the tape languished unheard until 1981 when it was finally released as "Million Dollar Quartet".
The four stars never sang together again. But Lewis and Perkins made an unscheduled appearance at a Johnny Cash concert in 1982, and the result was released on the album "The Survivors".
The trio also reunited in the Sun studio for the 1986 album "Class Of '55". Roy Orbison stood in for Elvis
Their original meeting was celebrated in the stage musical "Million Dollar Quartet", which made its debut on Broadway in 2010 and in the West End a year later.
But the magic that four music legends created by chance 65 years ago will never be repeated.
---
For more fascinating features from "The People's Friend", click here.