The Hebridean Baker
---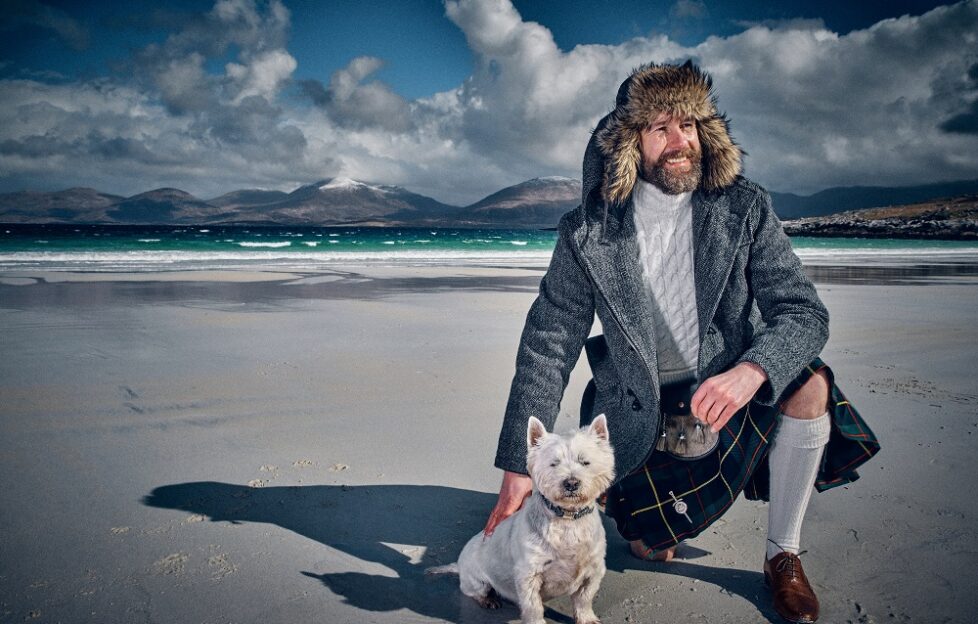 On a Harries beach with Seoras. Photo courtesy of Coinneach MacLeod.
In this week's issue, I chat to the "the Hebridean Baker", Coinneach MacLeod.
Coinneach rose to fame during the pandemic on social media app TikTok. Of course, I always do a bit of research prior to interviewing people, but this time I had to learn a bit about technology before I could even start! I had no idea what TikTok really was…
I downloaded it the weekend before we chatted and watched some of Coinneach's videos. After then losing most of Friday evening watching some really odd videos, I'll admit I'm none the wiser! It's clearly a platform for sharing short videos, which Coinneach has used to share recipes and bits about his life on the Isle of Lewis.
However, some of it is really rather random. And I don't know how anybody finds anything on it! Plus I didn't seem to have much control over what videos came up. I officially felt old.
I'm absolutely delighted it's made a star of Coinneach, though. His delicious recipes have proved a smash hit. It's fair to say most of us have resorted to a bit of comfort eating over the last two years, and Coinneach's been there with some suggestions.
The Star Of The Show
He's very humble about his fame, too. His partner, Peter, already does some TV work for BBC Alba – the Gaelic language regional channel up here. Coinneach claims Peter is more famous than him, and that Seoras – his wee Westie – is now the most famous of them all!
Much is written about Coinneach's voice, too! He has a soft Highlands and Islands lilt, that makes everything he says sound a bit like poetry.
Ironically, for a man whose fame owes a lot to technology, that same technology got in the way of our arranging a chat. His emails went astray on their way to my inbox. Then, when we finally agreed a time to talk, my recording function didn't work! I was mortified, but Coinneach was a true gent about it, and took my questions over email.
Local Cuisine
The food scene in Britain is quite special these days. In every far-flung corner of our country, you can find a wee cafe or pub that serves top quality nosh. For Coinneach, he wanted to use his new book both to highlight classic dishes of Scotland and the Islands, and more modern twists on them.
I hope you enjoy our chat in this week's issue, and I'm sure you'll enjoy any of his recipes if you pick up his book. All the better if he inspires you to visit us up here in Scotland, once things have calmed down a bit!
---
Order Coinneach's book directly from his website.
Read more blogs from the team.