The Inspiration Behind Winnie-the-Pooh
---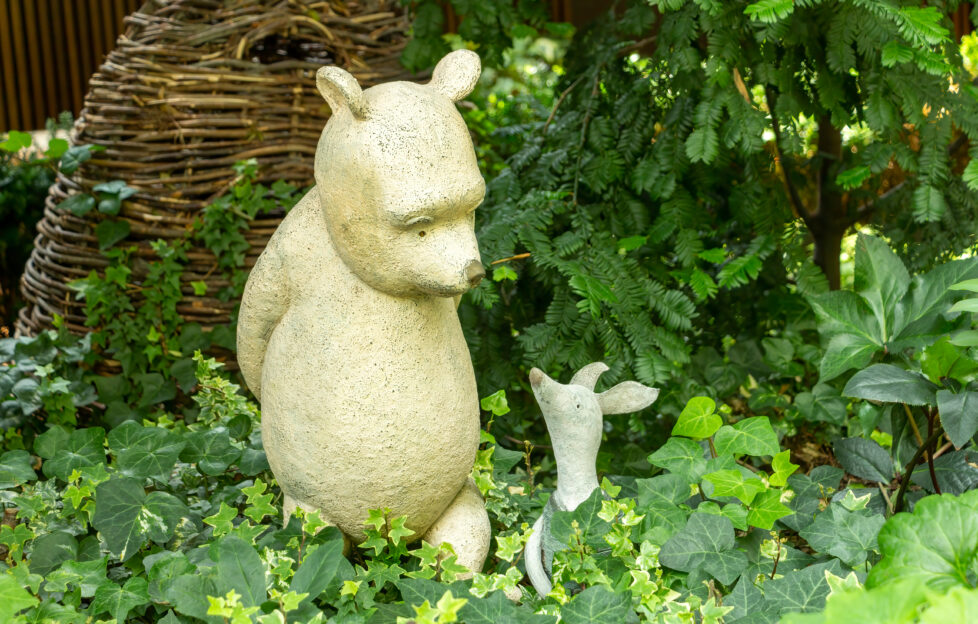 Shutterstock.
January 18 is Winnie-the-Pooh Day, which gives us a great excuse to share this article by Lorna Cowan.
This closer look at the inspiration behind the famous bear first appeared in "The People's Friend" in February, 2021.
---
The adventures of Winnie-the-Pooh, an adorable and often philosophical bear with a fondness for "hunny", have long been cherished by families.
Growing up, many of us will recall listening to these enchanting tales at bedtime.
Today, you may read them to your own children and grandchildren. A.A Milne's wonderful books, first published during the 1920s, have undoubtedly stood the test of time.
Young fans quickly fell in love with Winnie-the-Pooh, not to mention Tigger, Piglet, Eeyore, Kanga and Roo.
But there was someone else who pondered his relationship with the cheerful teddy.
That was the boy who also featured in the heart-warming romps: the author's son, Christopher Robin.
As 2020 marked the 100th anniversary of his birth, we delve further into the story of a child who was thrust into the limelight aged just three.
A.A. Milne found new inspiration
The fame continued throughout his school years and beyond, resulting in the real Christopher Robin hating his fictional friendship with the world's most famous bear.
Christopher Robin Milne was born on August 21, 1920, in the London borough of Chelsea. He was the first and only child of Alan Alexander Milne and his wife Dorothy de Sélincourt (or Daphne, as she was known).
His father was a British Army officer who'd fought a few years earlier in the Battle of the Somme. But the war had left him shell-shocked, and back home he struggled to continue his work as a well-regarded playwright and novelist.
It was only when the family moved from the city to a quiet country farm in Hartfield, East Sussex, that A.A. Milne found new inspiration from an unlikely source – Christopher Robin's teddy bear.
Edward Bear, a 20-inch toy bought in Harrods, often accompanied the boy as he spent days with his father exploring the woodlands of nearby Ashdown Forest.
It was after a trip to London Zoo – and an encounter with a Canadian black bear named Winnie – that Christopher Robin encouraged his dad to make up a story especially for him.
Winnie-the-Pooh was born
Milne found it remarkably easy to describe the exploits of a boy and a bear. And with the help of talented illustrator Ernest H. Shepard, Winnie-the-Pooh was born.
It was a poem called "Vespers", about Christopher Robin saying his prayers, that appeared in print first, in a 1923 edition of "Vanity Fair" magazine.
The following year, another poem, "Teddy Bear", was published in "Punch".
Milne then wrote a book of nostalgic poems called "When We Were Very Young", in 1924. Winnie-the-Pooh was properly introduced to the world on Christmas Eve, 1925, in "The Evening News".
Audiences of all ages, and all over the globe, were captivated. Sales of Milne's next book, simply entitled "Winnie-the-Pooh", went through the roof.
However, while readers were charmed by the tales and relished the joyful innocence found on every page, Christopher Robin had a very different experience.
He was now six years old, but no longer spent days simply playing at home.
Instead, he was taken to book signings, made to attend press events and pressured to read sack after sack of fan mail.
In 1931 he was included in a list of the world's most famous children, alongside Princess Elizabeth of York.
Although initially excited by his new-found fame, he soon came to dislike the attention. He became annoyed that people couldn't differentiate the real Christopher Robin from the fictional one.
Keen just to be known as Private Milne
The boy was teased and bullied at boarding school.
As the years passed he grew not only to resent Winnie-the-Pooh, but also his father for creating the stories in the first place.
Christopher Robin went on to study at Trinity College, Cambridge. Desperate to rid himself of any association with a teddy-loving child who said nightly prayers, he volunteered to fight during World War II, keen just to be known as Private Milne.
When he failed the medical examination, he persuaded his father to use his contacts to find him a position.
So Christopher Robin joined the Royal Engineers, travelling across the Middle East, Africa and Italy.
He eventually returned to England, having been wounded. He finished his English Literature degree, then married his cousin, Lesley de Sélincourt, when he was twenty-seven.
It was a relationship frowned upon by his mother, as Daphne despised her brother, the bride's father.
The young couple were very much in love, though, and spent their life running a bookshop together in Dartmouth, Devon.
Now known only as Christopher, he visited his father occasionally. But he only saw his mother once in the 15 years after A.A. Milne's death.
He refused ever to accept any profits from his father's books
C.R. Milne also became an author, choosing to write his memoirs at the age of fifty-four.
His first autobiographical book, "The Enchanted Places", was published in 1974. He followed it with "The Path Through The Trees" five years later.
Interestingly, he refused ever to accept any profits from his father's books, or the sale of the Winnie-the-Pooh franchise to Disney.
Christopher and Lesley were devoted to their only child, a girl called Clare who was born with cerebral palsy.
A trust was set up in her name and still supports people living with disabilities in Devon and Cornwall. Clare died in 2012.
As for Christopher, he spent his later life living with myasthenia gravis, a long-term neuromuscular disease that causes weakness in the skeletal muscles.
The prognosis often affects breathing and makes walking and talking difficult.
He died in his sleep in the Devon market town of Totnes on April 20, 1996. He was seventy-five years old.
---
For more great features from "The People's Friend", click here.