Everybody Needs Good Neighbours
---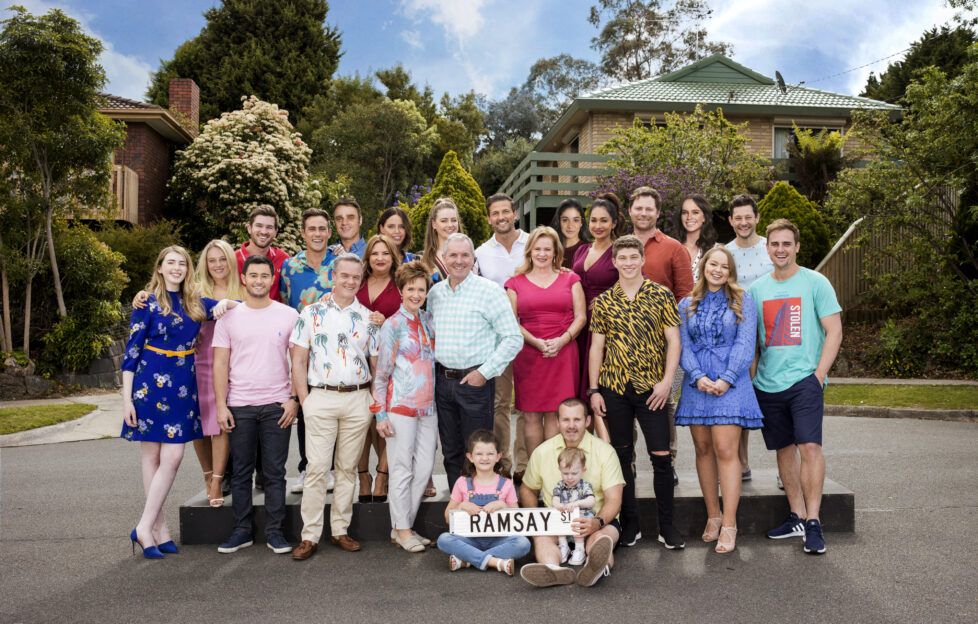 Photograph courtesy of C5.
"Neighbours, everybody needs good neighbours, with a little understanding…" Were you able to complete the last line in those lyrics? I certainly was.
They are, of course, the lyrics to the "Neighbours" theme tune. The Aussie soap ditched the lyrics for an instrumental version of the song a while back, but I can still remember the words of that eighties version so clearly.
The show first aired in Australia in March, 1985 and finally arrived over here in October, 1986. I have been watching "Neighbours" for as long as I can remember (I didn't watch the very first episode, but then I was only five!)
You can understand then why I was so disappointed when the news broke that Channel 5 is removing "Neighbours" from its scheduling later this year. The network can't afford to keep funding the soap, and if they don't find another home, "Neighbours" will be no more!
Fame away from Ramsay Street
One of my earliest memories of it is of one of its most famous weddings ever. I am, of course, talking of that of Scott and Charlene.
Played by Jason Donovan and Kylie Minogue, the characters are the most famous in the show's history. The show helped Kylie and Jason become household names. They both had successful solo singing careers, including a certain duet together. I had "Especially For You" on cassette.
I also had "Suddenly" by Angry Anderson on vinyl — now I'm really showing my age! That is the song that was played over the top of Scott and Charlene's wedding.
Of course, it's not only Kylie and Jason who found fame away from Ramsay Street. "Neighbours" put many of its cast where they are now! Natalie Imbruglia and Delta Goodrem both went on to have successful singing careers.
And it was a case of small screen to silver screen for the likes of Guy Pearce and Margot Robbie. Pretty big names!
Are they as memorable as Bouncer, though? As synonymous with "Neighbours" as local gossip, Mrs Mangel, the loveable Labrador Retriever featured in the show from 1987 until 1993.
An integral part of the show
Still on the show is one of its original cast members, Stefan Dennis, who plays ruthless businessman Paul Robinson.
Stefan left the show for a while in the nineties, during which time he starred in Scottish soap "River City". However, he returned to Ramsay Street in 2004, where he has remained since.
Although Stefan is an original cast member, he's not the longest serving one on the soap. That accolade goes jointly to Alan Fletcher and Jackie Woodburne, who play Karl and Susan Kennedy. They are now in their 28th year, having joined the soap in 1994.
They might not have been there from the start, but they're now an integral part of the show.
Recently, Jane Harris and Melanie Pearson have returned to the soap. Along with long-standing character Toadie, it feels like "Neighbours" is better than ever.
Fair share of far-fetched stories
Sure, it's had its fair share of far-fetched stories — Harold Bishop coming back the dead, for one.
Oh, and let's not forget the evil-twin storyline that saw Toadie's late wife Dee return from the dead. She then discovered she had a sister who was less than a saint, and who had had a baby with her ex-husband!
Then there was Finn Kelly, who attempted to murder an entire school by pumping poison through the ventilation system! Yet Susan eventually asked him to move into her family home.
Well, she was feeling guilty after pushing Finn off a cliff!
He suffered amnesia as a result of that fall and for a time it seemed he was actually good. But not for long . . .
Light-hearted and fun
He terrorised a bunch of the residents of Ramsay Street in a week-long late-night special for the show's 35th anniversary.
They certainly regretted that camping trip. Especially Gary Canning, who was killed when Finn shot him in the back with a bow and arrow!
These stories were not exactly original. However, generally speaking, part of the charm of "Neighbours" is that it feels more like taking a glimpse into real lives.
In spite of the odd (and admittedly) ridiculous storyline, for the most part it is a bit of fun, providing a bit of light relief for its many fans.
Funny storylines and a bit of Aussie sunshine. What's not to love?
"Neighbours" is more than just a programme for so many people, though. Like real-life neighbours, these characters have been a part of our lives for decades!
The show does its bit to promote inclusivity, too, with a married gay couple and a transgender teen character among the regular cast. The cast have spoken about how viewers thank them for portraying issues that affect them in real life.
One fan was so determined to save the show that she suggested people buy the original theme tune from iTunes. She figured it might prove to whomever may save the show from the scrapheap that it has many loyal fans.
It got to No 1 in the iTunes chart!
A petition has been set up in a bid to keep "Neighbours" on the air, albeit in a new home. If you would like to sign it, please click here.
Who knows, maybe another network will pick it up and save a much-loved show. I certainly hope so!
---
Click here for more from the "Friend" team.