Potato-peeling Crisps Went Down A Treat
---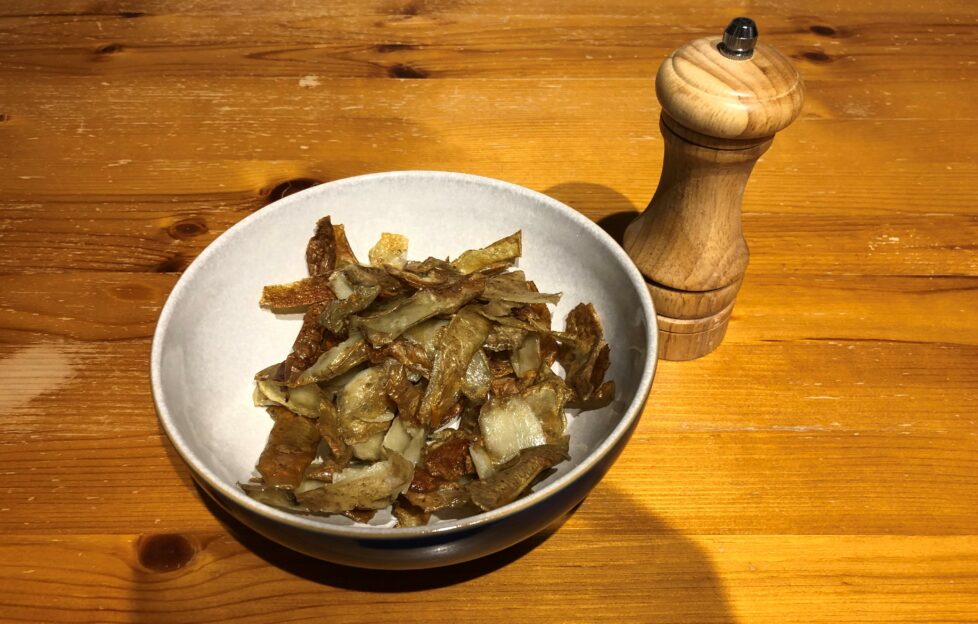 Photograph by Lisa Crow.
I've blogged here before about my efforts to be kinder to the environment. Recently, I found a new way to minimise food waste, with a tasty snack of potato-peeling crisps.
It was while I was preparing mince and potatoes for that night's dinner that I realised I was about to throw yet another batch of peelings into the food bin. While food put in waste bins is kept away from landfill sites, I figured it would be even better to eat the "unwanted" peelings. Waste not want not!
A quick check on the BBC Good Food site helped with what oven temperature to use and how long to cook the crisps for.
I had mentioned to my husband that I was going to make these crisps and I think it's fair to say he was less than impressed! In fact, I think his words were, "I'm taking nothing to do with it!".
Quick and easy
He soon changed his mind once the crisps were in the oven and began to smell very tasty.
I made a couple of observations for the next batch. I think I used a bit too much oil so I'll be mindful of that the next time.
In addition to that, be prepared to extend the length of time the crisps are in the oven for. They needed a bit longer to crisp up properly. I also noticed that they were better fresher as they were a bit soft the next day. Perhaps that was due to the fact I had used too much oil!
I just seasoned my crisps with salt. However, the recipe showed a few variations.
You could add a little bit of vinegar. Paprika sounded like it could be a winner, too. There are all kinds of herbs and spices you could add to them for a bit of variety. I have onion and garlic powder in the house. Maybe they might be tasty seasonings…
I will definitely be making them again. They are so quick and easy – especially if you're preparing potatoes for something else anyway!
As for my husband, he approved, too, going by how quickly we got through them all! I'll definitely make them again very soon. It doesn't have to end with potato peelings either. I might just try making carrot crisps, too.
Here is a quick run-through of how to make the crisps.
Preheat your oven to 200C/180c fan/Gas Mark 6.
Evenly distribute oil and seasoning of your choice through your peelings and scatter on a baking tray.
The recipe said 25-30 minutes but mine needed longer.
Delicious! Let us know if you try these yourself at home.
---
Click here for more from the "Friend" team.