Knitting Preview: March 26, 2022
---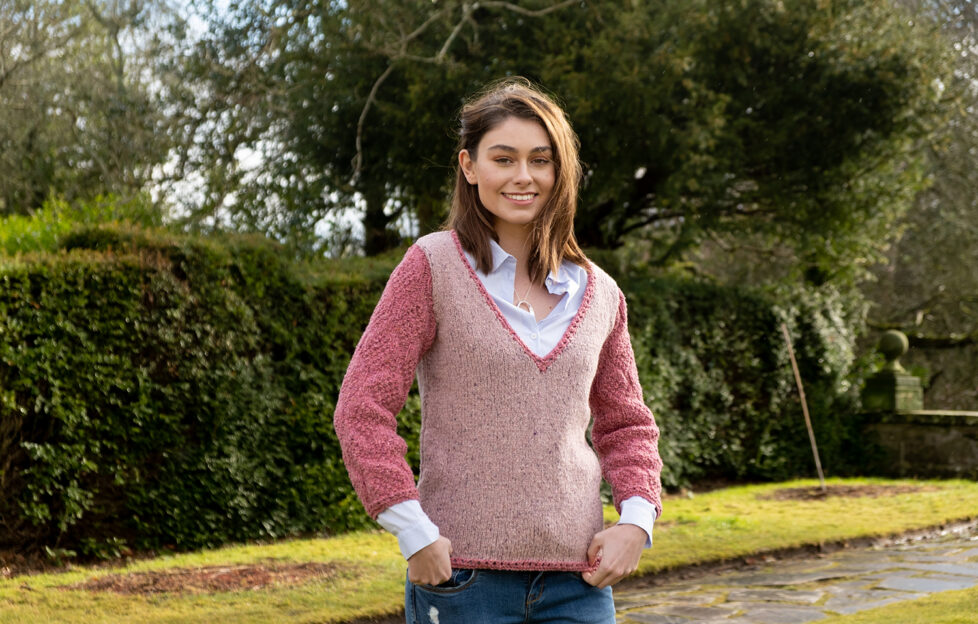 Photograph by Ally Stuart.
This week's knitting preview for the March 26 issue is of a lovely casual V-neck.
---
Pink is the featured colour this week in our V-neck sweater.
Easy to wear and simple to knit, our sweater is enhanced with textured sleeves worked in a complementary shade of pink.
Instructions are available for eight sizes ranging from 81/86 cm (32/34 ins) to 122/127 cm (48/50 ins).
Actual size is around 10/5 cm (4/6 ins) bigger giving a comfortable fit. The three-quarter sleeves add a stylish touch.
We have graded this as an easy knit.
Diamond-textured Pattern
The front and back are in stocking-stitch (knit one row, purl one row) and the sleeves feature a diamond-textured pattern worked over 32 rows of knit and purl stitches.
The yarn used is Rico Fashion Modern Tweed Light and Soft Aran in shades Pink (05) for the body and Berry (06) for the sleeves and contrasting trims. If you have trouble finding the yarn locally, you can order direct and see alternative shades at www.blacksheepwools.com.
With the weather improving, this will be the perfect top layer indoors or out.
---
Find the full knitting pattern in our March 26, 2022 issue of "The People's Friend". On sale this Wednesday!
Or you can subscribe to "The People's Friend" here, to make sure you'll never miss another one of our great patterns and projects.