Gansey Knitting Preview: April 16, 2022
---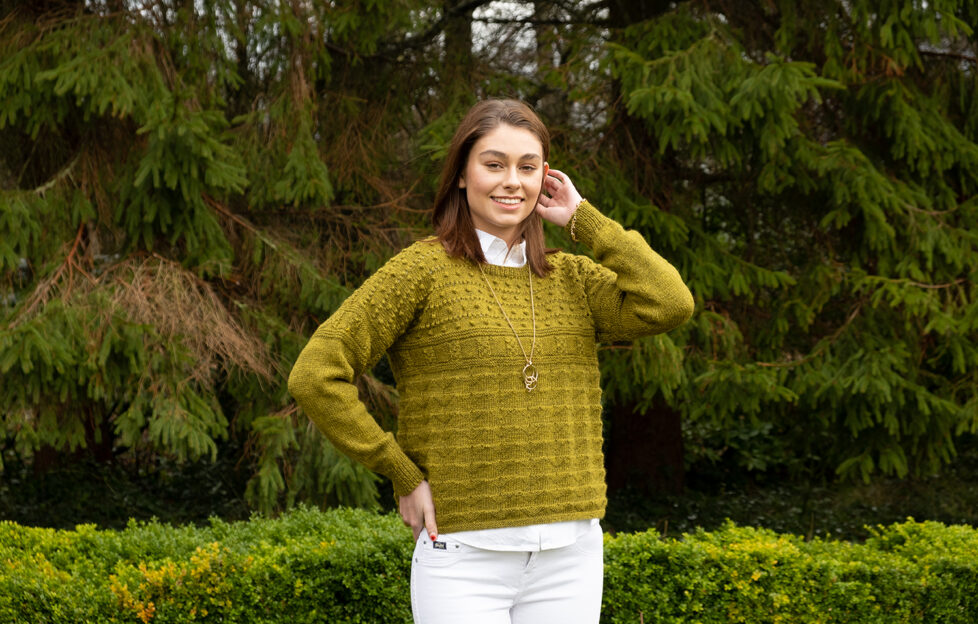 Photograph by Ally Stuart.
Knitting design: Gansey
Difficulty: Intermediate
We have given the traditional gansey a fresh look this week.
---
Gansey knitting designs are always popular with our readers so we are sure you will love this one, too.
We choose a bright green shade (Fellside 1038) to catch the eye. The yarn used is WYS Fleece DK, a classic British 100% wool yarn created from Bluefaced Leicester sheep. Though, there are plenty of shades to choose from if green is not for you.
The gansey is unisex and comes in six sizes ranging from 76/81 cm (30/32 ins) to 127/132 cm (50/52 ins). Actual size is around 18/13 cm (7/5 ins) bigger giving a comfortable fit. However, if you prefer a looser, baggier fit, you may want to work a size bigger.
The body features over a 10-row pattern, which is quite straightforward. The Twist Stitch Border a 26-row pattern and the yoke a 20-row pattern.
There are twist stitches and bobbles in the yoke patterning and if these are new to you, we would recommend practising them first with some spare yarn.
The bonus is that the drop shoulders mean there is little shaping. You work the sleeves from the top to the cuff decreasing as you go.
Send it in!
With our changeable weather, and heating costs rising, a sweater is always a handy thing to have and we reckon our gansey is a real winner. The People's Friend team would love to see your creations. You can send them to peoplesfriend@dctmedia.co.uk for a chance to be shared on social media or in the magazine!
---
Find the full gansey knitting design in our April 16, 2022 issue of "The People's Friend". On sale this Wednesday!
For more crafts, visit our Craft section. Or you can subscribe to "The People's Friend" here, to make sure you'll never miss another one of our great patterns and projects.