Easy Vegan Creme Egg Recipe For Easter
---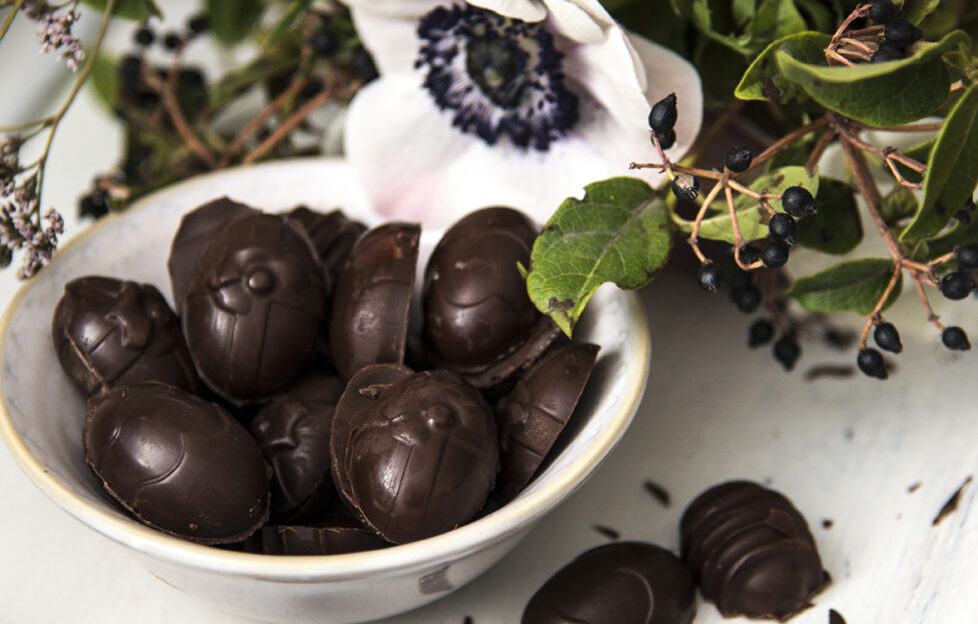 Recipe and image courtesy of AO at Home.
Ingredients
250 g (9 oz) vegan dark chocolate buttons
150 g (5¼ oz) icing sugar
2 tbs brown rice sugar
1 tbs melted coconut oil
4 tsp almond milk
1 tsp vanilla extract
¼ tsp ground turmeric
Recipe and image courtesy of AO at Home.
It's the start of the Easter weekend and we've got a delicious vegan creme egg recipe for you to try! Cater for everyone at your Easter feast.
This vegan creme egg recipe and images are courtesy of AO at Home.
Makes: around 20 small whole eggs or 40 halves
Time: 30 minutes
You'll need a silicone mould for small eggs (or better still, two silicone moulds!)
Melt the chocolate in a bowl over a simmering pan of water (make sure the bowl doesn't touch the water.)
Spoon a little of the melted chocolate into each mould and "drag" it up the sides with the spoon, then put the mould into your freezer to set.
In a bowl, add all ingredients except the turmeric to the icing sugar and mix until you have a smooth paste.
Take about a third of the mix and put it into a second bowl. Add the turmeric powder to the second bowl and mix.
Take the mould with the chocolate out of the freezer.
Now, add a little of the white fondant to each chocolate shell, enough to roughly fill half of the shell, then add a small dollop of the yellow fondant. Top off with a bit more of the white fondant, but don't fill the shells completely.
Finish with another layer of chocolate making sure it "joins up" with the edges of the shells.
Pop the mould back into the freezer to set
Once set, press the eggs out of the mould. To present, put two halves together into a bowl.
The People's Friend team would love to see your creations. You can send them to peoplesfriend@dctmedia.co.uk for a chance to be shared on social media or in the magazine!
---
For more recipes, visit our Cookery section. Or you can subscribe to "The People's Friend" here, to make sure you'll never miss another one of our great patterns and projects.