Easter Slow Roast Pork with Tracklements Apple and Sage Jelly Jus
---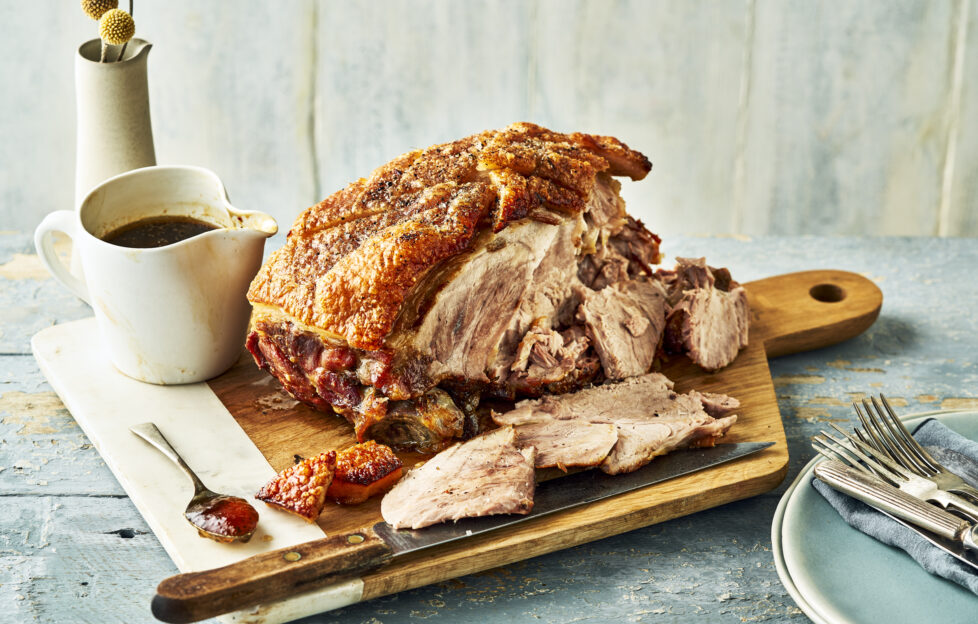 Recipe and image courtesy of Tracklements.
This Easter roast pork recipe will make a sensational centrepiece for your Easter dinner. The oven does the heavy lifting with a long slow cook, while you sip a chardonnay …
Serves: 6
Pre-heat the oven to 220°C/425°F/Gas Mark 7.
Score the pork skin with a sharp knife — about 1 cm (½ in) apart — through the skin and fat, but try not to go through to the meat.
Rub sea salt into the scores. Season the underside of the joint with salt and pepper and place skin side up into a roasting dish. Roast, uncovered, in the pre-heated oven for 40 minutes (you're waiting for the skin to puff up and start to crackle).
Turn the oven down to 150°C/300°F/Gas Mark 2.
Cover the joint with two layers of tinfoil so no moisture can escape and cook at the bottom of the oven for around 4½ hours.
Remove the tinfoil, baste the pork with the juices and cook, uncovered, for a further hour or until the crackling is crispy.
Remove from the oven and let it rest. Transfer the juices to a pan, wait for them to separate and pour off the fat.
Stir in the Apple & Sage Jelly, heat gently until the jelly has melted and serve with your favourite accompaniments, such as roast potatoes, carrots, broccoli and cauliflower cheese (with a touch of Tracklements Sweet Mustard Ketchup — you'll thank us for this tip later!)
The People's Friend team would love to see your creations. You can send them to peoplesfriend@dctmedia.co.uk for a chance to be shared on social media or in the magazine!
---
For more recipes, visit our Cookery section. Or you can subscribe to "The People's Friend" here, to make sure you'll never miss another one of our great patterns and projects.